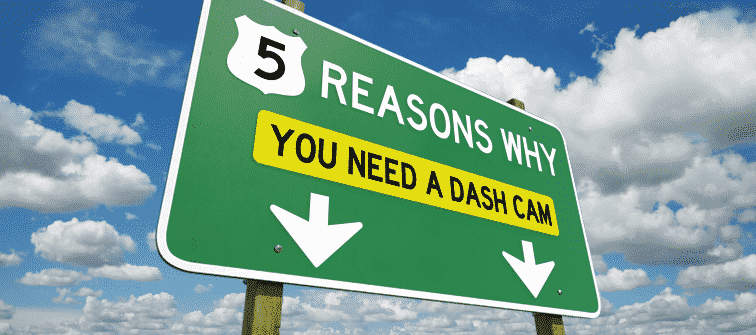 While you may not be able to capture an extraordinary event that will become the next hottest video on the internet, you can definitely drive with the peace of mind that you will be able to prove fault should something happen.
Here are five reasons why everyone who drives should own a dash camera:
1. Video Proof of an Accident (Should it happen)
When you're in an accident, you may not be able to recall exactly what happened. Often, it boils down to your word against theirs. With the Ride Along Dash Camera, you can record how the accident happened in full 1080p HD video. The CE-RAC1HD also features a built-in G-Sensor, which records impact as events, which are searchable.
2. Prove Innocence
With video proof, you now have the ability to prove your innocence in cases of fraud. For example when a driver backs into your car and claims "you hit them." Dash Cam footage can help your insurance company dispute false claims against you.
3. Protect your Vehicle
Often time vehicle damage can occur to a vehicle that is parked. With a Dash cam, one can record "parked" instances where vehicle damage has occurred. Find out who did it and how they did it.
4. Speed and Location
The CE-RAC1HD features built-in GPS that allows you the ability to review exactly how fast you were driving and your exact location. With this information, you now have the tools to dispute unsafe driving disputes and keep tabs on other drivers who are allowed to use your vehicle.
5. Capture the Unthinkable
Want to prove a Bigfoot sighting? How about having a video of the massive meteorite you just saw streaking across the sky? With a dash cam, you can record road trips, and uncommon events might just turn out to be a once in a lifetime moment.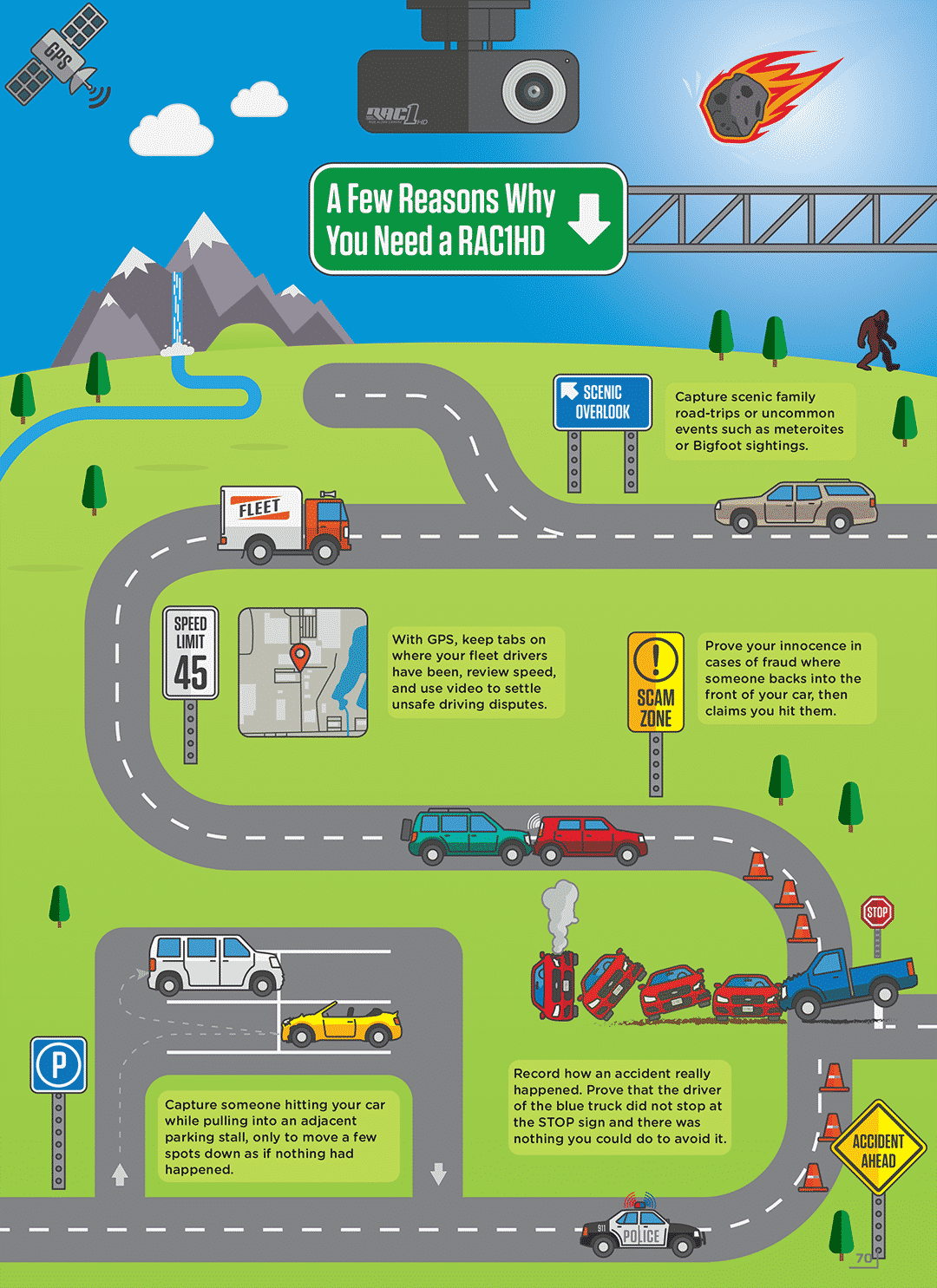 Record in Full HD:
The Ride Along Camera is an easy-to-use full HD vehicle camera and recorder. It records both audio & video and allows you the ability to choose between three different recording modes: normal, event, and parking mode.
Mount the camera to your windshield and record your drive in 1080p (30 or 15 fps) or 720p (30 fps). The Ride Along Camera records in a continuous loop, using the included 16 GB microSD card.
The Ride Along Camera comes equipped with a 2.9mm wide-angle lens that captures the entire road. The integrated microphone allows you the option of recording audio as well.
Continuous Operation When Driving:
With the Ride Along Camera, there is no need to worry about turning the camera on to record. If the camera is plugged into a power source and the vehicle is on, it is recording.
The camera features automatic event mode detection by using its built-in G-Sensor. If an incident should occur – such as a collision or sudden shock – the camera automatically saves the video as an event.
Easy to Install:
No automotive knowledge required. Simply mount the camera to the windshield with the included 3M ™ double-sided adhesive strip, and connect the power adapter to the vehicle's power socket. The included power cable is nearly 13 feet long, which provides plenty of flexibility when routing the cable around the dash.
Viewing Recorded Video is a Breeze:
Most dash cameras on the market require the user to remove the SD card from the camera to view the video.
After downloading the free RAC1HD app, one can connect to the camera via WiFi. After connected the app allows the user to view live video, search & playback recorded video and make adjustments to camera settings – all without having to remove the SD card.
Should you need to remove the SD card, there is also an included PC Viewer software that allows the user to make camera adjustments and search/playback recorded video with a synced GPS map and G-Sensor display.