Let's face it — constant exposure to the elements is tough on any camera, but the last thing you want is a service call due to a leaky rubber seal. That is why we designed our new BZ series to be IP68 weather rated. When you install a Clinton BZ bullet camera, you no longer have to worry about your installation in adverse weather conditions. No more caulk or RTV — just mount the camera and walk away confident.
With the increased performance of IR LEDs, it's now possible to do more with less. One IR LED on the new BZ Series Bullet outputs as much light as eight standard IR LEDs. All LEDs are equipped with focusing lenses that help evenly distribute the infrared light.

All BZ cameras are Motorized Zoom & Auto Focus. By eliminating external focus adjustment levers, we can achieve a much higher IP weather rating and offer a more precise focusing method. With Motorized Zoom & Auto Focus, focusing the camera is as easy as pushing a button. Just point the camera in the direction you want to view and use the CE-REMOTE to set the focal length. The autofocus lens will focus the scene to perfection.
All BZ Series Bullets are DC12V/AC24V and feature terminal block power connections. AC24V allows for longer power run distances. Dual voltage also prevents accidental damage whereas DC12V only cameras do not. BZ Series cameras also feature Rated Voltage Monitoring (RVM). The LED indicator will illuminate to alert the installer of improper voltage.
The BZ Series bullet cameras are designed in-house right here in the USA. Like all Clinton designed and engineered cameras, the BZ series is part of our never-ending quest to speed up your installation and add a level of flexibility that is not found in our competitors' bullet camera offerings.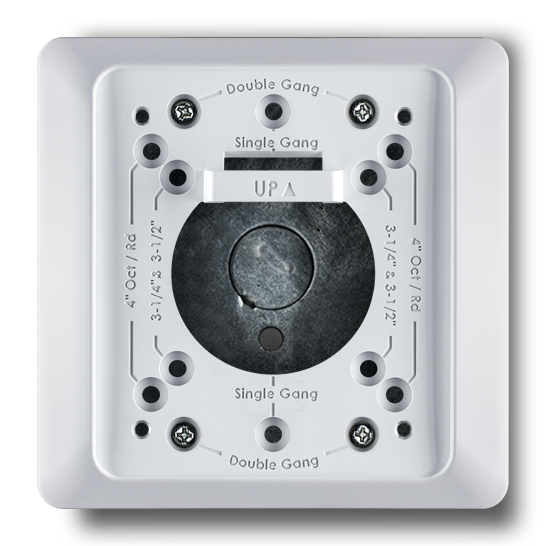 Quick & Easy Installation
Not only does our BZ mounting plate mount to a wide variety of electrical conduit boxes (Single Gang, Double Gang, 3¼" & 3½" Conduit Boxes, or 4" Octagon/Round style Conduit Boxes) — it also features our new innovative mounting hook design. The mounting hook lets you affix the BZ bullet in place, allowing the installer to use both hands for screw fastening.