It is no secret that most HDMI LCD monitors will work just fine for your DVR for a little while. But what happens if that LCD monitor was not designed for constant 24/7/365 use? How long will it last? What happens when the monitor fails? Will that box store advance replace your LCD or will they make you buy a new one?
Will you keep the receipt and take the time to go back to that box store and walk out with a replacement at no cost or hassle? Will they even have the same model 6 months from now – how about a year from now? These are questions that every CCTV integrator should never have to ask.
Your Warranty Really Does Matter:
Clinton Electronics offers a 3-Year Warranty with 1st Year Advanced Replacement: If your LCD monitor fails within one year of purchase, we will advance replace it. Call your local box store and find out what their warranty is on the LCDs they sell – chances are the warranty is "limited" and only for 12 months. Most warranties for larger LCDs (37" and above) are in home repair only – meaning a technician will be sent to your location to repair the LCD. What happens when that technician finds out the LCD is being used for commercial use and not consumer use – WARRANTY VOID! Clinton is servicing and maintaining LCD monitors from programs that are 10 years old and still going strong. Let's face it: Sooner or later that electronic device will fail. Sure, we stand behind our products for the 3 year warranty, but we also go beyond the warranty and will repair the monitor for a minimal charge because we have the ability to do it.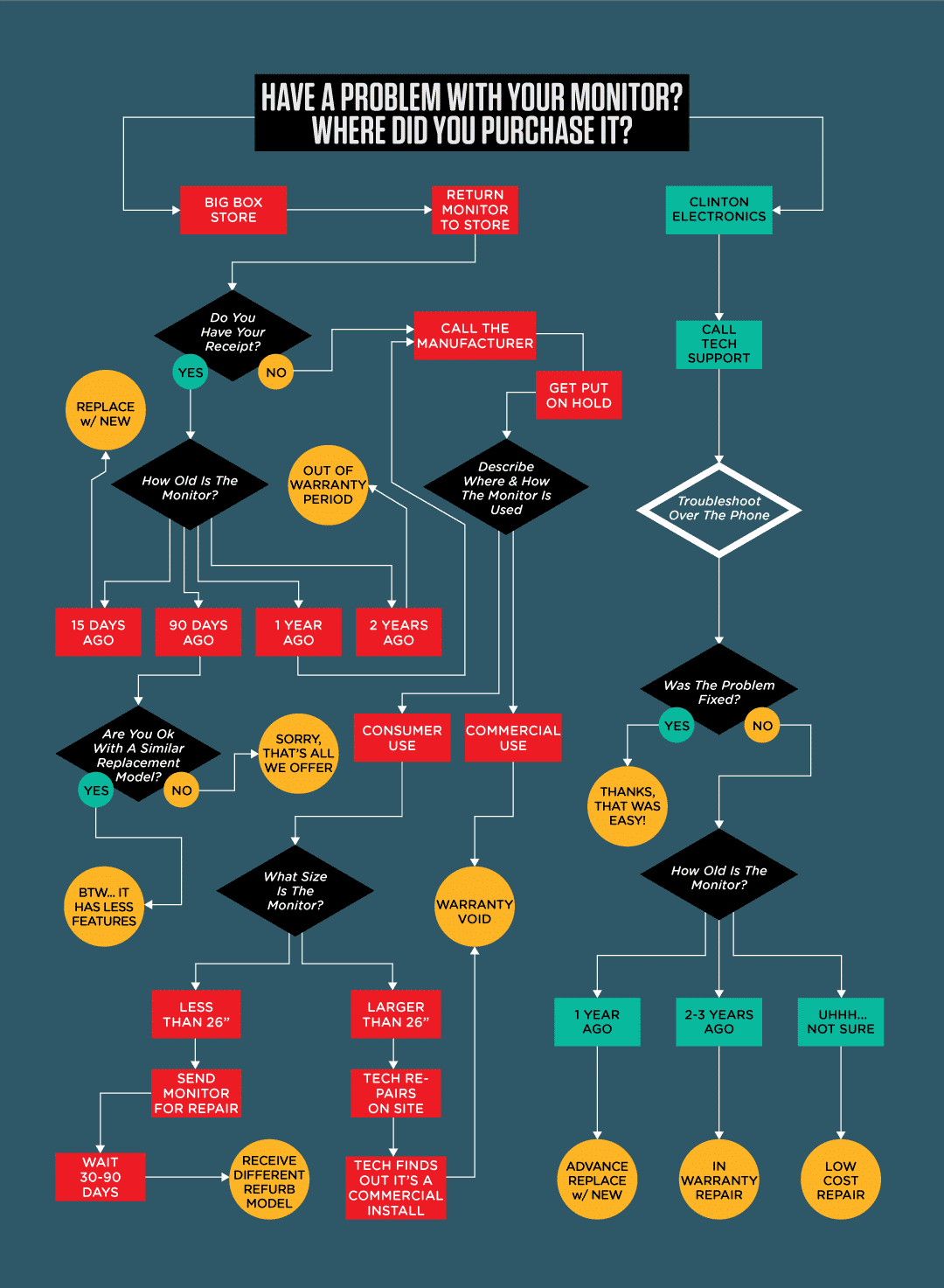 Need An Expert?
Our free technical support is only a phone call away to help walk you through any difficulties you may have with your installation or application. Our sales and engineering staff are here for you, and they are experts in video technology. Our average tenure in the technical support department is 25 plus years. We can trouble shoot, repair, and recommend a solution faster than anyone else in the industry.
Building On A Legacy:
So who is Clinton Electronics? We have been in the video display business for over 50 years. In 1963, Clinton Electronics began building black and white picture tubes for the television CRT industry. Since that time, we have evolved into the world's largest Public View Monitor & LCD monitor manufacturer for the video security industry. We know what goes into a quality monitor and how to design and manufacture one to last. So the next time you need an LCD monitor, put your trust in our 52 years of video display manufacturing and expertise.
Where do you buy your CCTV monitors?
Request a catalog here or apply to become a Clinton Dealer here.