All Clinton IDX, VX, and BZ Series cameras share a unique feature— Rated Voltage Monitoring (RVM). With RVM, the installer can instantly tell if the camera has the proper amount of voltage via the LED indicator light on the camera; a flashing red light indicates under-voltage and a solid/steady red light indicates over-voltage.
Proper Power is Important
Improper voltage at the camera can cause significant damage and void the warranty. Overvoltage or undervoltage operation over an extended period of time may cause the camera to overheat, resulting in component damage and premature failure.
It is also critical to have the correct amperage. Improper amperage can result in scenarios where the camera only works part-time. This is especially true for cameras that use infrared LEDs, heaters, or motorized lenses.
To ensure long-term trouble-free functioning, proper voltage and amperage are required.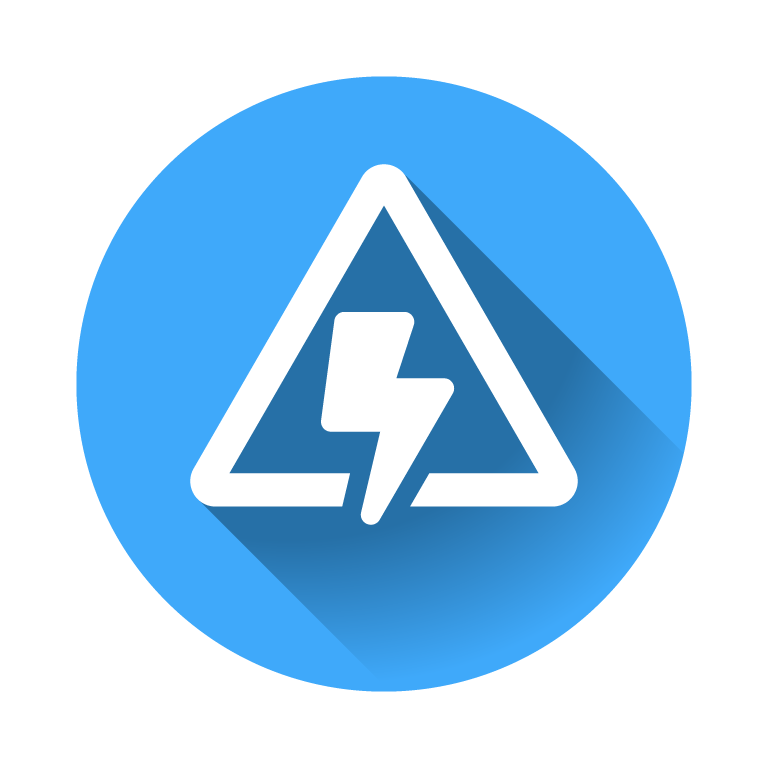 RVM Status Indicator
There are three LED conditions that reflect the status of the operation.
Flashing Red LED
The flashing red status light indicates that the camera is under voltage. The camera needs a minimum of 10 volts DC for proper operation.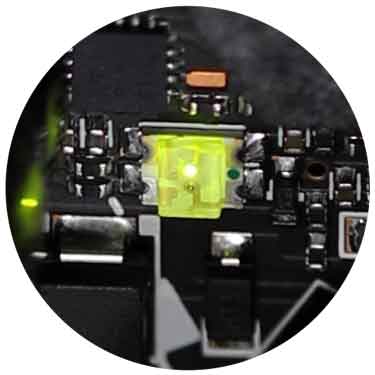 Solid Green LED
When the camera is adequately powered the LED indicator light will glow green on IDX & VX dome cameras, and will not illuminate on BZ bullet cameras.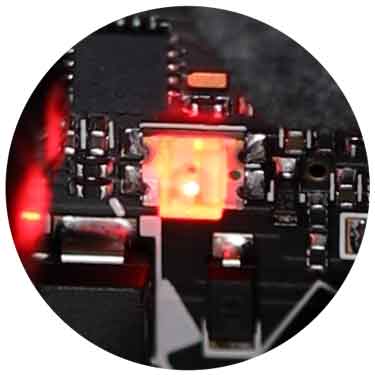 Solid Red LED
The solid red status light indicates that the camera is over-voltage and is receiving more than 29 volts. Over-voltage can damage a camera if not addressed quickly.
Voltage Drop Calculations
Voltage drop indicates how a voltage source's supplied energy is diminished while electric current flows through an electrical circuit. Based on voltage drop and current carrying capacity, the voltage drop table below will assist you in determining the right wire size for a cable run.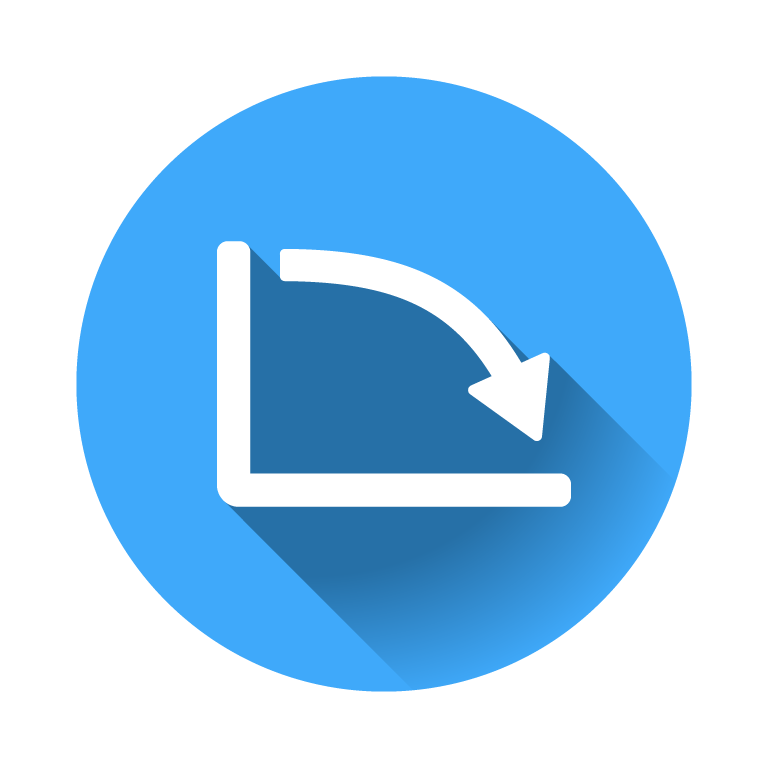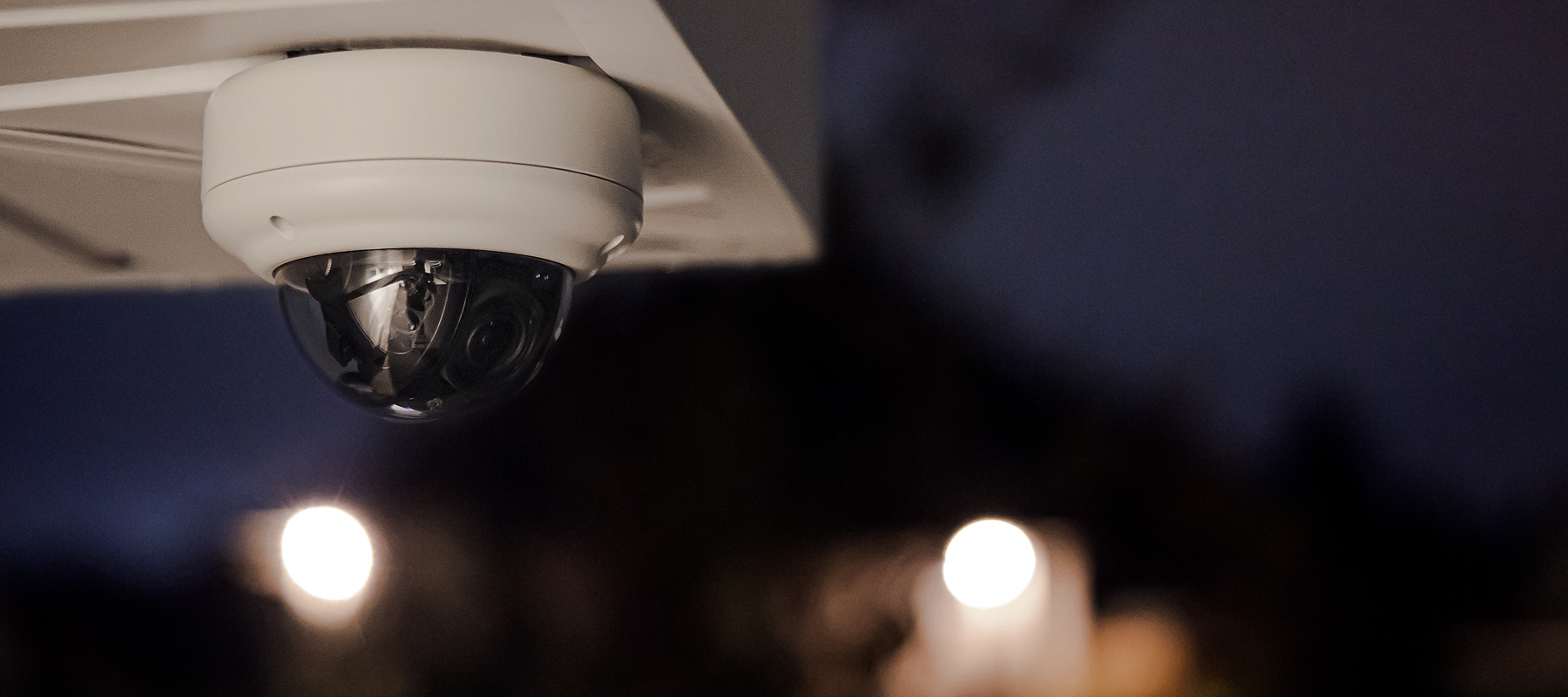 How can CCTV surveillance cameras deter crime?
Do CCTV cameras alone deter theft? Well, that depends. Are the cameras visible or hidden? Most can agree that cameras are only useful in changing criminal behavior when visible to the subject. Studies also show that CCTV surveillance cameras are most effective when combined with other crime-reducing methods such as improved lighting.
At Clinton Electronics, we are continually seeking ways to improve camera technology and enhance the theft deterrence factor.
With the rise of LED technology, it's now possible to incorporate high-power white LEDs into a CCTV camera. The advantage of this is two-fold. When triggered, white LEDs allow the camera to see color; this helps identify the subject's details after-the-fact. The second advantage is a bit more obvious: security motion lights are an effective crime deterrent.
The new CE-VX2QHD-WL vandal dome camera features two ultra-bright white LEDs that trigger when motion is detected. These high-power white LEDs are perfect for illuminating areas like the driveway, back porch, or sidewalk.
The addition of white LEDs enable you to see motion events in color and help deter crime by scaring off unwanted trespassers. 
Users can also select three different illumination modes in the OSD menu of the camera: Motion On, Motion Flash + On, and Constant. Each mode offers flexible control over brightness, duration, and motion detection sensitivity.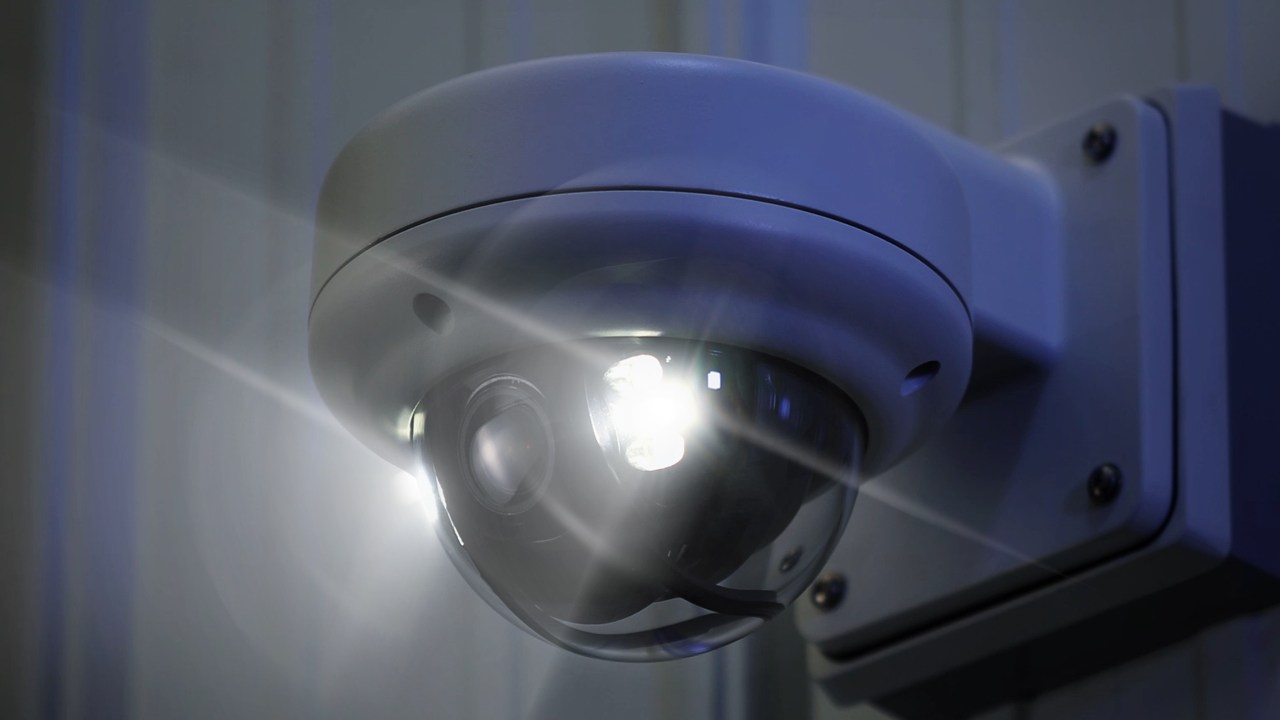 Unlike traditional security lights or motion detectors, the CE-VX2QHD-WL camera uses video motion detection to detect motion. With video motion detection, the user can create motion detection zones using the OSD menu.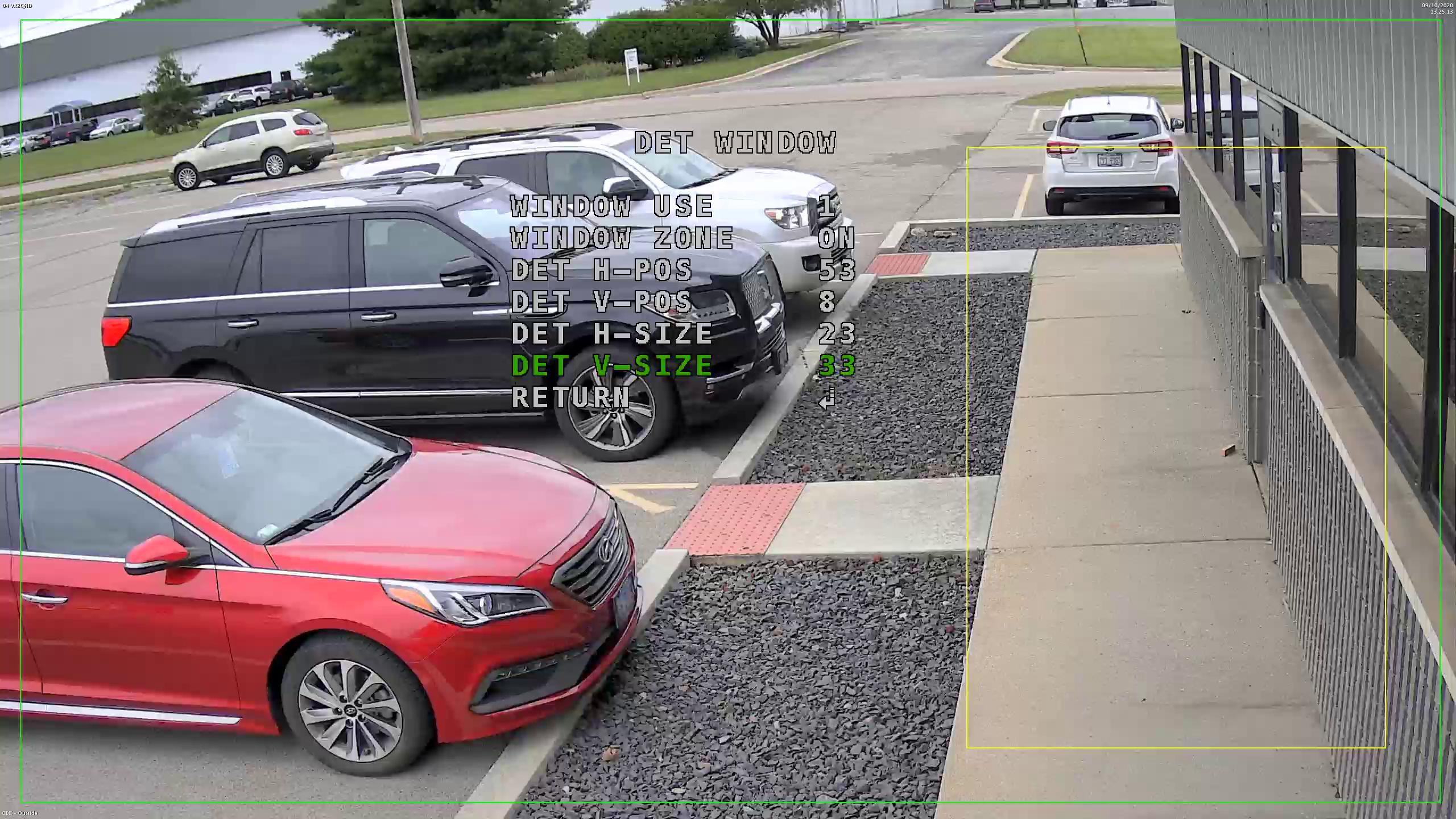 Customizable motion detection allows the camera to ignore high motion detection areas such as windblown trees or busy streets and be tuned to detect motion in desired zones only.
If no movement is present, the camera returns to the standard IR LED mode. Thanks to IR Shield Technology, the CE-VX2QHD-WL delivers a clear image even when rain and dust are present on the surface of the dome. The photos below show the difference between using white LEDs and IR LEDs at night.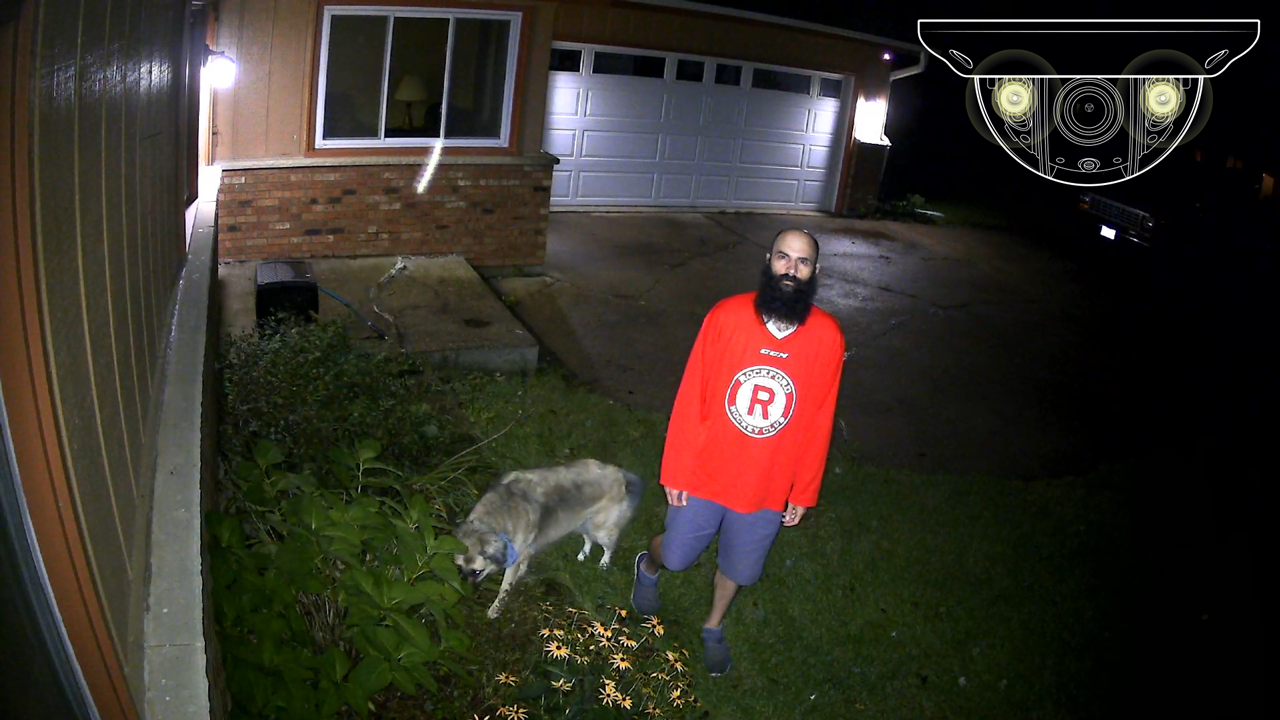 White LEDs
Motion detection triggers White LEDs.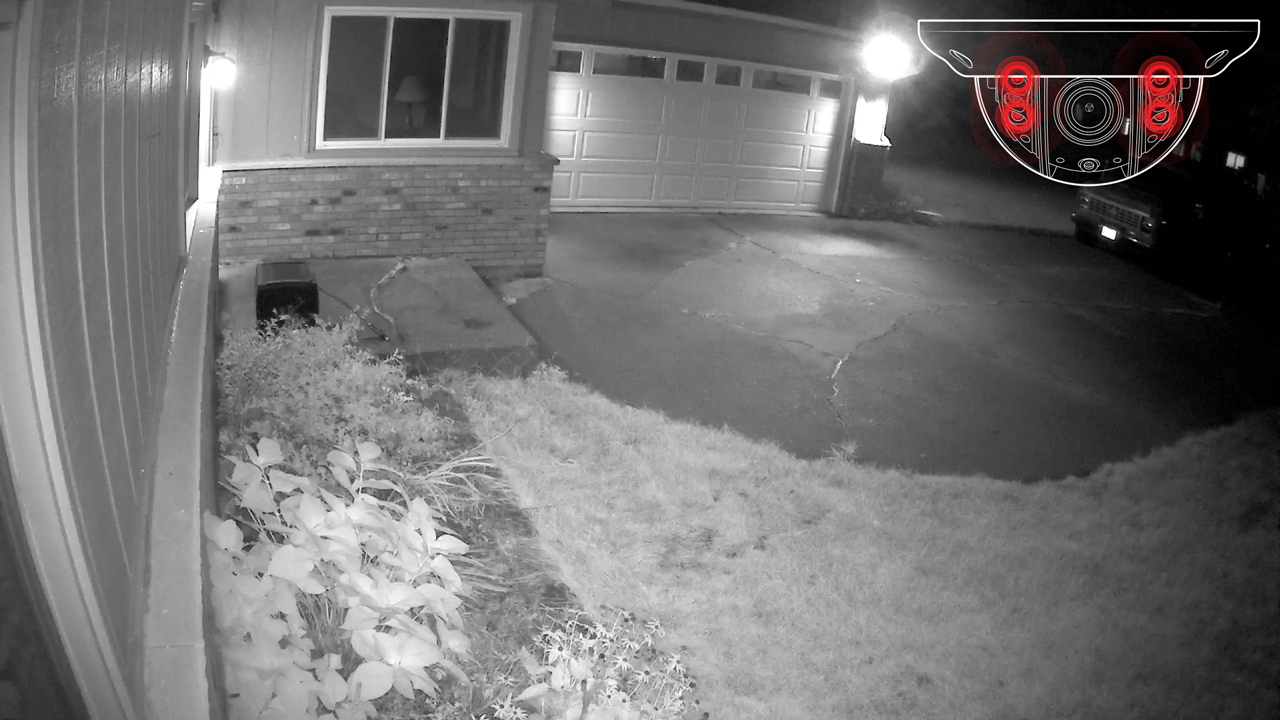 IR LEDs
The camera returns to IR LED mode after the motion event.
In conclusion, not only can cameras with white light LEDs improve night time images they can also play an active role in deterring crime by scaring off trespassers and would-be criminals.
Click here to learn more about the CE-VX2QHD-WL or watch the video below for an in depth product review.
The HD2CAT5 is an HD-SDI to CAT5 Transmitter and Receiver kit.
This device enables an HD-SDI signal, power, and RS-485 data to be transmitted over standard Cat5 cable.
With a transmission distance of nearly 400 feet one can easily run an HD-SDI camera signal over long distances.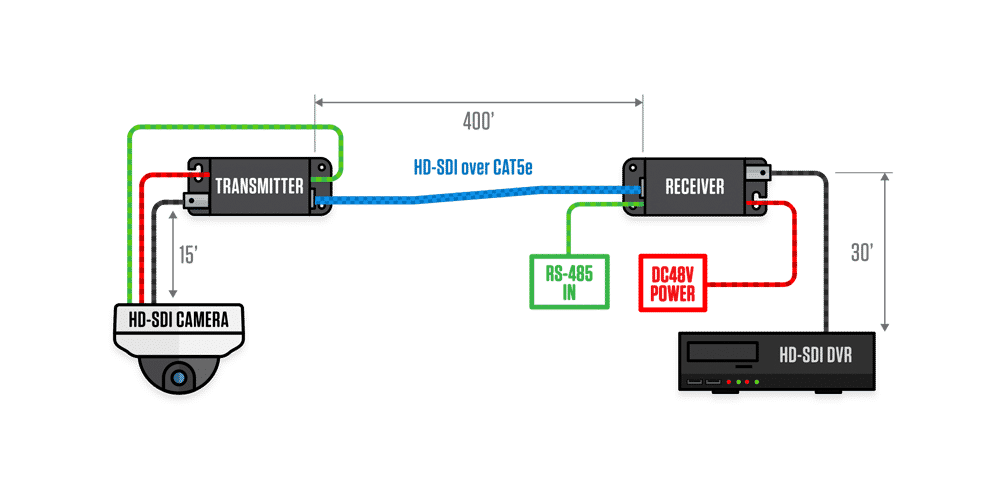 For installs requiring a greater distance, one can use the optional repeater (HD2CAT5-R) to extend the transmission distance an additional 400 ft.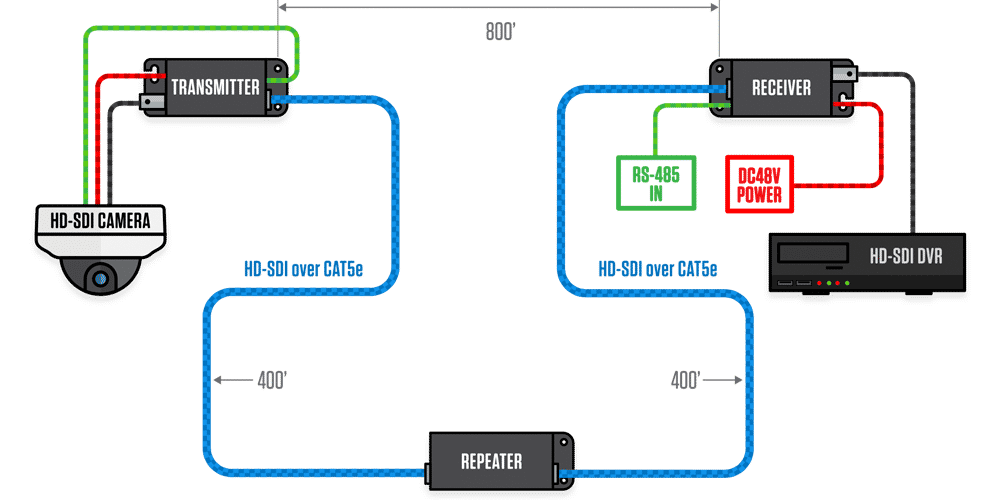 To power the device, one can use an optional AC24V power supply or the included DC48V power supply. When the DC48V power supply is used the Transmitter is capable of outputting DC12V power at 10 Watts – which can then be used to power the camera.
RS-485 Data can also be transmitted when using the HD2CAT5 Kit making it the perfect device for controlling HD-SDI PTZ cameras over Cat5 cable.
With the ability to utilize existing Cat5 cable, the HD2CAT5 Kit becomes a cost effective solution that eliminates the need to run coaxial cable when Cat5 cable is already present.
Request a catalog here or apply to become a Clinton Dealer here.
Vandal X Series DNA:
The new IDX Series indoor dome design is based on our ever popular Vandal X Series and shares many of the same rugged components that are built to withstand the rigors of CCTV use, but in a light weight polycarbonate housing.
Design and Functionality Need Not Be Opposites.
The IDX Series was designed to be both easy to install and aesthetically pleasing. The best example of this is the IDX mounting plate: one simple plate that mounts to numerous conduit boxes and gang patterns all while eliminating the seam commonly found on other indoor dome cameras giving the IDX series a sleek one piece case appearance.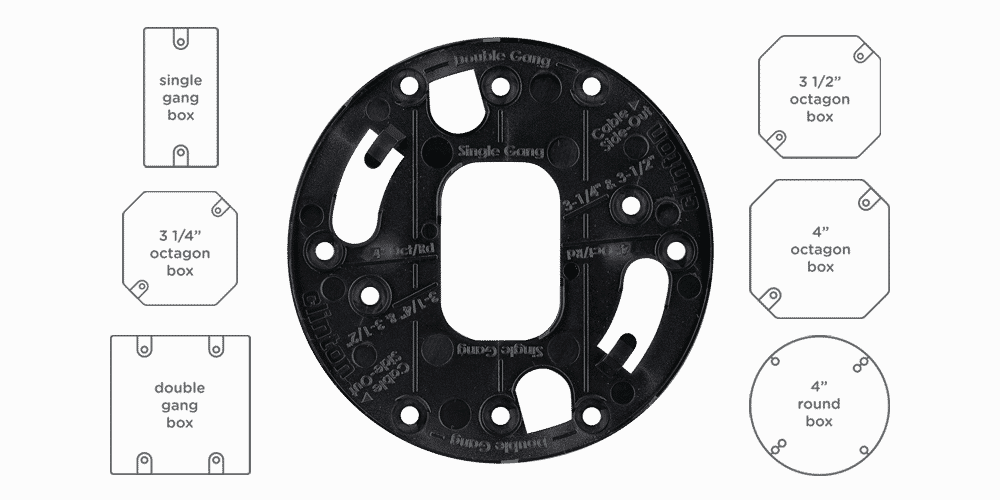 Mounting Options:
Along with mounting to numerous conduit boxes and gang patterns: Single Gang, Double Gang, 3-1/4" & 3-1/2", or 4" Oct/Rd. The IDX series is also pendant cap mountable with our sleek CE-IDXPC or deep CE-IDXDPC. One can also use the new CE-IDXWB to wall mount the camera.
Camera Adjustment:
All IDX Series cameras feature a toolless 3 axis gimbal that allows for easy adjustment of the camera. Our unique design also eliminates tangled wires.
OSD menu adjustments can be made 3 different methods: using the built-in joystick, the plug in CE-REMOTE or via Up The Coax with the CE-REMOTE-UTC.
Peace of Mind:
All IDX Series cameras are 100% quality tested by American workers before leaving our facility, are UL Listed and come protected with a 3 year warranty.
Request a catalog here or apply to become a Clinton Dealer here.
Installing a camera that faces into a window can be a nightmare; glare from the sun, reflection from interior lighting & distortion caused by the glass are common problems.
Introducing the CE-BRCAM.
The CE-BRCAM is a camera that is specifically designed for the purpose of mounting to a glass surface such as bullet resistant glass. It's flat front allows it to be mounted flush to the glass with double-sided tape. The 2.5mm lens is positioned directly behind the glass surface; eliminating glare and distortion.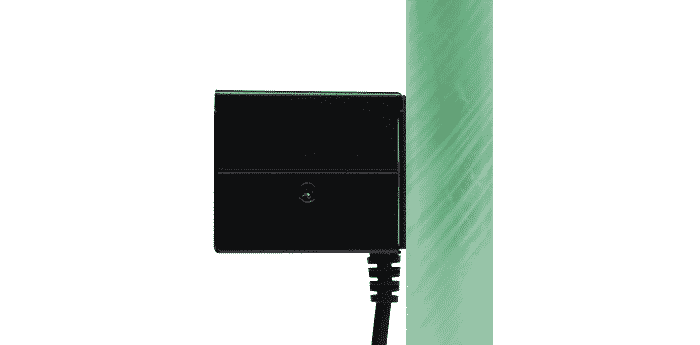 Its small size and rugged steel construction help maintain a low profile and protect the camera from potential damage. The CE-BRCAM features a high resolution [analog] 1,000 TVL camera with excellent wide dynamic range and adjustable horizontal viewing angle.
When mounted at eye level, the CE-BRCAM achieves a low-angle field of view that is perfect for facial recognition shots; a scene that is seldom acquired by traditional ceiling mounted cameras.
The CE-BRCAM is ideal for bank teller windows, drive-up windows, pharmacy windows, convenience stores, schools, correctional facilities, or nearly any application where a view of a person's face through glass is desired.
Key Features:
• 1/3″ SONY Megapixel CMOS Sensor
• 1,000 TVL Resolution
• 2.5mm Wide Angle Lens (Fixed)
• Rugged Steel Housing
• Includes Durable, High Strength Double-Sided Tape
• Dual Voltage – DC12V or AC24V
• Extra Long 8′ Cable
• OSD Menu Control via the Up The Coax Remote (CE-REMOTE-UTC)
Best In Class Image Quality:
Both HD-SDI & EX-SDI offer best in class image quality. They are pure digital signal formats, and there is no degradation of the video image over distance.
Conversely, analog modulation technology (HD-TVI & HD-CVI) suffers when the signal transmits over long distances. The result is poor video quality, artifacts, and video noise.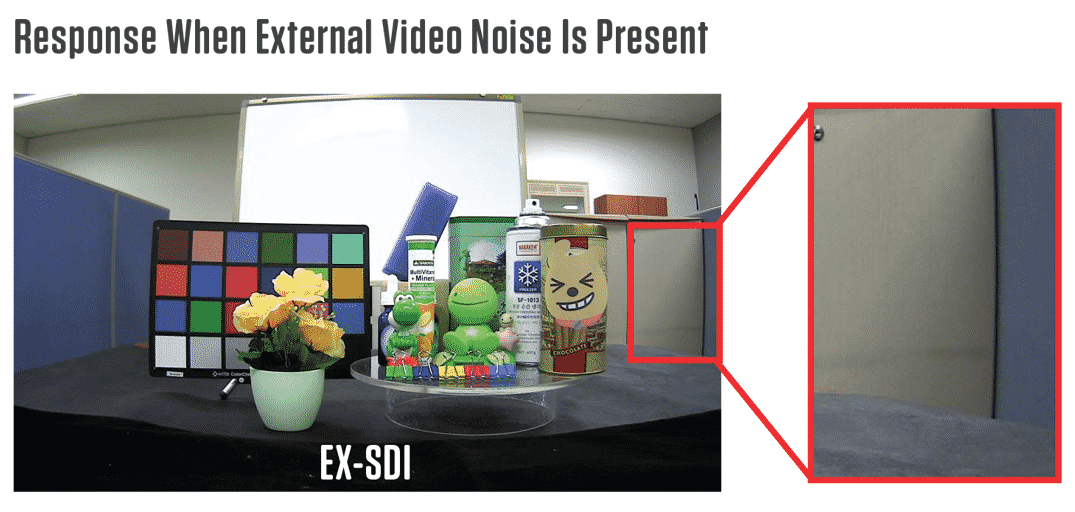 EX-SDI: Since EX-SDI is an all-digital format, it is less susceptible to external video noise commonly caused by electrical devices, lighting, ground loops, and compromised cable integrity.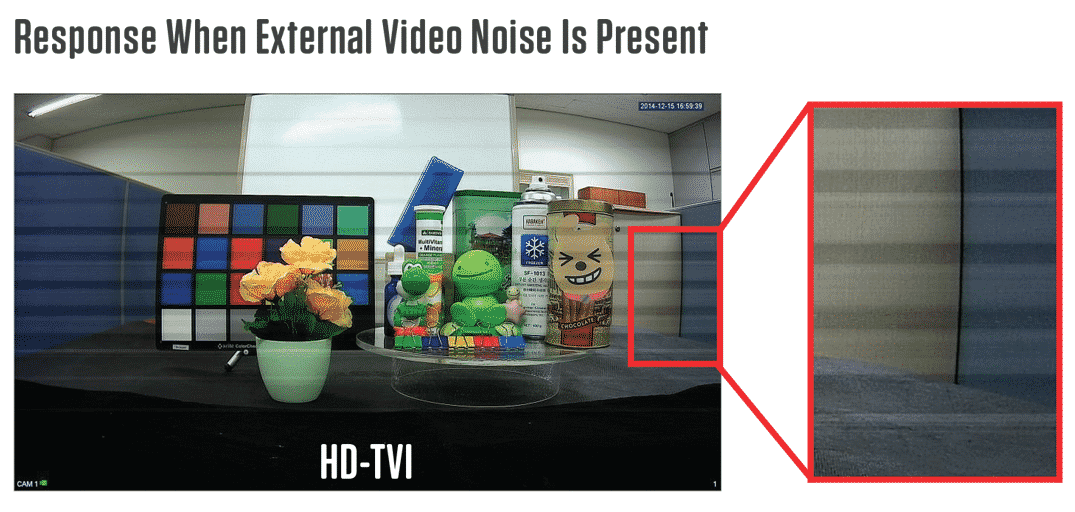 HD-TVI: Like all analog modulation HD Over Coax technologies, there is an increased sensitivity to external video noise. The image above exhibits banding lines when external noise is present.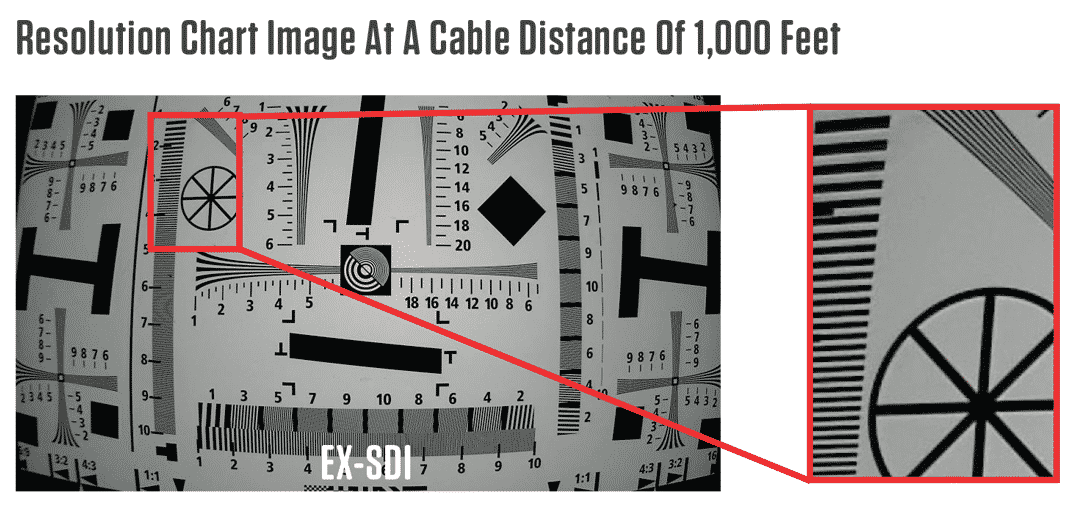 EX-SDI provides a sharp and clear picture at any distance. Take a look at the image above and compare with the HD-TVI image below. Notice that there is no image degradation with EX-SDI HD Over Coax technology.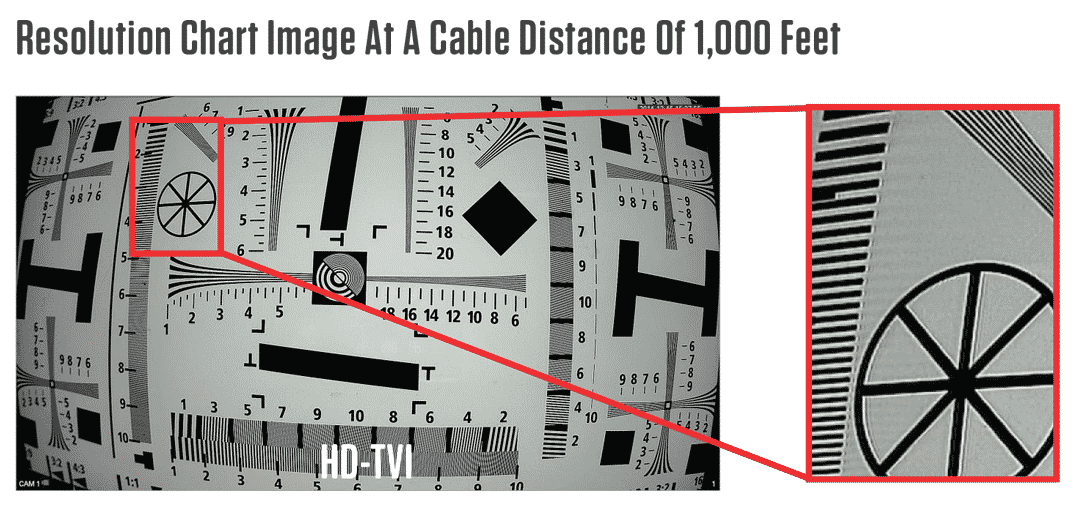 HD-TVI: Take a look at the image above and you will notice blurred lines, pseudo edges, and an overall degradation in image quality. With analog modulation technology (HD-TVI & HD-CVI), the longer the cable distance, the lower the quality of the image.
Easy to Install:
HD-SDI/EX-SDI installs just like an analog coax based system. Simply connect the BNC cable and done. HD video with the ease of analog CCTV!
Unlike IP, no extra training is required, no complicated networks to setup and no bandwidth issues. All analog installers already know the fundamentals of installing coax-based systems.
Keep Your Coax:
Before HD over Coax, the only way to obtain HD video was with an IP camera requiring a new run of Cat5 cable. In most cases HD-SDI/EX-SDI can reuse the existing RG59 coax, eliminating the need to run new cable if an existing analog system is in place.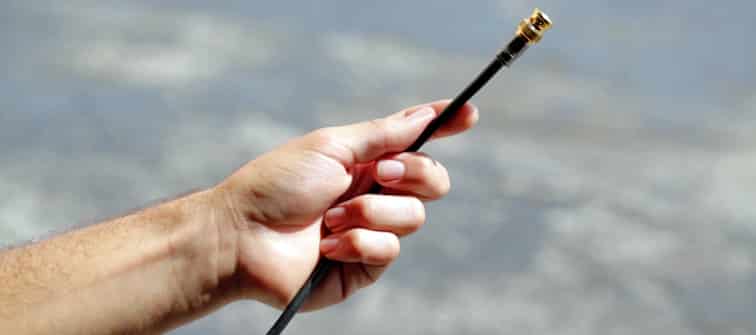 Upgrade Potential:
Do you know what is remarkable? The virtually unlimited & increased sales potential that an HD-SDI/EX-SDI upgrade play can have for your business. Think about it, how many existing coax based systems are out there? The answer: hundreds of thousands!
What if you were to approach old analog/coax based installs with an easy upgrade to HD at a fraction of the cost of a brand new installation?
Upgrade your Image:
Look at the images below: both images were taken from the same scene, but one is clearly better than the other. The top image is from the previously installed D1 resolution system (720 x 480). The bottom image is from an actual HD-SDI installation using the CE-D2HD (1920 x 1080).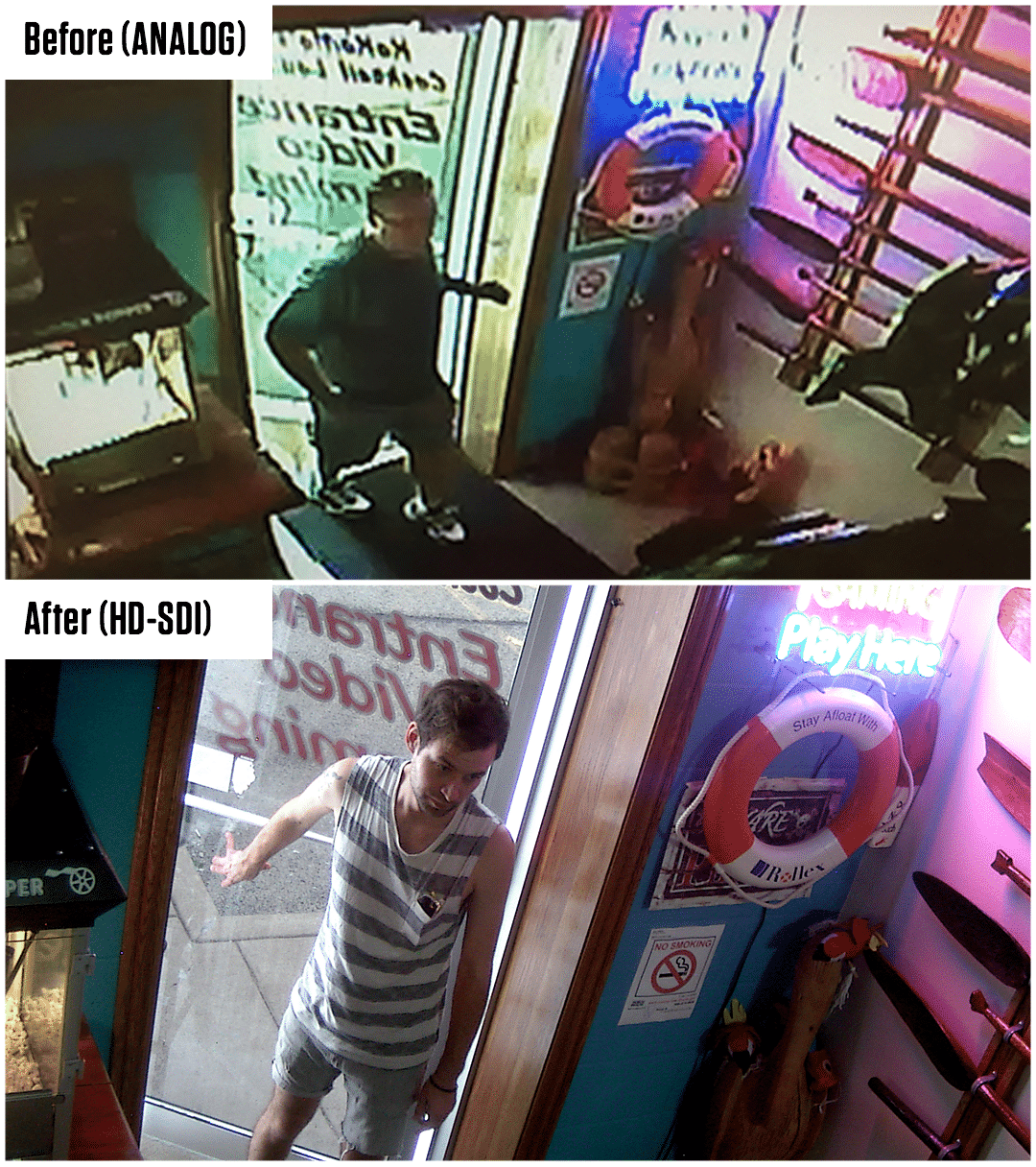 Why Clinton Chose HD-SDI/EX-SDI?
The answer is simple: image quality. We believe that the surveillance industry should constantly be striving for better image quality. After all, think about what purpose security cameras serve. Why not choose the best in class image quality when it comes to one's personal safety and security.
There may be lower priced HD over Coax solutions out there, but what sacrifices were made to obtain that lower price point? Take a closer look, and you will see why you truly get what you pay for when it comes to quality.
Request a catalog here or apply to become a Clinton Dealer here.
Organized retail crime is the theft of retail merchandise on a larger scale with the intent to resell. Simply put, these are not just everyday people shoplifting for personal gain or need. These offenders are organized criminals called "boosters," stealing for the sole purpose of reselling stolen merchandise on the street.
ORC (Organized Retail Crime) happens every hour of every day in retail stores all across the country. In 2014, 88 percent of retailers fell victim to retail crime according to the "Organized Retail Crime Survey" conducted by the National Retail Federation (NRF).
And it's not just expensive electronics or cosmetics being stolen. Everyday items are often the target: razors, laundry detergent, baby formula, over-the-counter meds, or anything that is easy to steal and sell on the streets is fair game.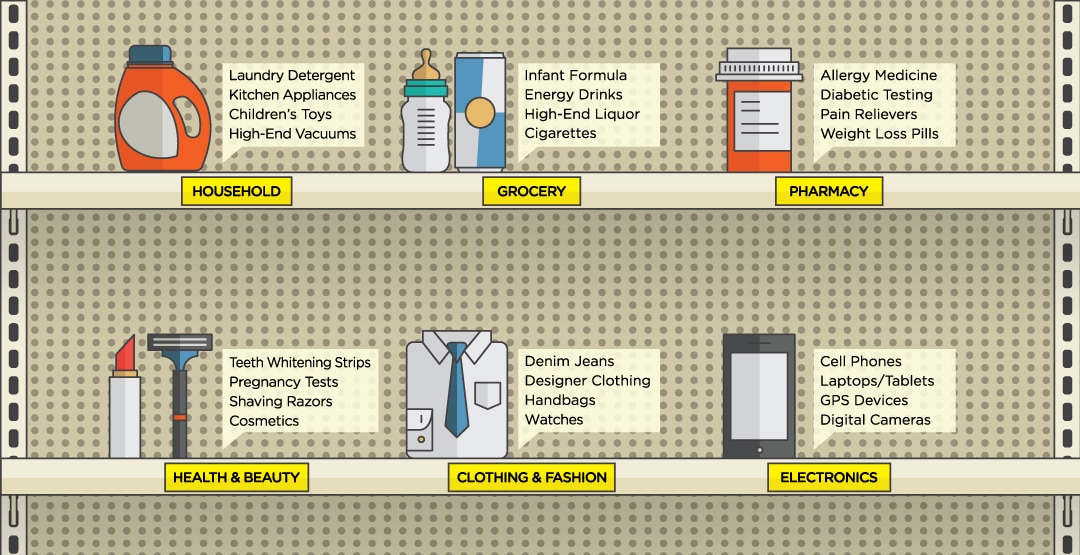 Organized Retail Crime rings are clever and ever-changing. Thieves often use foil lined bags or purses called "booster" bags in an effort to defeat electronic security tags when exiting the store. Other crime rings deploy multiple offenders to rob a store at once. These offenders take on flash mob tactics to invade and rob the store by using sheer numbers in an effort to intimidate and overwhelm retail employees. Both tactics render traditional security and theft devices useless.
How do we stop it? While locked cases, item security tags, and specially developed security product dispensing hooks do help reduce the amount of retail theft, they also inhibit the shopping experience. Not all items can be kept under lock & key and most retailers want shopping to be a self-service experience.
Enter the Public View Monitor. The increased presence of Public View Monitors (PVMs) in retail establishments can be attributed to one simple fact: they work. They are an active theft deterrent that delivers immediate measurable results. Unlike traditional CCTV cameras mounted to a ceiling, EAS systems, or other "after the fact" systems, PVMs actually deter theft from occurring. They act as a simple reminder that states; "you are being recorded." Potential thieves and curious shoplifting first timers are intimidated at the sight of a PVM and often leave the store immediately upon noticing them.
The Loss Prevention Research Council (LPRC) has conducted numerous studies on the effectiveness of PVMs for loss prevention and shrink control. The results are truly revolutionary. Not only does shrink go down by triple digits, sales go up by double digits, and the overall perception by both customers and employees is positive. Some retailers have reported a 330% drop in shrink when they use an 8" PVM in a high theft area. Retailers are quickly finding out that PVMs are as an essential tool in reducing theft. Clinton PVMs are currently used in 8 out of the top 10 retailers in the USA.
Request a catalog here or apply to become a Clinton Dealer here.
It is no secret that most HDMI LCD monitors will work just fine for your DVR for a little while. But what happens if that LCD monitor was not designed for constant 24/7/365 use? How long will it last? What happens when the monitor fails? Will that box store advance replace your LCD or will they make you buy a new one?
Will you keep the receipt and take the time to go back to that box store and walk out with a replacement at no cost or hassle? Will they even have the same model 6 months from now – how about a year from now? These are questions that every CCTV integrator should never have to ask.
Your Warranty Really Does Matter:
Clinton Electronics offers a 3-Year Warranty with 1st Year Advanced Replacement: If your LCD monitor fails within one year of purchase, we will advance replace it. Call your local box store and find out what their warranty is on the LCDs they sell – chances are the warranty is "limited" and only for 12 months. Most warranties for larger LCDs (37" and above) are in home repair only – meaning a technician will be sent to your location to repair the LCD. What happens when that technician finds out the LCD is being used for commercial use and not consumer use – WARRANTY VOID! Clinton is servicing and maintaining LCD monitors from programs that are 10 years old and still going strong. Let's face it: Sooner or later that electronic device will fail. Sure, we stand behind our products for the 3 year warranty, but we also go beyond the warranty and will repair the monitor for a minimal charge because we have the ability to do it.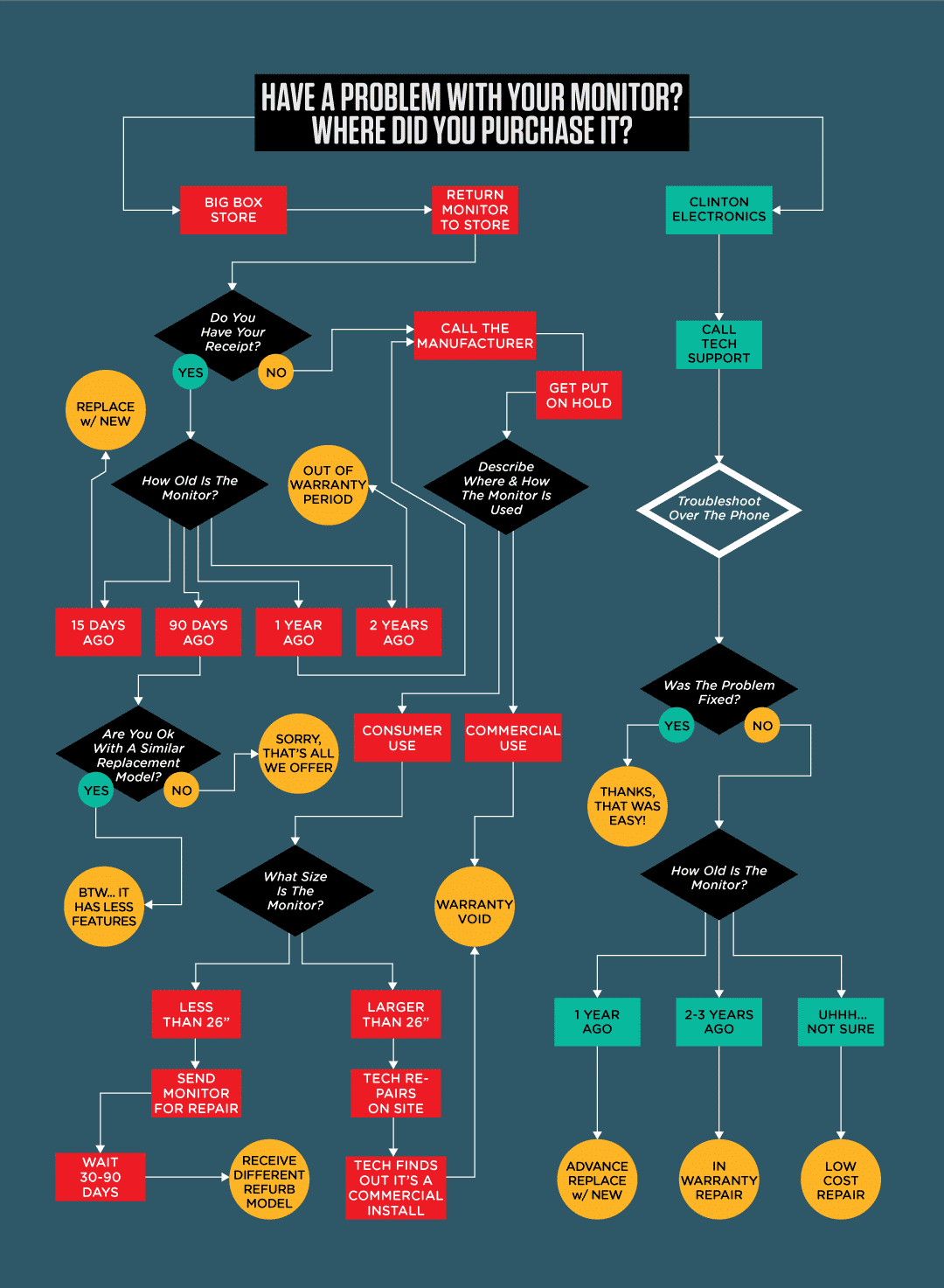 Need An Expert?
Our free technical support is only a phone call away to help walk you through any difficulties you may have with your installation or application. Our sales and engineering staff are here for you, and they are experts in video technology. Our average tenure in the technical support department is 25 plus years. We can trouble shoot, repair, and recommend a solution faster than anyone else in the industry.
Building On A Legacy:
So who is Clinton Electronics? We have been in the video display business for over 50 years. In 1963, Clinton Electronics began building black and white picture tubes for the television CRT industry. Since that time, we have evolved into the world's largest Public View Monitor & LCD monitor manufacturer for the video security industry. We know what goes into a quality monitor and how to design and manufacture one to last. So the next time you need an LCD monitor, put your trust in our 52 years of video display manufacturing and expertise.
Where do you buy your CCTV monitors?
Request a catalog here or apply to become a Clinton Dealer here.