Teller Camera
Introducing the CE-TC1QHD Teller Cam. A discrete and aesthetically pleasing solution for teller stations and payment windows. The teller camera features a 4MP EX-SDI built-in camera that is ideal for capturing low angle face shots during transactions.
Reliable Facial Identification
When compared to a traditional ceiling mount camera, the Teller Cam captures close-up facial details of the subject even if they are wearing a hat or hoodie. A comparison shot of the teller camera vs. a ceiling mounted camera is shown below.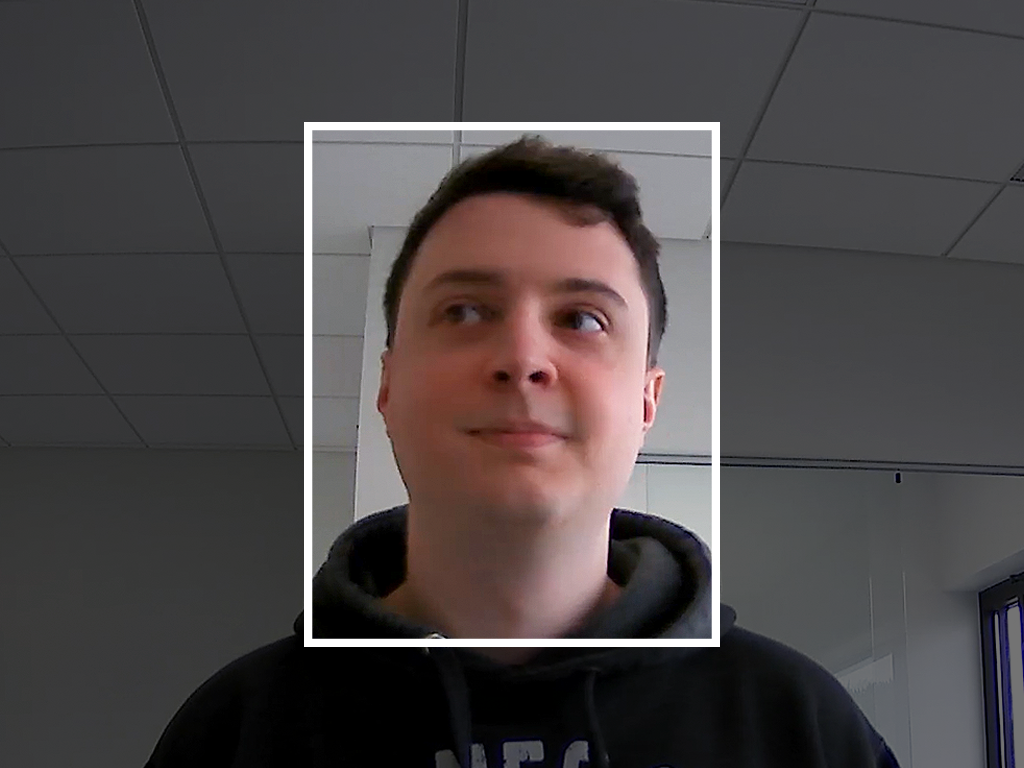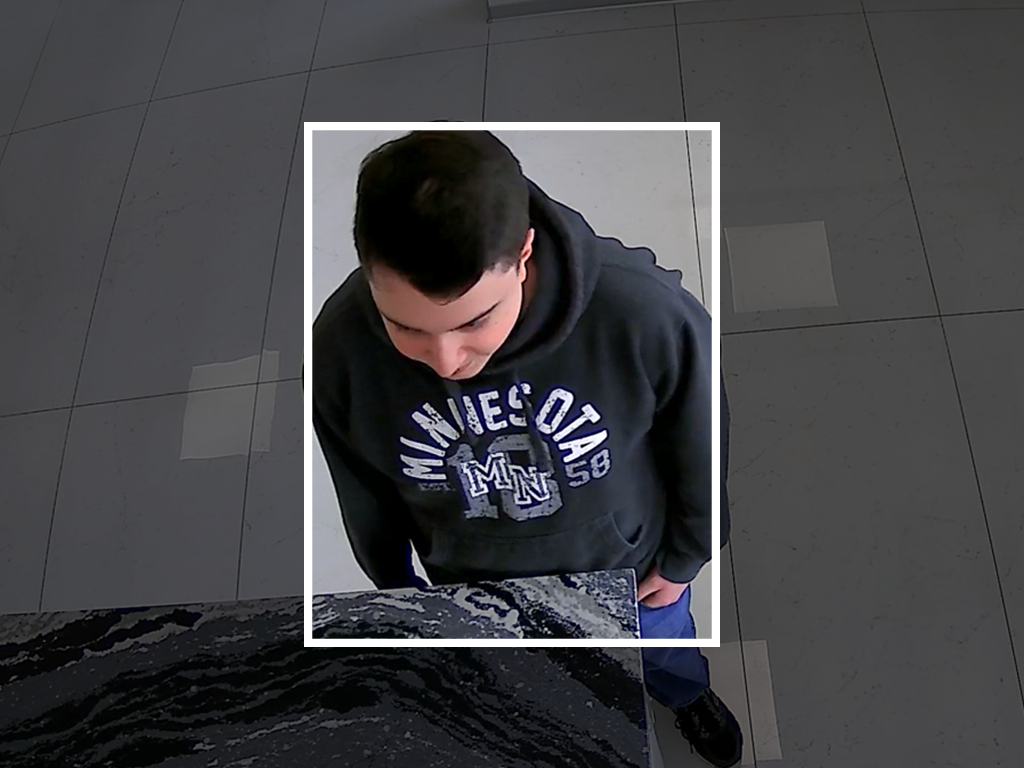 4MP EX-SDI Camera
The CE-TC1QHD is equipped with a 4MP EX-SDI camera that produces a clear image in any lighting condition, as well as a secondary BNC output that can output HD Analog or Analog signals.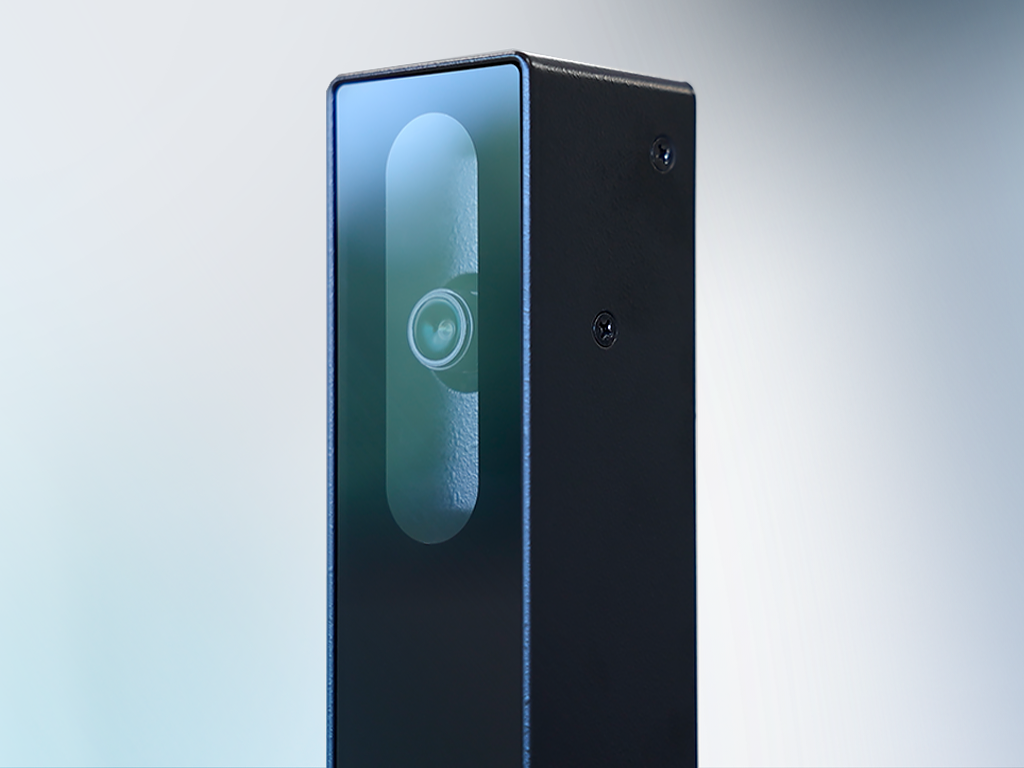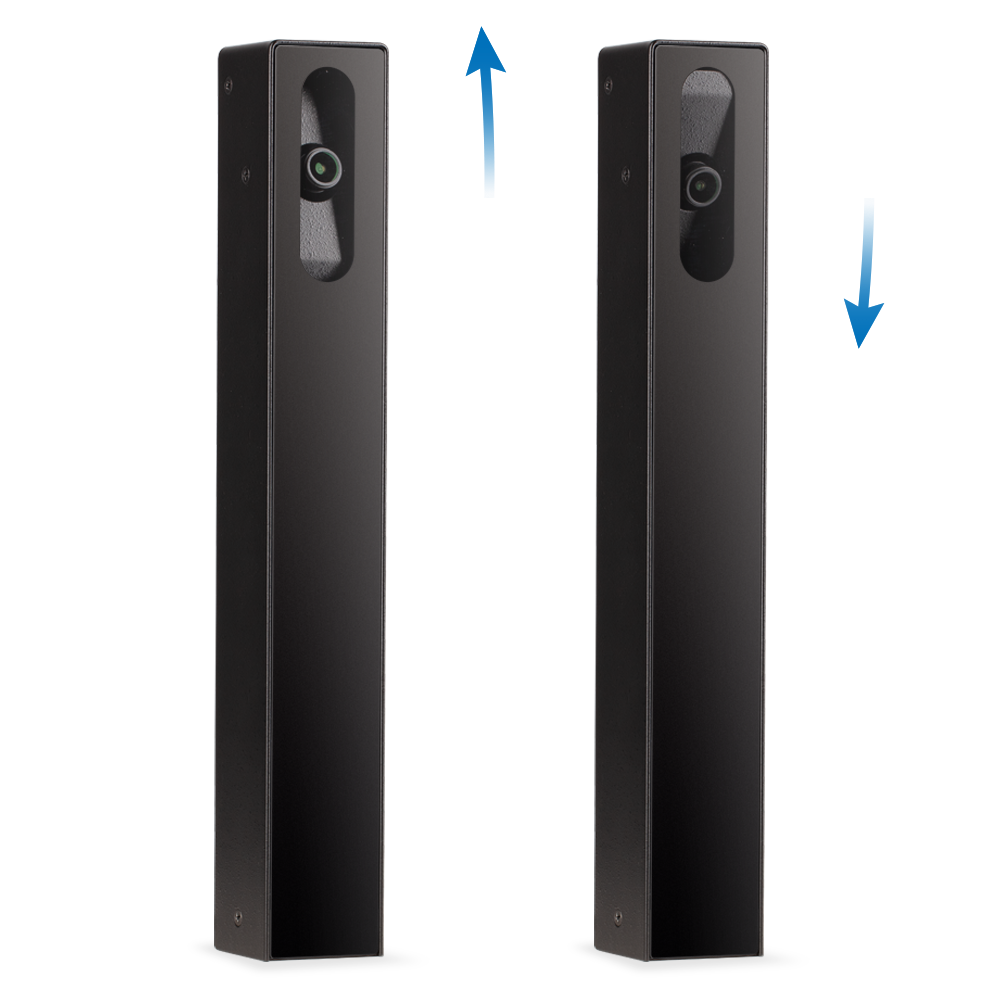 Adjustable Camera Tilt
The CE-TC1QHD has an adjustable tilt mechanism that allows for an 18-degree tilt, allowing the installer to achieve the proper viewing angle.
Easy Installation
The CE-TC1QHD has an installer-friendly, robust metal housing with an acrylic protective front. The housing can be surface-mounted or conduit-mounted, and it includes a joystick-on cable for camera menu control.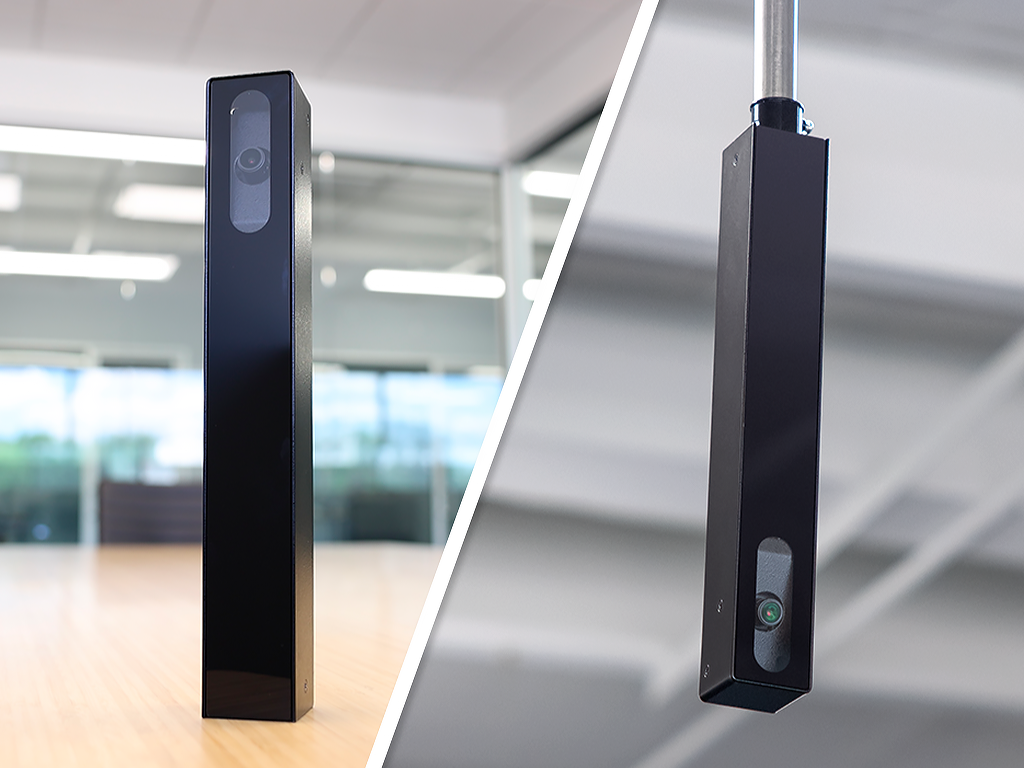 Power Over Coax (PoC) technology, like an IP-based system that employs Power of Ethernet (PoE), allows data and power to be transmitted over standard coaxial cable between the camera and DVR. PoC technology removes the need for separate power supplies, shortens installation times, and minimizes cabling costs.
CE-FXPOC16
Our new Power Over Coax (PoC) equipped DVR, which uses the same platform as the 16 channel FXR Series DVR, allows you to power connected PoC enabled cameras through the coax cable, eliminating the need for a separate power supply. You can even check power consumption via the DVR's OSD menu with PoC.
PoC-Enabled Cameras
All PoC-enabled cameras can be powered by PoC, DC12V, or AC24V.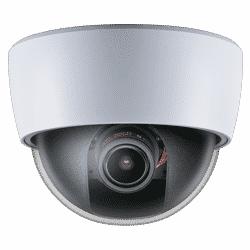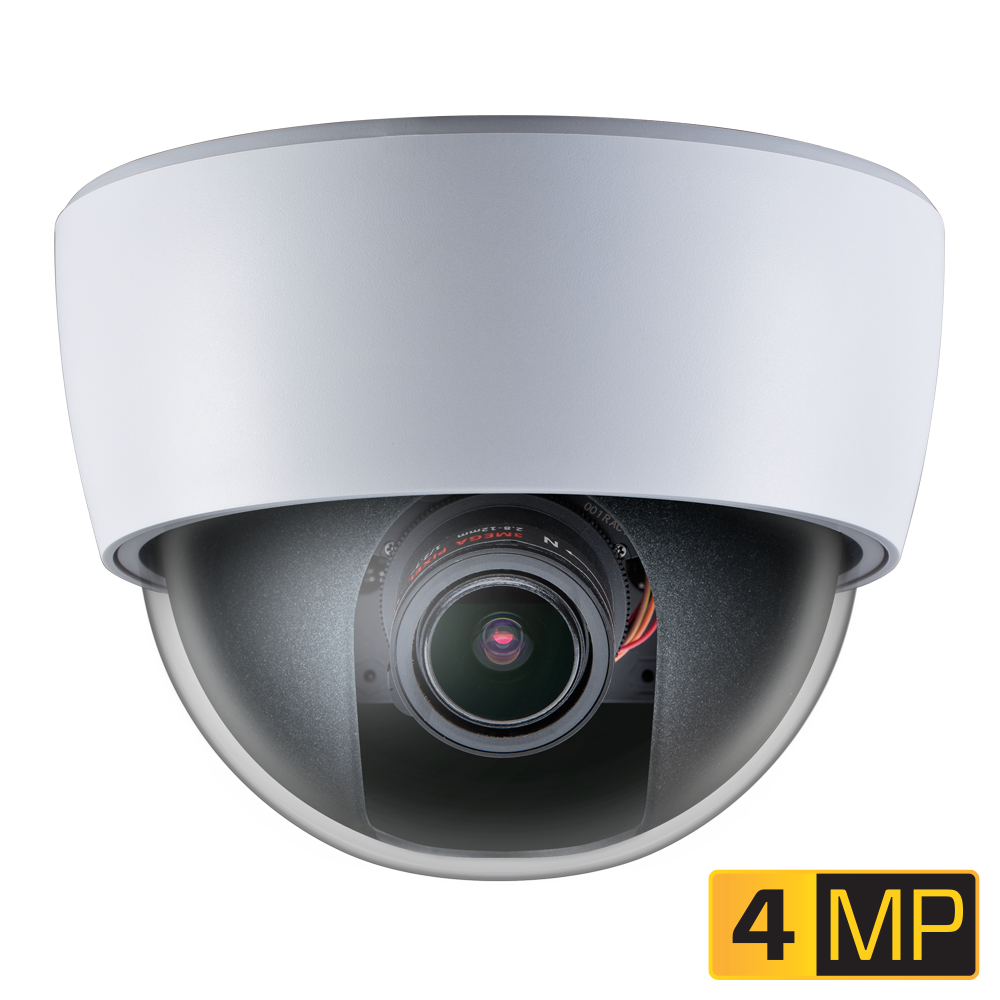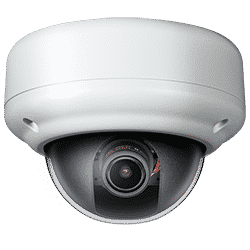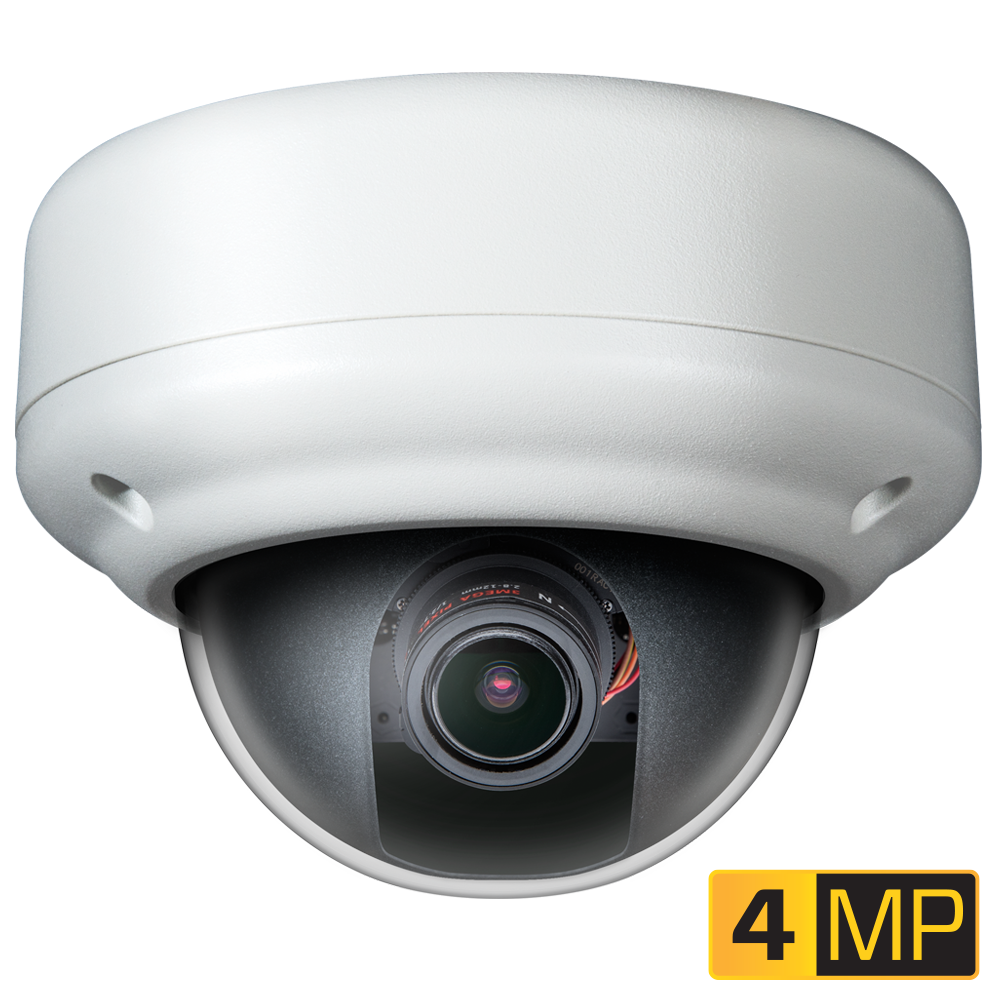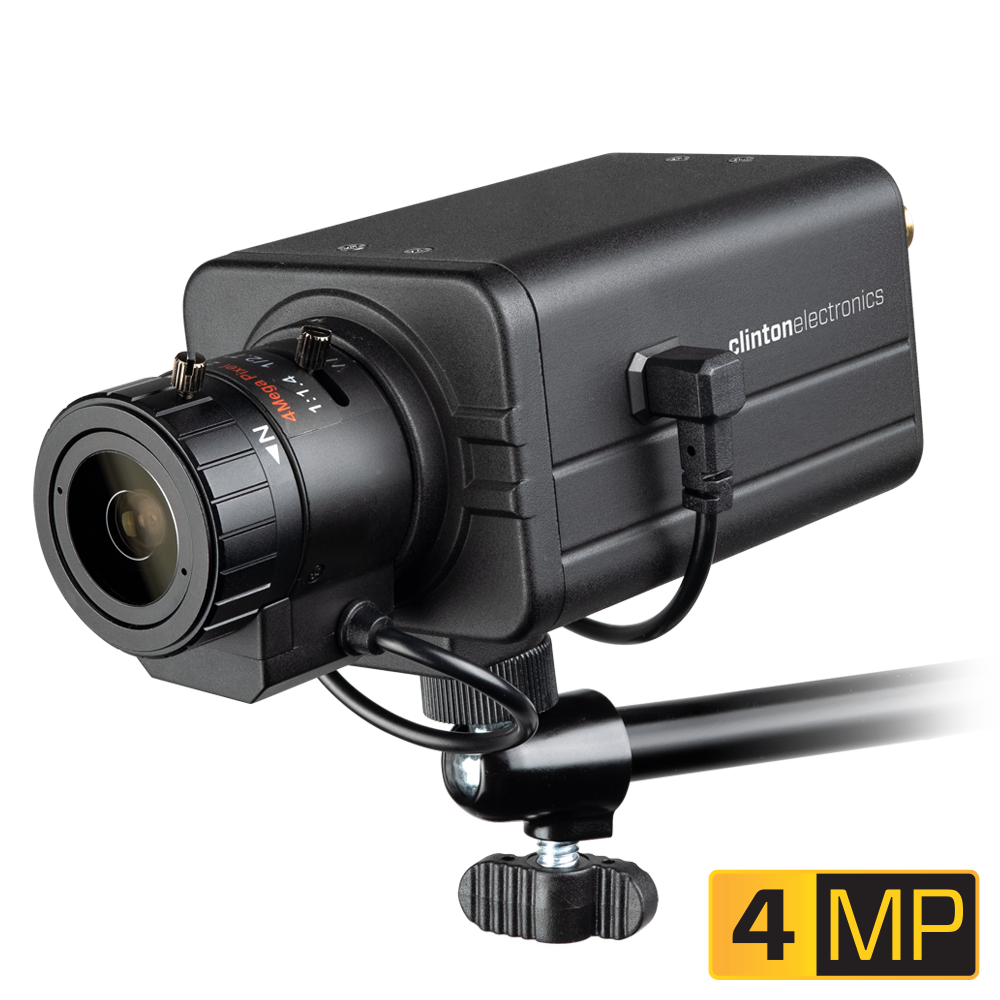 EX-SDI PoC Technology
EX-SDI PoC (Power over Coax) is a technology that uses an overlapping signals to supply power, downstream video, and upstream UCC. In addition to electrical circuit protection, it has filter circuits to prevent signal crosstalk with video signals. All PoC-enabled EX-SDI devices are compatible with non-PoC cameras and DVRs, and vice versa.

Introducing the Height Strip Camera
Looking to capture a face shot of a fleeing thief? Introducing the CE-HSC1QHD from Clinton Electronics— a 4MP EX-SDI Covert Height Strip Camera. Height strip cameras are beneficial at convenience stores, retail stores, and banks because they allow eyewitnesses to rapidly establish the height of a fleeing suspect while recording facial details on camera.
Reliable Facial Identification
The CE-HSC1QHD is designed to be mounted at the entrance or exit and provides clear facial details even when the subject is wearing a hat or hoodie. These critical facial images are often impossible to acquire with typical, ceiling-mounted cameras.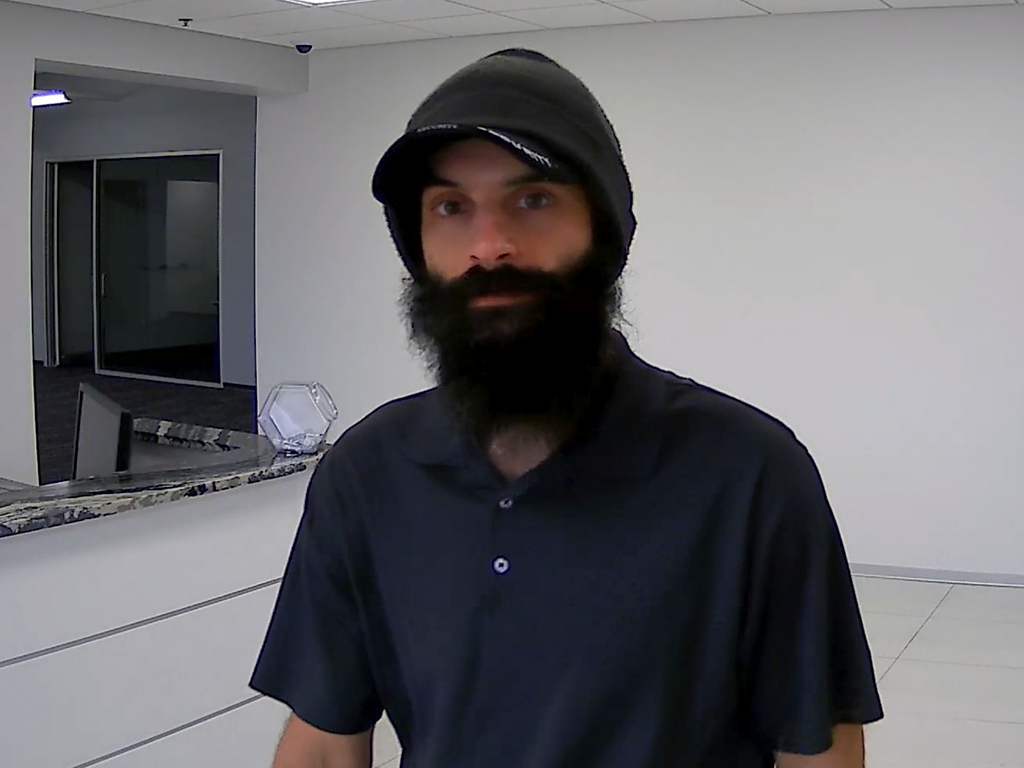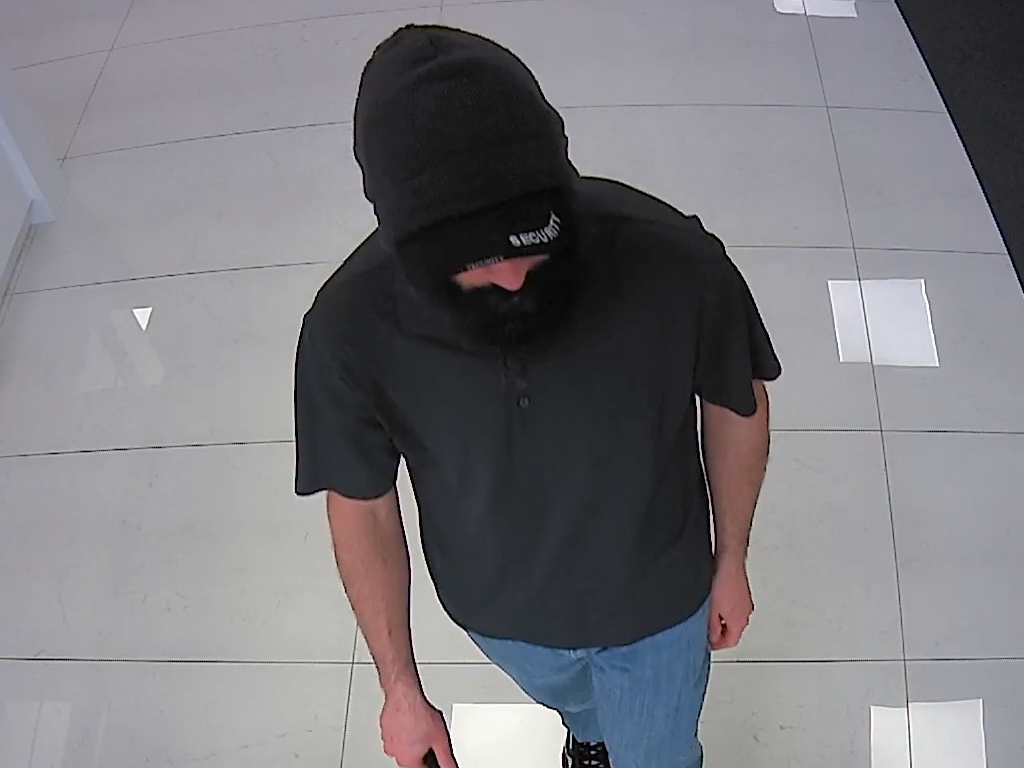 4MP EX-SDI Camera
The CE-HSC1QHD comes equipped with a 4MP EX-SDI camera that produces a clear image in any lighting condition. The camera's wide-angle 2.8mm lens provides a 113° horizontal field of view.
In addition to EX-SDI, the Height Strip camera can also output HD Analog or Analog signals through a secondary BNC output.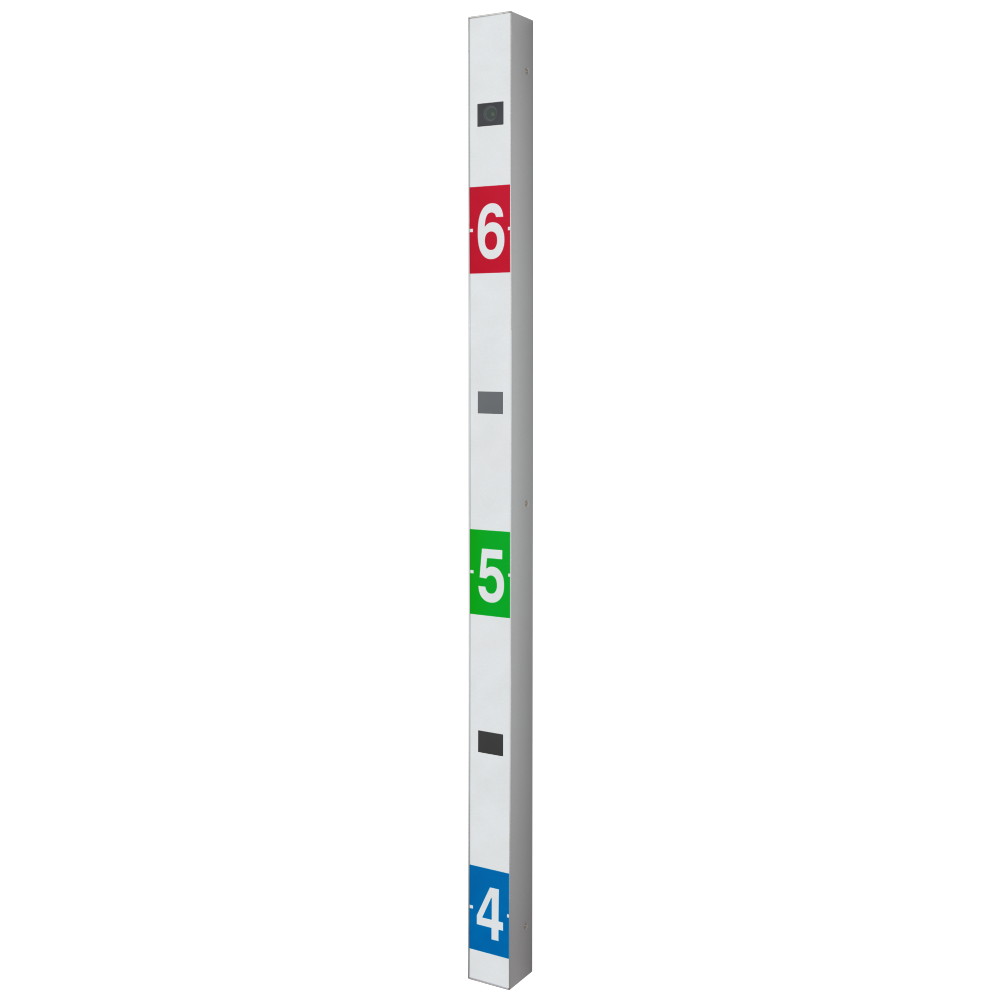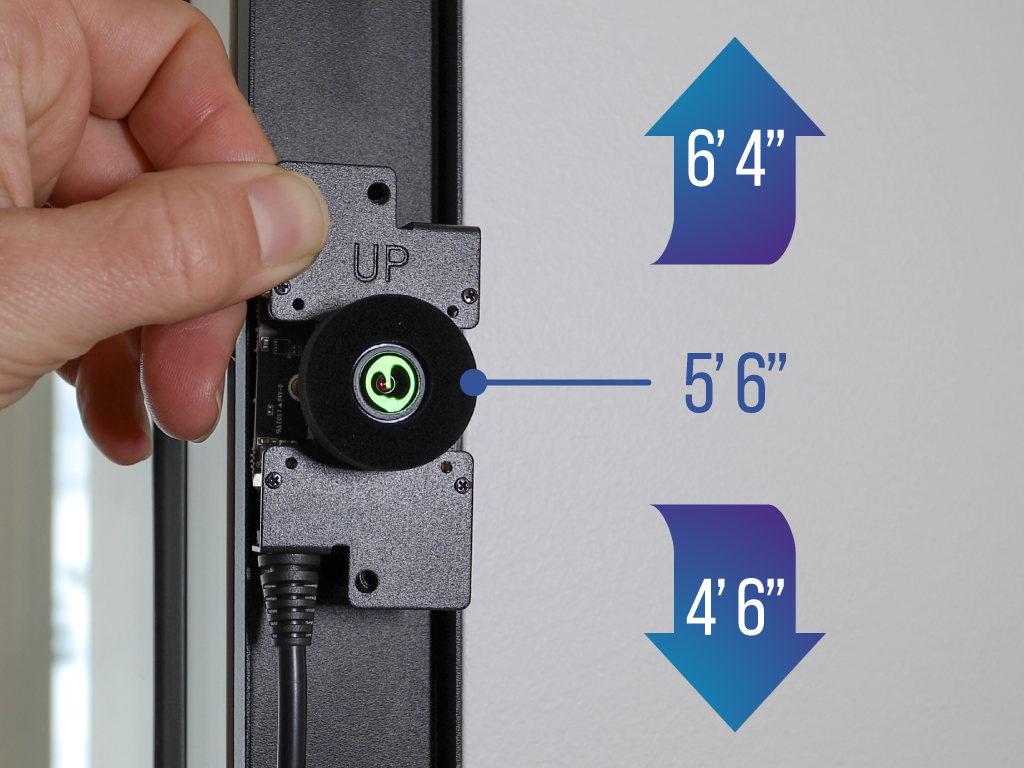 Adjustable Camera Height
Choose between three camera mounting heights: 4 feet 6 inches, 5 feet 6 inches, or 6 feet 4 inches—and install the camera sled with our tool-free design.
Height Markings
Thanks to the high-contrast colored height indicators at 4 feet, 5 feet, and 6 feet, additional CCTV cameras facing the door and eyewitnesses can quickly establish the height of a fleeing individual.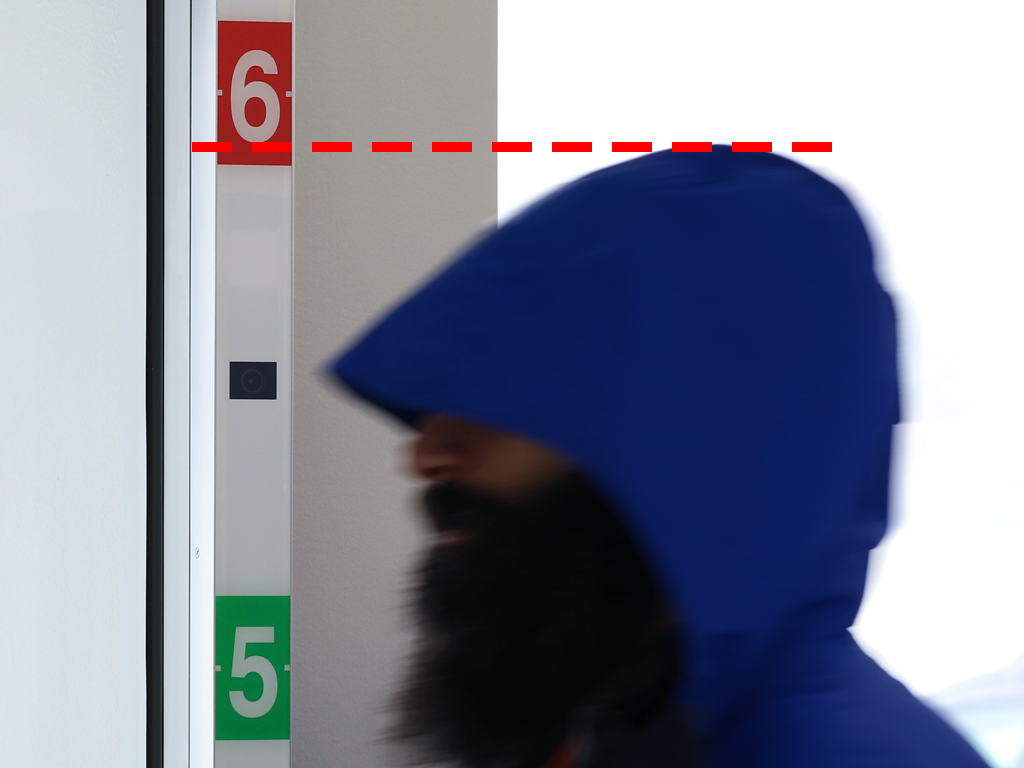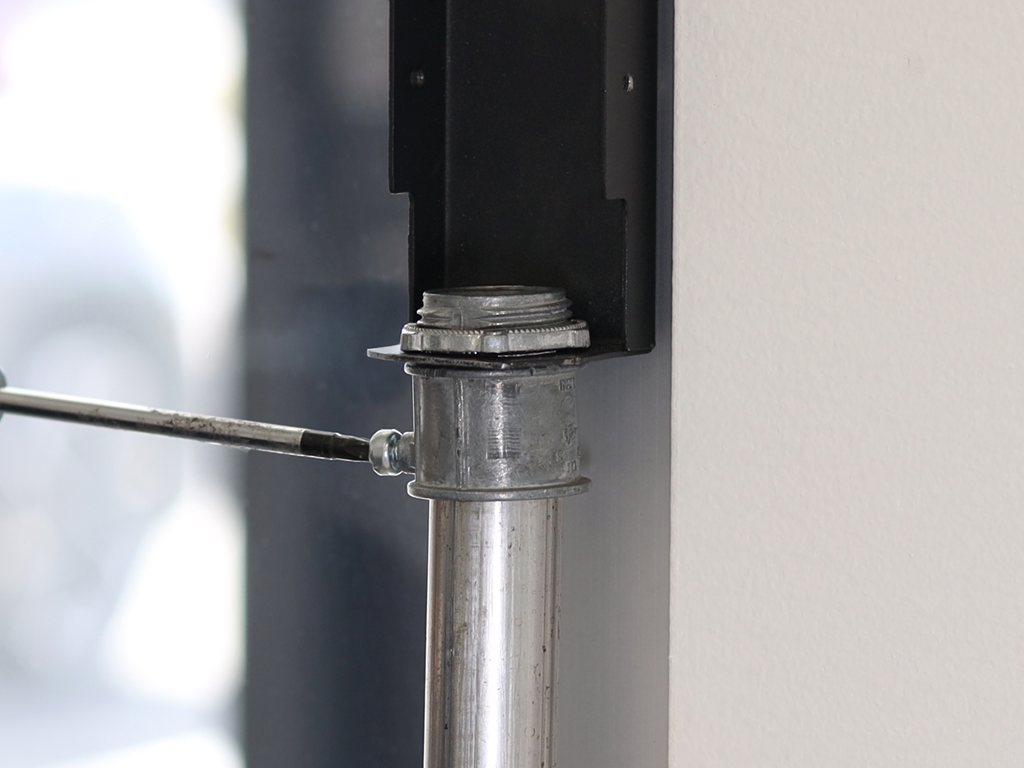 Easy Install
The CE-HSC1QHD fits standard 1.75″ door frames and has top, bottom, and rear cable entry options with 1/2″ or 3/4″ EMT conduit knock-outs.
Introducing CVMS Mobile
CVMS Mobile (Clinton Video Management Software) allows you to connect to your Clinton Electronics H2L, FXR, EX, or Hybrid Series DVR from anywhere in the world. This free DVR app for iOS® and Android™ devices comes loaded with features that make it easier than ever to view live, search, and save video from your DVR.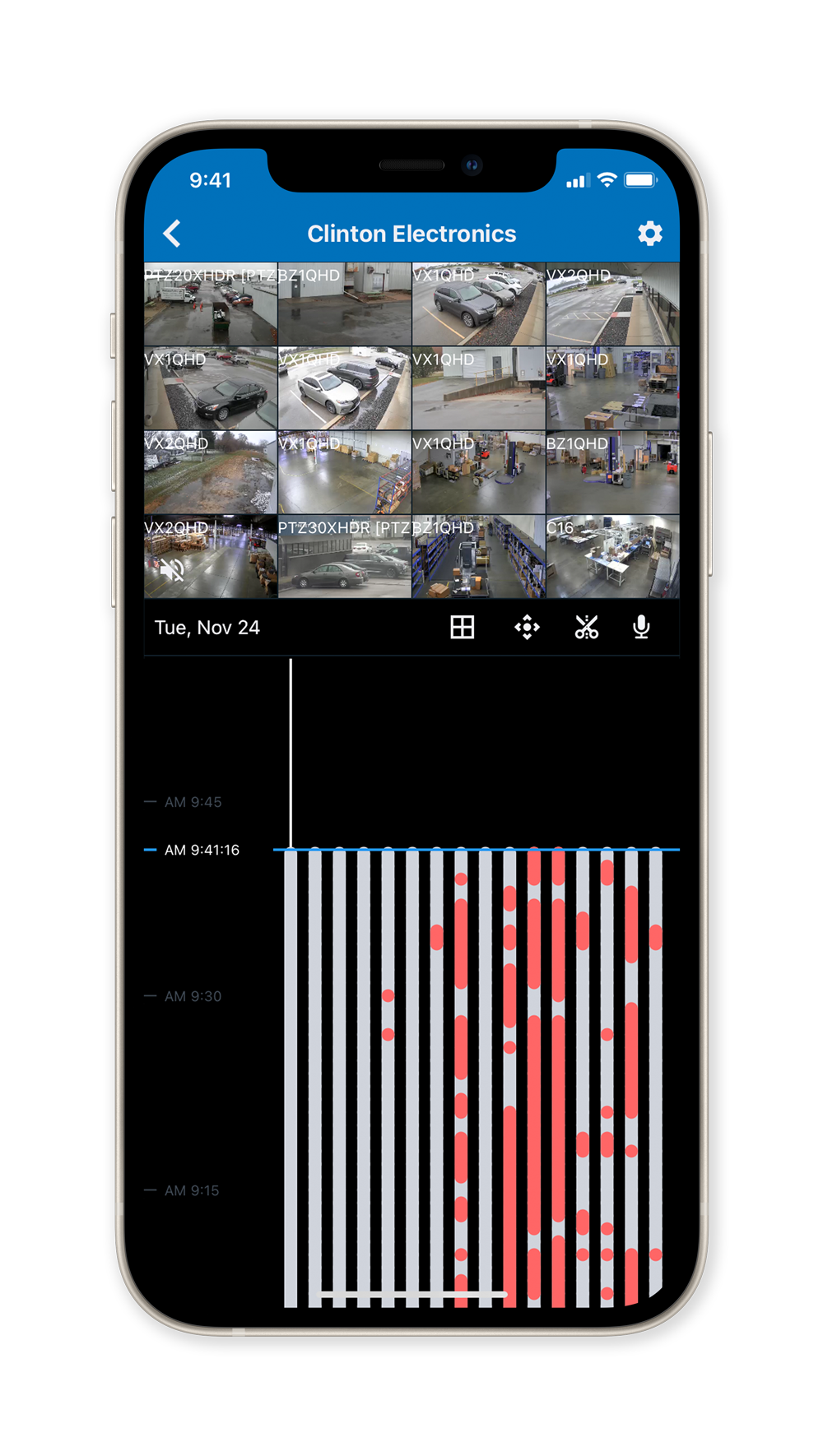 Timeline Search
Searching video on-the-go has never been more convenient; quickly scroll through your timeline to view any events you may have missed. You can even search all cameras at once with the new color-coded timeline view.
Event Thumbnail Search
Quickly find the event you're looking for with thumbnail search by tapping on the thumbnail in the search timeline when in the single-camera view.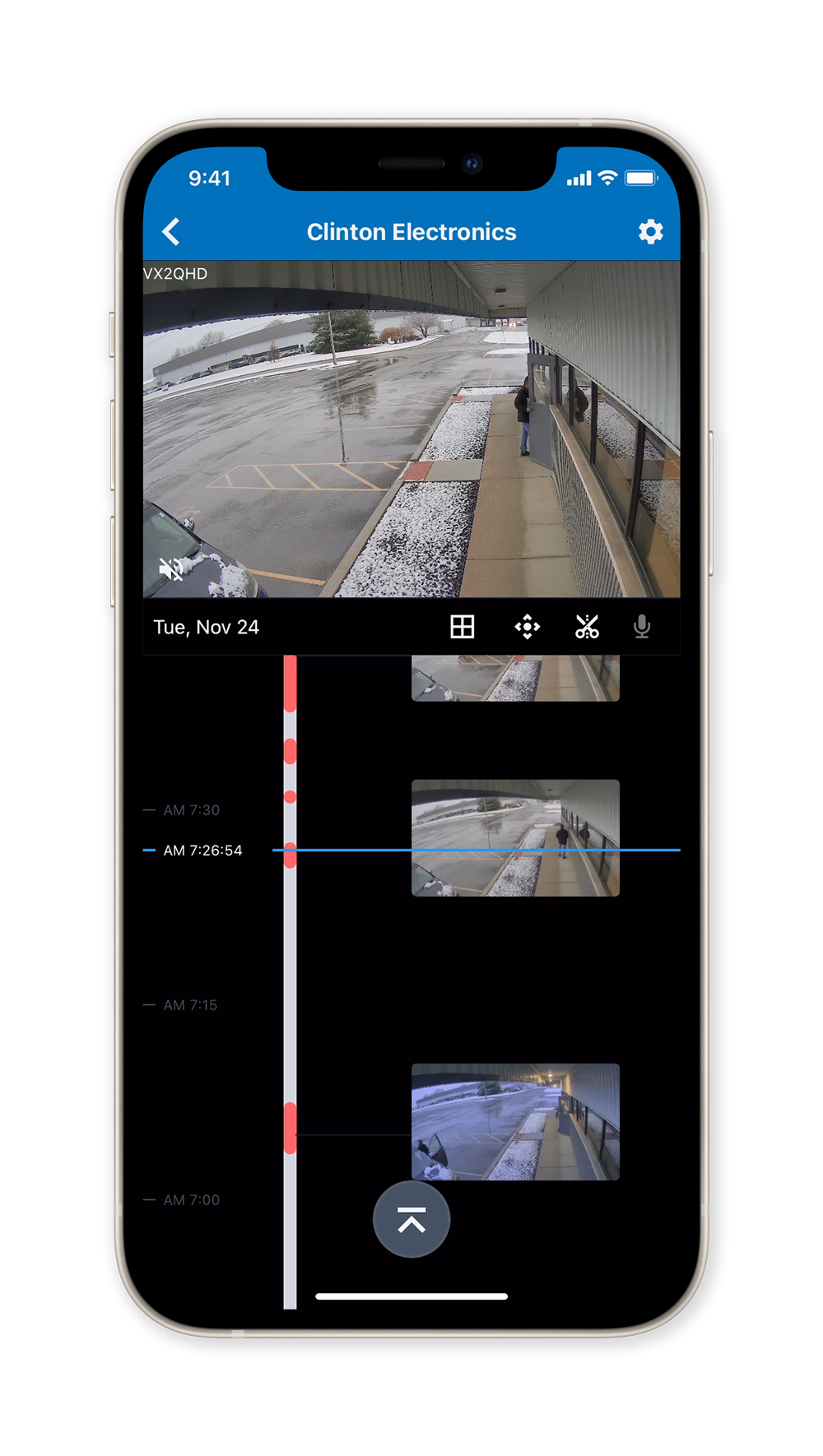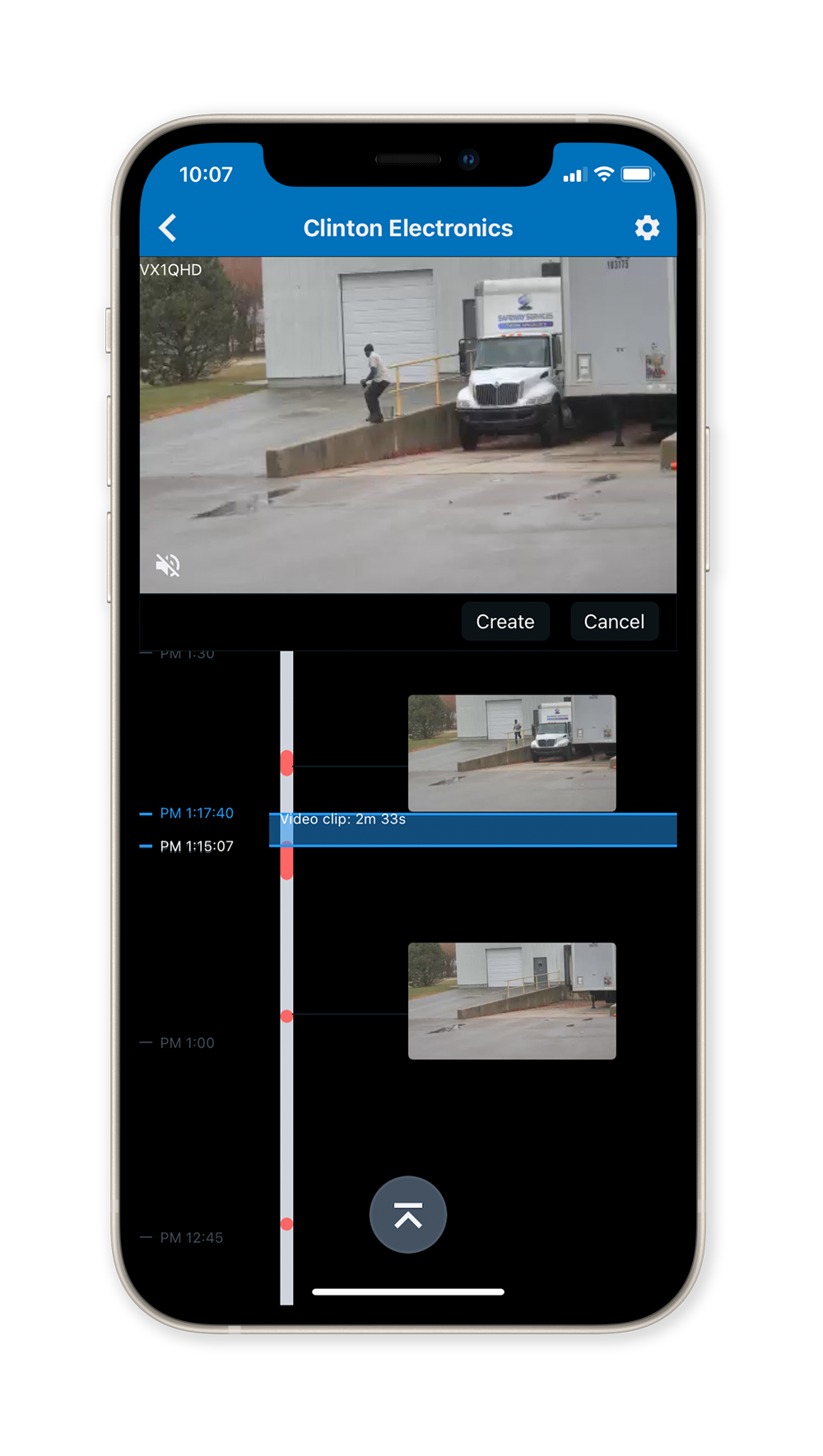 Create Video Clips
Need to backup video while away from your DVR? With CVMS Mobile, creating a video clip is easy. Tap the clip icon and trim the video clip to the desired size by dragging the timeline view.
Share Video Clips
Share your saved video clips from the clips library by message, email, AirDrop®, or via a 3rd party cloud storage application on your device like Dropbox™ or Google Drive™.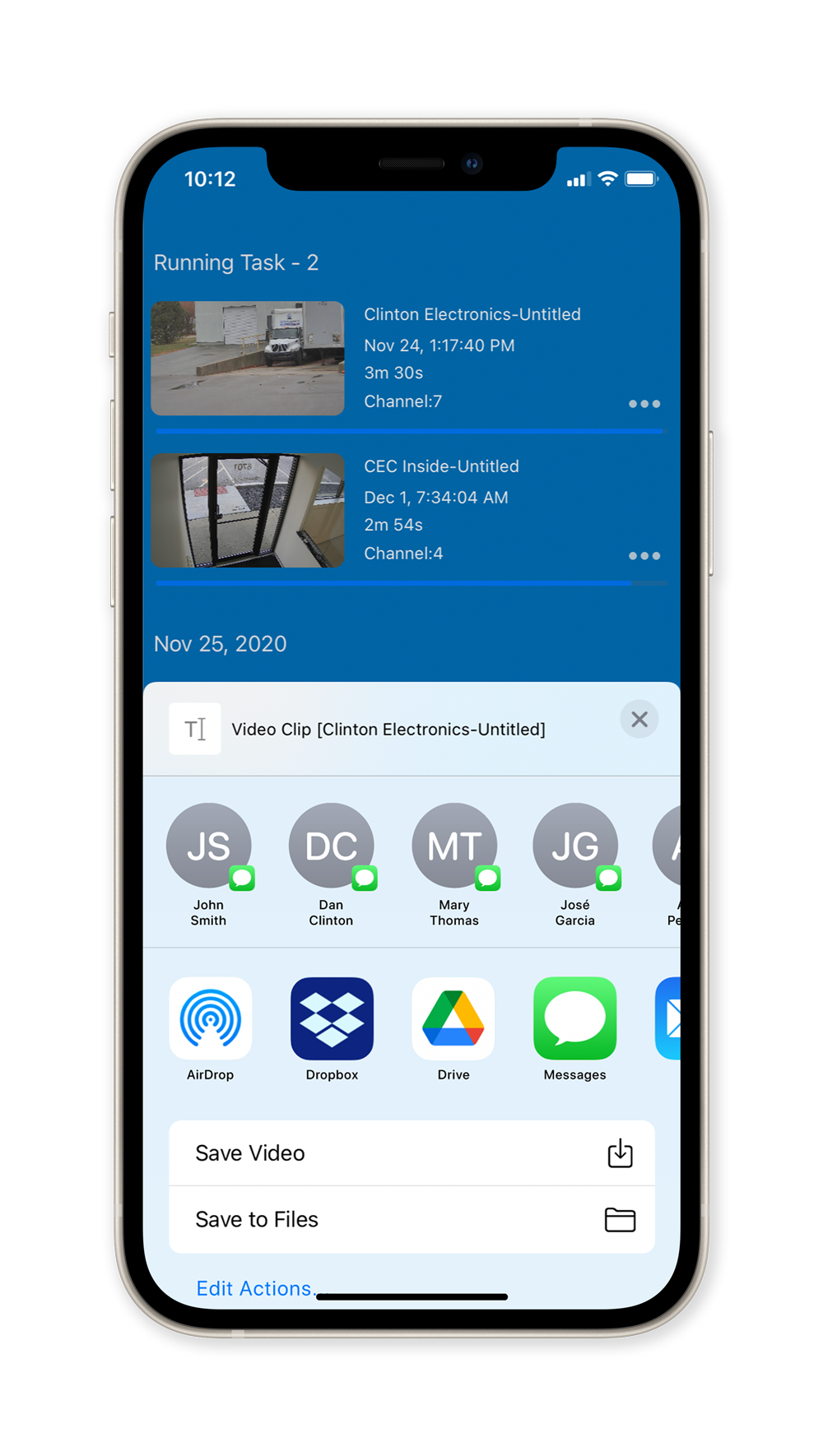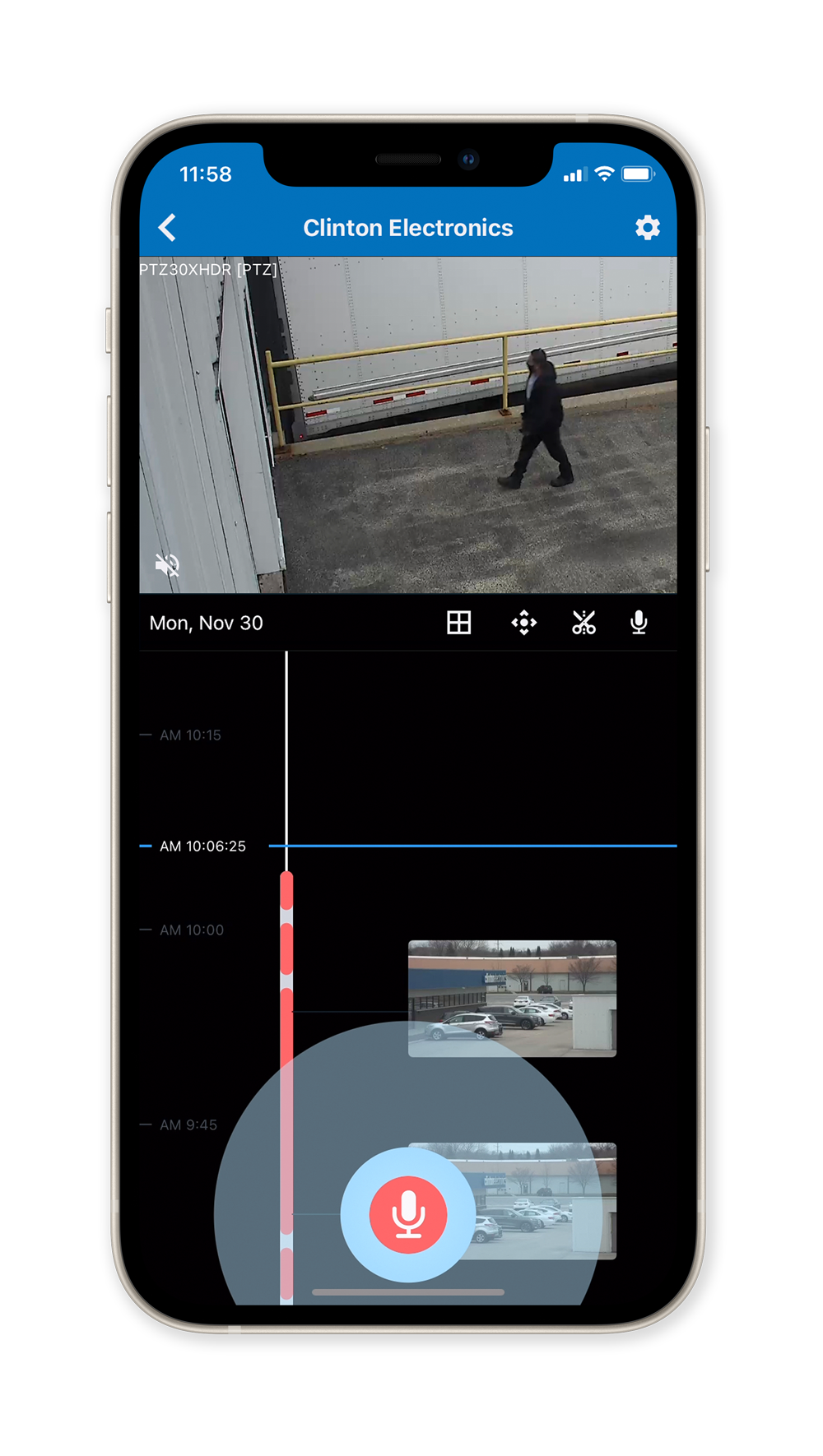 Two-Way Audio
With a tap of the mic icon, CVMS users can communicate through their DVR's connected speakers, making it the perfect tool for giving verbal instructions to visitors or scaring off would-be thieves by confronting them.
*This feature requires an external speaker and microphone connected to the DVR.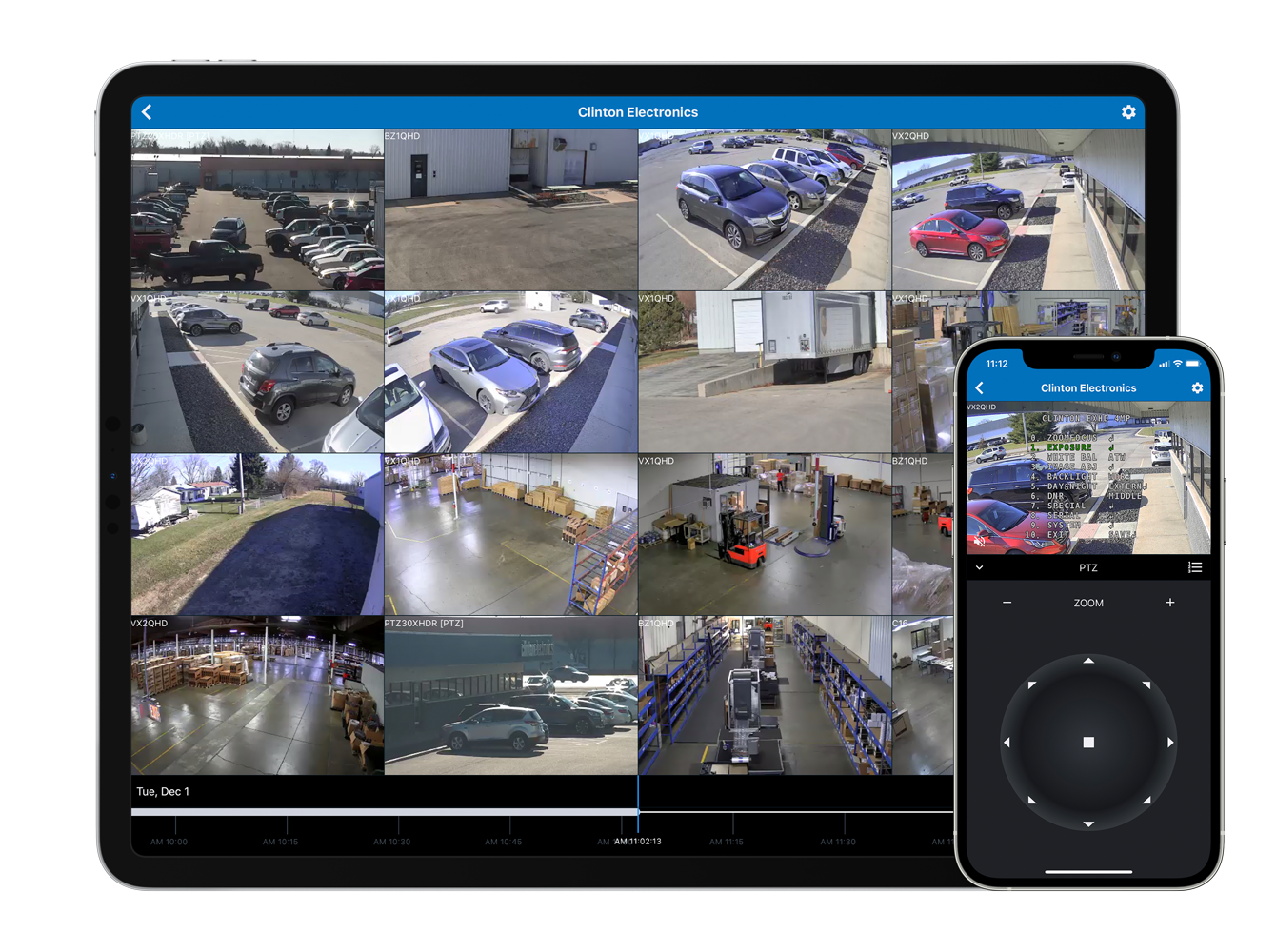 CVMS Mobile Advanced Features
CVMS Mobile builds upon its core functionality with advanced features like multiplex views, PTZ & UCC camera control, DVR site book, and even full remote control of DVR settings.
Multiplex Views
View live or recorded video from multiple cameras at a time using 4, 9, or 16 camera views or double-tap any camera for full-screen.
Camera Control
Create thumbnail images of PTZ presets for quick one-press movement. Remotely zoom in/out or adjust EX-SDI camera settings
DVR Site Book
Enter and save multiple DVRs and quickly recall them via the thumbnail preview. Users can also rearrange or edit existing DVRs.
DVR Settings
With DVR settings control, users can make real-time adjustments of all DVR settings, just as if they were physically at the unit.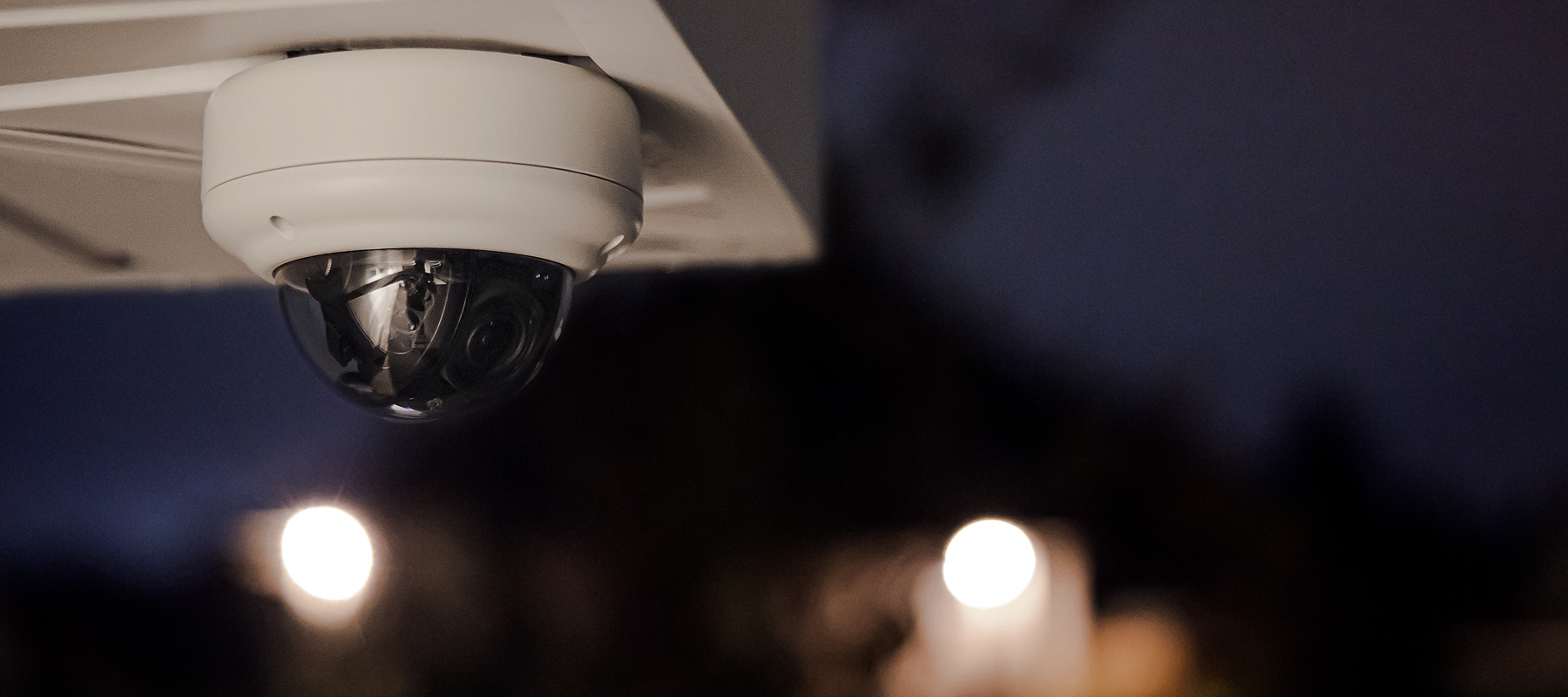 How can CCTV surveillance cameras deter crime?
Do CCTV cameras alone deter theft? Well, that depends. Are the cameras visible or hidden? Most can agree that cameras are only useful in changing criminal behavior when visible to the subject. Studies also show that CCTV surveillance cameras are most effective when combined with other crime-reducing methods such as improved lighting.
At Clinton Electronics, we are continually seeking ways to improve camera technology and enhance the theft deterrence factor.
With the rise of LED technology, it's now possible to incorporate high-power white LEDs into a CCTV camera. The advantage of this is two-fold. When triggered, white LEDs allow the camera to see color; this helps identify the subject's details after-the-fact. The second advantage is a bit more obvious: security motion lights are an effective crime deterrent.
The new CE-VX2QHD-WL vandal dome camera features two ultra-bright white LEDs that trigger when motion is detected. These high-power white LEDs are perfect for illuminating areas like the driveway, back porch, or sidewalk.
The addition of white LEDs enable you to see motion events in color and help deter crime by scaring off unwanted trespassers. 
Users can also select three different illumination modes in the OSD menu of the camera: Motion On, Motion Flash + On, and Constant. Each mode offers flexible control over brightness, duration, and motion detection sensitivity.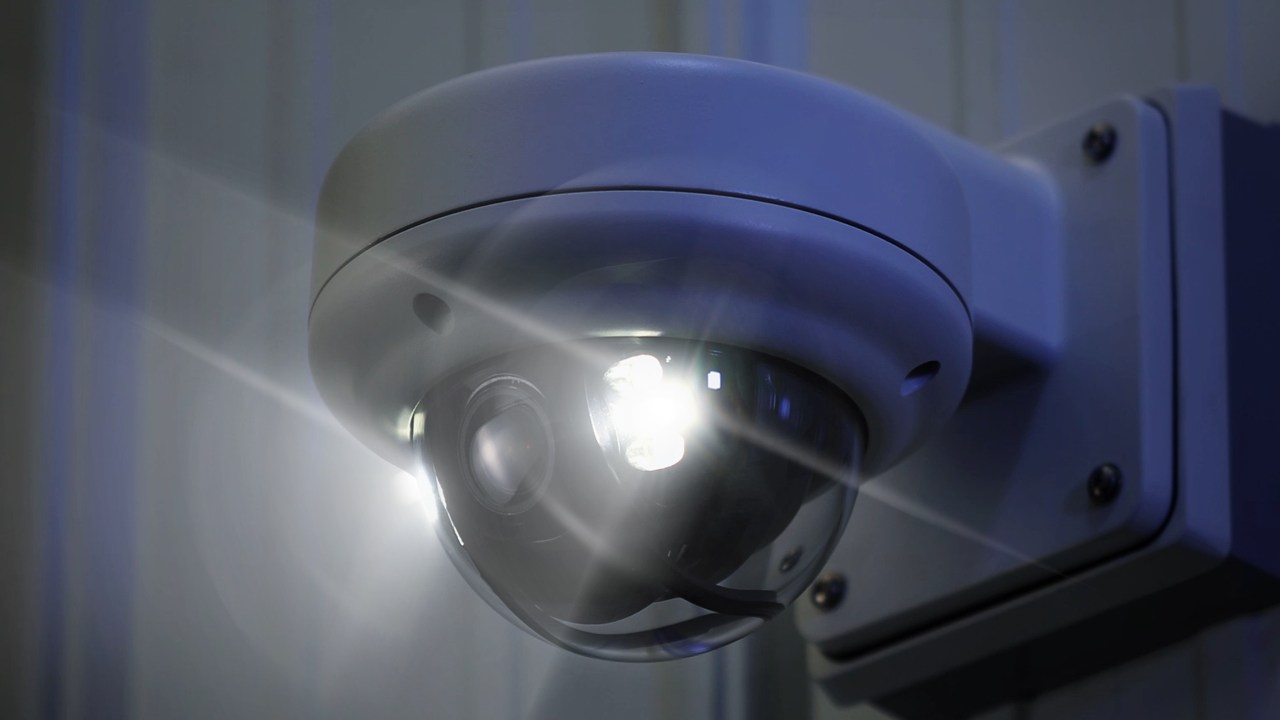 Unlike traditional security lights or motion detectors, the CE-VX2QHD-WL camera uses video motion detection to detect motion. With video motion detection, the user can create motion detection zones using the OSD menu.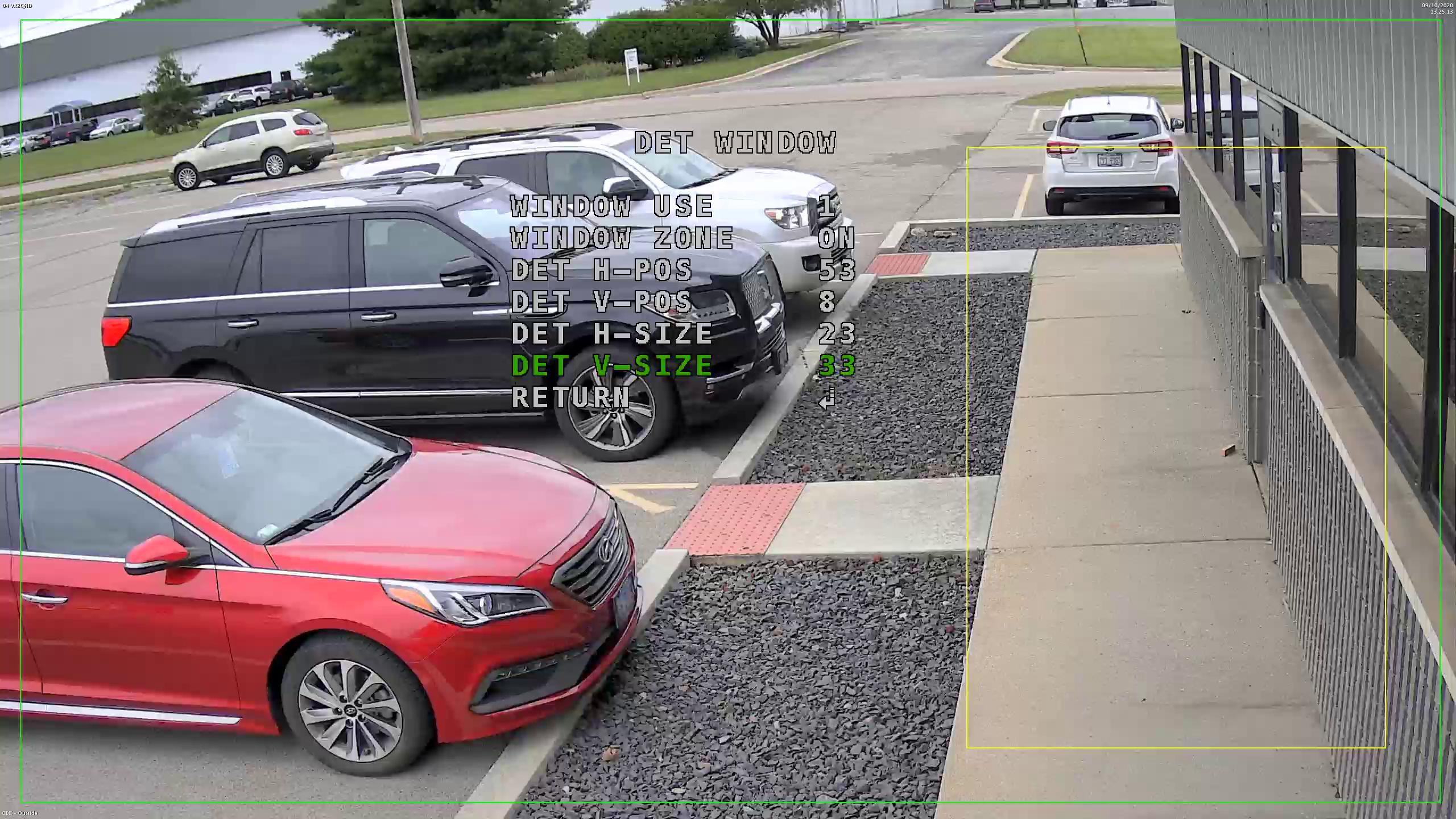 Customizable motion detection allows the camera to ignore high motion detection areas such as windblown trees or busy streets and be tuned to detect motion in desired zones only.
If no movement is present, the camera returns to the standard IR LED mode. Thanks to IR Shield Technology, the CE-VX2QHD-WL delivers a clear image even when rain and dust are present on the surface of the dome. The photos below show the difference between using white LEDs and IR LEDs at night.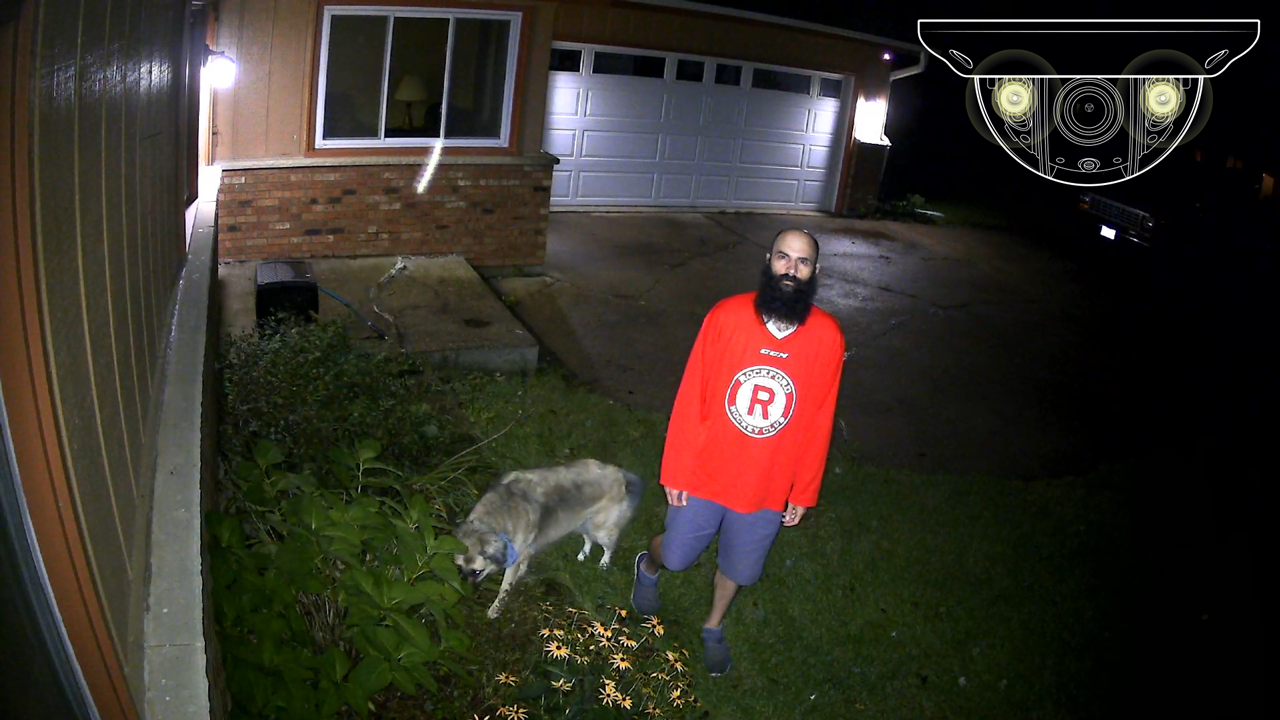 White LEDs
Motion detection triggers White LEDs.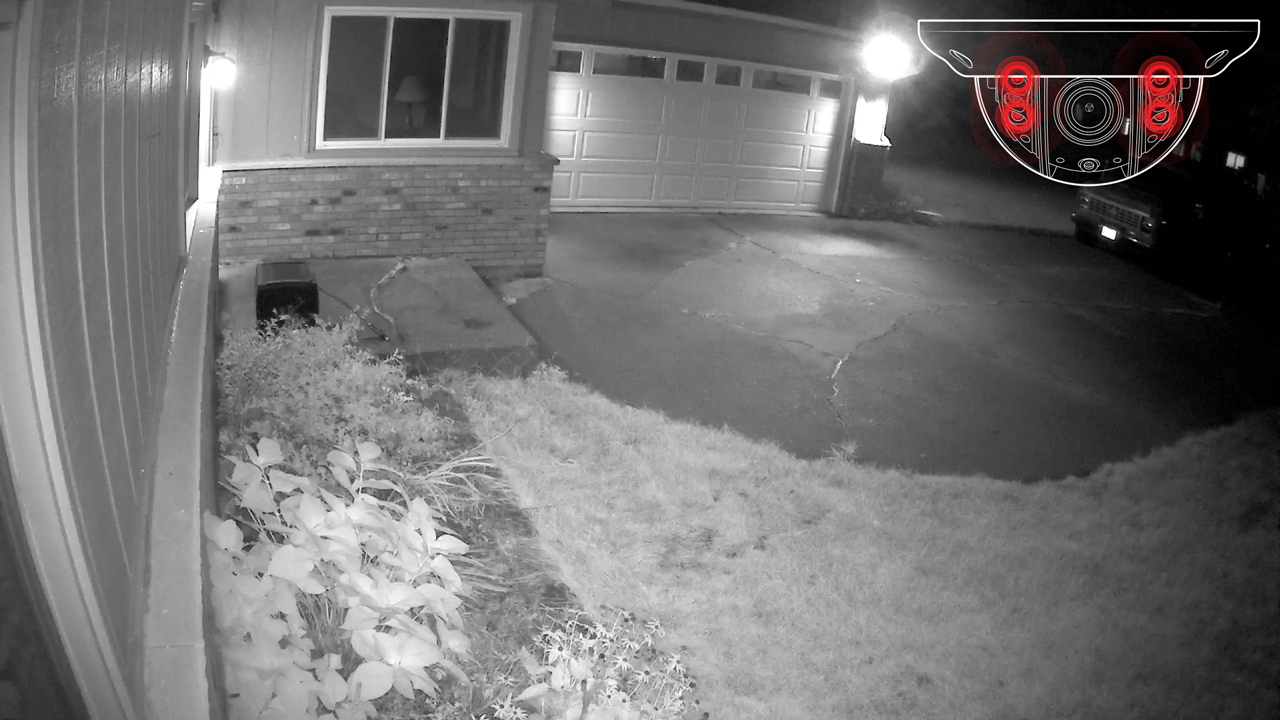 IR LEDs
The camera returns to IR LED mode after the motion event.
In conclusion, not only can cameras with white light LEDs improve night time images they can also play an active role in deterring crime by scaring off trespassers and would-be criminals.
Click here to learn more about the CE-VX2QHD-WL or watch the video below for an in depth product review.
The HD2CAT5 is an HD-SDI to CAT5 Transmitter and Receiver kit.
This device enables an HD-SDI signal, power, and RS-485 data to be transmitted over standard Cat5 cable.
With a transmission distance of nearly 400 feet one can easily run an HD-SDI camera signal over long distances.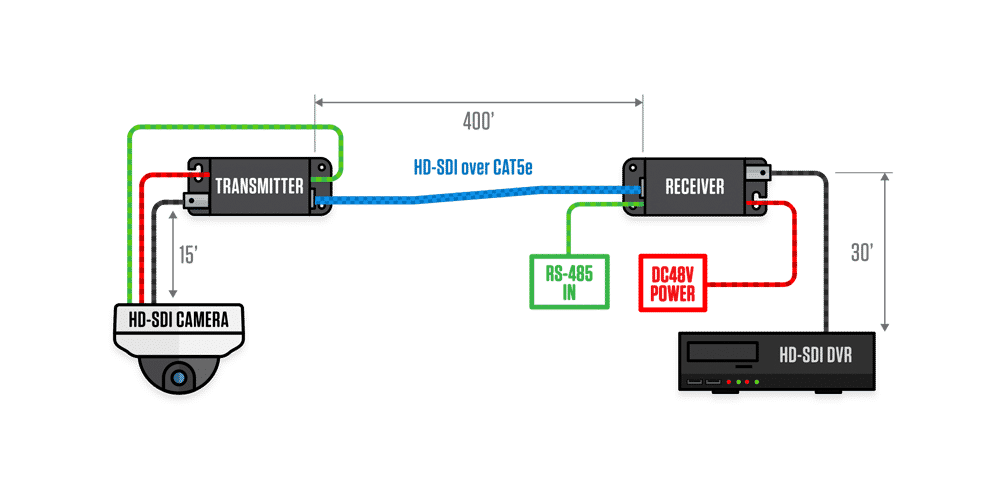 For installs requiring a greater distance, one can use the optional repeater (HD2CAT5-R) to extend the transmission distance an additional 400 ft.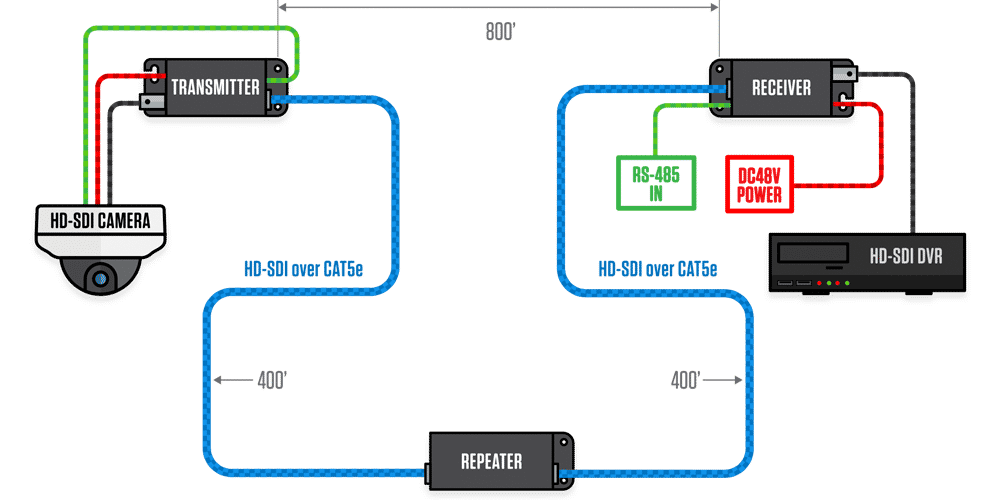 To power the device, one can use an optional AC24V power supply or the included DC48V power supply. When the DC48V power supply is used the Transmitter is capable of outputting DC12V power at 10 Watts – which can then be used to power the camera.
RS-485 Data can also be transmitted when using the HD2CAT5 Kit making it the perfect device for controlling HD-SDI PTZ cameras over Cat5 cable.
With the ability to utilize existing Cat5 cable, the HD2CAT5 Kit becomes a cost effective solution that eliminates the need to run coaxial cable when Cat5 cable is already present.
Request a catalog here or apply to become a Clinton Dealer here.
Vandal X Series DNA:
The new IDX Series indoor dome design is based on our ever popular Vandal X Series and shares many of the same rugged components that are built to withstand the rigors of CCTV use, but in a light weight polycarbonate housing.
Design and Functionality Need Not Be Opposites.
The IDX Series was designed to be both easy to install and aesthetically pleasing. The best example of this is the IDX mounting plate: one simple plate that mounts to numerous conduit boxes and gang patterns all while eliminating the seam commonly found on other indoor dome cameras giving the IDX series a sleek one piece case appearance.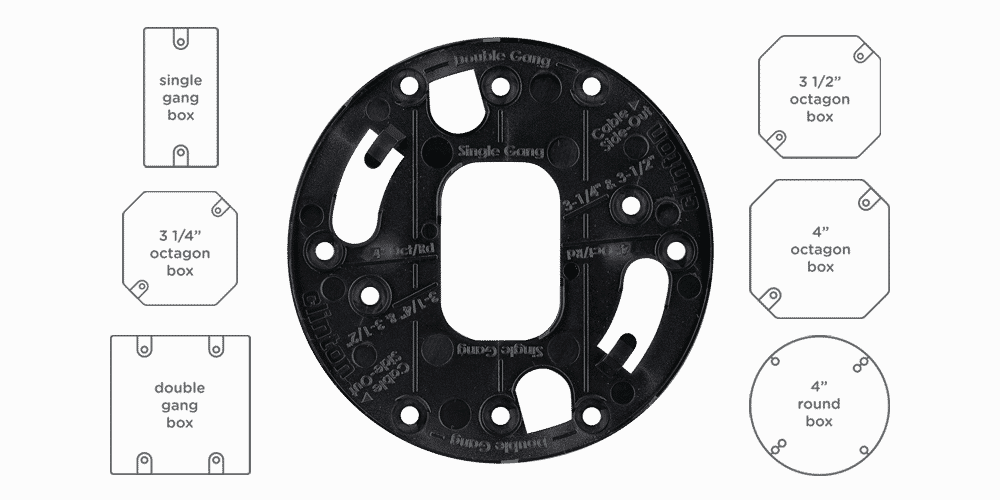 Mounting Options:
Along with mounting to numerous conduit boxes and gang patterns: Single Gang, Double Gang, 3-1/4" & 3-1/2", or 4" Oct/Rd. The IDX series is also pendant cap mountable with our sleek CE-IDXPC or deep CE-IDXDPC. One can also use the new CE-IDXWB to wall mount the camera.
Camera Adjustment:
All IDX Series cameras feature a toolless 3 axis gimbal that allows for easy adjustment of the camera. Our unique design also eliminates tangled wires.
OSD menu adjustments can be made 3 different methods: using the built-in joystick, the plug in CE-REMOTE or via Up The Coax with the CE-REMOTE-UTC.
Peace of Mind:
All IDX Series cameras are 100% quality tested by American workers before leaving our facility, are UL Listed and come protected with a 3 year warranty.
Request a catalog here or apply to become a Clinton Dealer here.
Installing a camera that faces into a window can be a nightmare; glare from the sun, reflection from interior lighting & distortion caused by the glass are common problems.
Introducing the CE-BRCAM.
The CE-BRCAM is a camera that is specifically designed for the purpose of mounting to a glass surface such as bullet resistant glass. It's flat front allows it to be mounted flush to the glass with double-sided tape. The 2.5mm lens is positioned directly behind the glass surface; eliminating glare and distortion.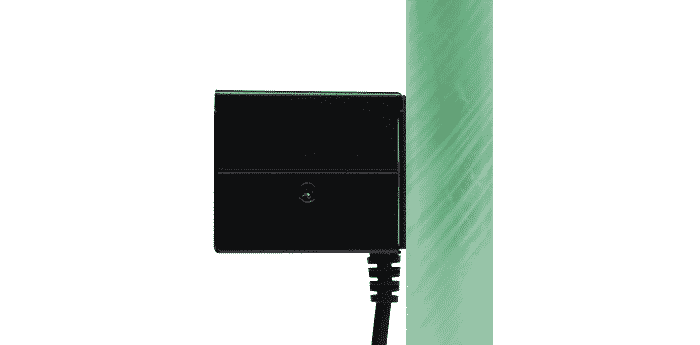 Its small size and rugged steel construction help maintain a low profile and protect the camera from potential damage. The CE-BRCAM features a high resolution [analog] 1,000 TVL camera with excellent wide dynamic range and adjustable horizontal viewing angle.
When mounted at eye level, the CE-BRCAM achieves a low-angle field of view that is perfect for facial recognition shots; a scene that is seldom acquired by traditional ceiling mounted cameras.
The CE-BRCAM is ideal for bank teller windows, drive-up windows, pharmacy windows, convenience stores, schools, correctional facilities, or nearly any application where a view of a person's face through glass is desired.
Key Features:
• 1/3″ SONY Megapixel CMOS Sensor
• 1,000 TVL Resolution
• 2.5mm Wide Angle Lens (Fixed)
• Rugged Steel Housing
• Includes Durable, High Strength Double-Sided Tape
• Dual Voltage – DC12V or AC24V
• Extra Long 8′ Cable
• OSD Menu Control via the Up The Coax Remote (CE-REMOTE-UTC)
Have you ever walked into a retail store and noticed CCTV dome cameras precariously hanging from the ceiling by a single piece of 3/4″ conduit?
Pretty ugly, right? Unfortunately, aesthetics are often overlooked by an effort to pendant mount the camera as low as possible.
The Problem: Why waste time with conduit?
The concept is sound: Lower the camera to an acceptable height to obtain a closer vantage point. But the execution of this is flawed: Why would any store owner want an ugly bare piece of conduit hanging from the ceiling?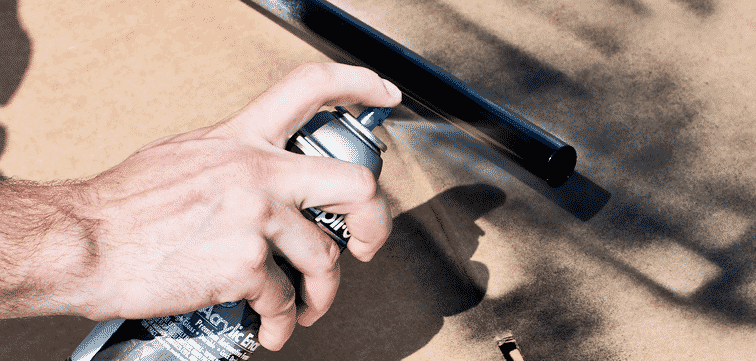 Some installers even go as far as painting conduit to match — but this is a pain and it adds time to the installation process. Where are you going to paint that 7 ft section of conduit? More than likely the installers are painting conduit in the parking lot of the job site. This is not an ideal situation for the installer or the customer.
The Solution: It's time to class up your install!
Introducing Telescoping Camera Poles from Clinton Electronics. An innovative way to pendant mount CCTV dome cameras from nearly any height of an open ceiling.
Each telescoping camera pole features a 3/4″ EMT diameter end for mounting dome cameras with a pendant mount cap. Our camera poles mount securely into steel web truss channels or struts and they include a safety cable. What could be better? How about a telescoping adjustment for an even faster installation. No more cutting of conduit or splicing two pieces together for longer distances.