CCTV 101: Camera Power Explained
When it comes to CCTV camera power, there are a variety of options to choose from, ranging from low voltage 12 Volts DC and 24 Volts AC options to single-line solutions such as Power over Ethernet (PoE) and Power over Coax (PoC).
Regardless of the power type or method used, there are two main things to consider for long-term, trouble-free operation: Voltage and Amperage.
Voltage:
Voltage is the pressure exerted by an electrical circuit's power source to move charged electrons (current) through a conducting loop, allowing them to perform work such as powering a camera. 
Voltage is expressed in volts (V).
Voltage can be either alternating current (AC) or direct current (DC).
Amperage:
Amperage is the strength of an electric current flowing past a point in a circuit over a given time period. 
Symbols used for amps:
A = amperes, for a large amount of current (1.000).
mA = milliamperes, a thousandth of an amp (0.001).
The following article provides Voltage and Amperage tips that low voltage camera installers can use to avoid common installation errors when connecting power to a CCTV camera. Use the links below to jump to each section of the page.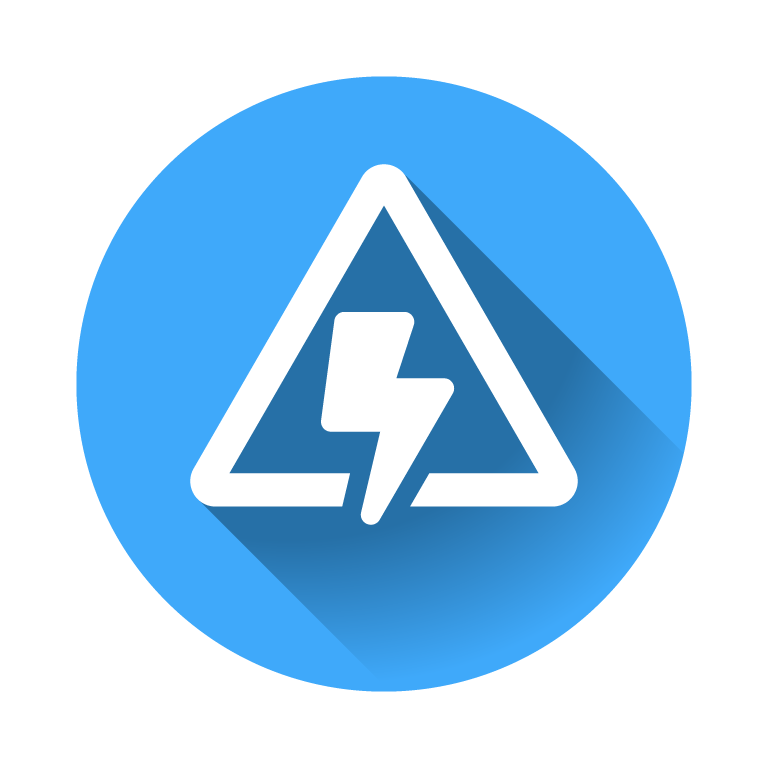 Tip #1: Check Voltage Prior to Installation
Before installing a CCTV camera, it's crucial to check the camera's voltage type before installation. Having the incorrect voltage type at the camera can result in irreversible damage and void the warranty.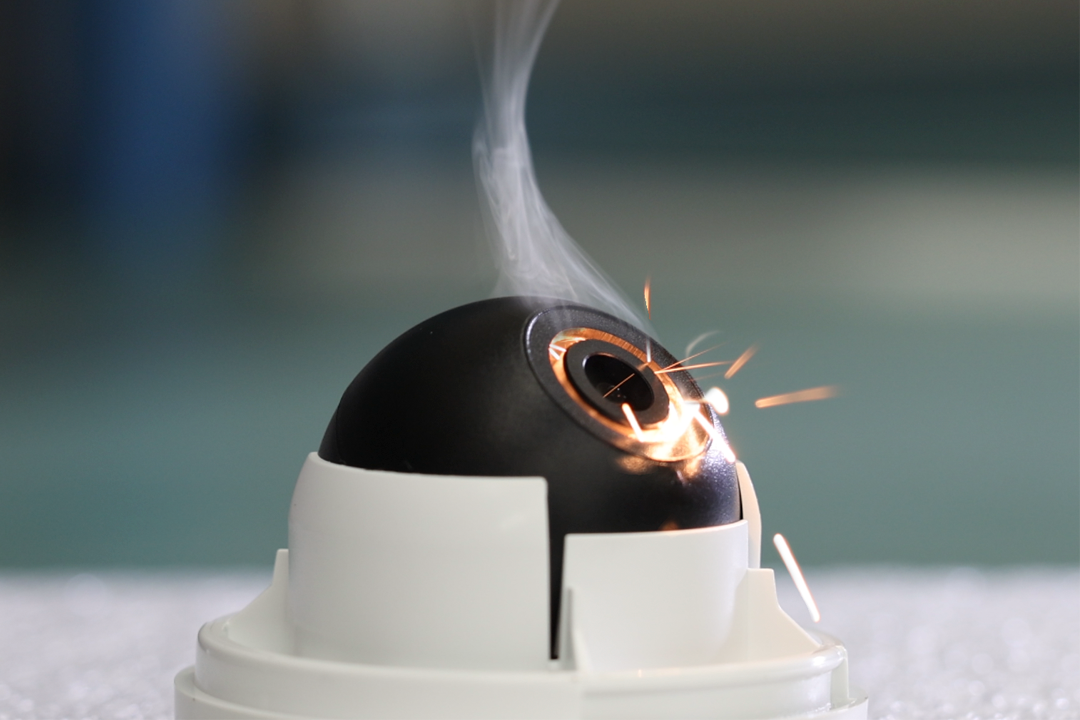 For example, a common mistake is connecting an AC 24 Volt power supply to a DC 12 Volt-only camera. Unfortunately, a camera can be fried in seconds if the wrong voltage is connected.
Using a dual voltage camera is a simple way to avoid frying a camera. You can safely power a dual voltage camera with either DC 12 Volts or AC 24 Volts without hesitation.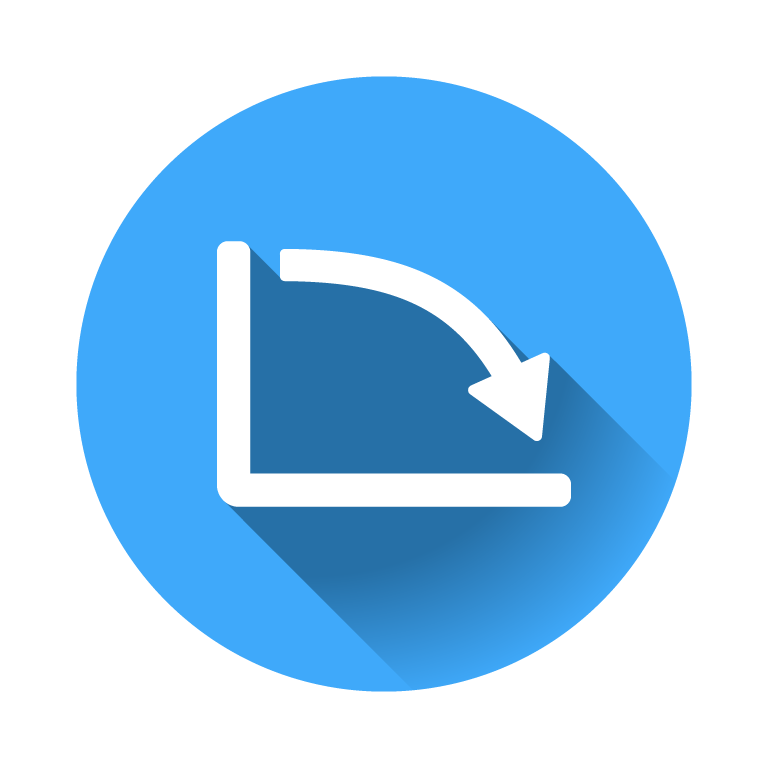 Tip #2: Calculate Voltage Drop
When running long wire runs to power a camera, it is common to encounter a problem in which the voltage delivered to the camera does not match the voltage measured at the power supply location. This is due to a drop in voltage. Voltage drop is the decrease in electrical potential along the path of a current flowing in an electrical circuit.
The amount of voltage drop is influenced by a variety of factors:
The longer the wire run, the greater the voltage drop.
The thinner the wire (higher gauge), the greater the voltage drop.
The higher the current draw of the camera, the greater the voltage drop.
The lower the source voltage, the greater the voltage drop.
As a result, it is critical to use a voltage drop calculation to calculate the voltage at the camera before running wire to the camera.
If your estimates show under-voltage, you may need to shorten the power cable, relocate the power supply closer to the camera, or use a larger gauge wire.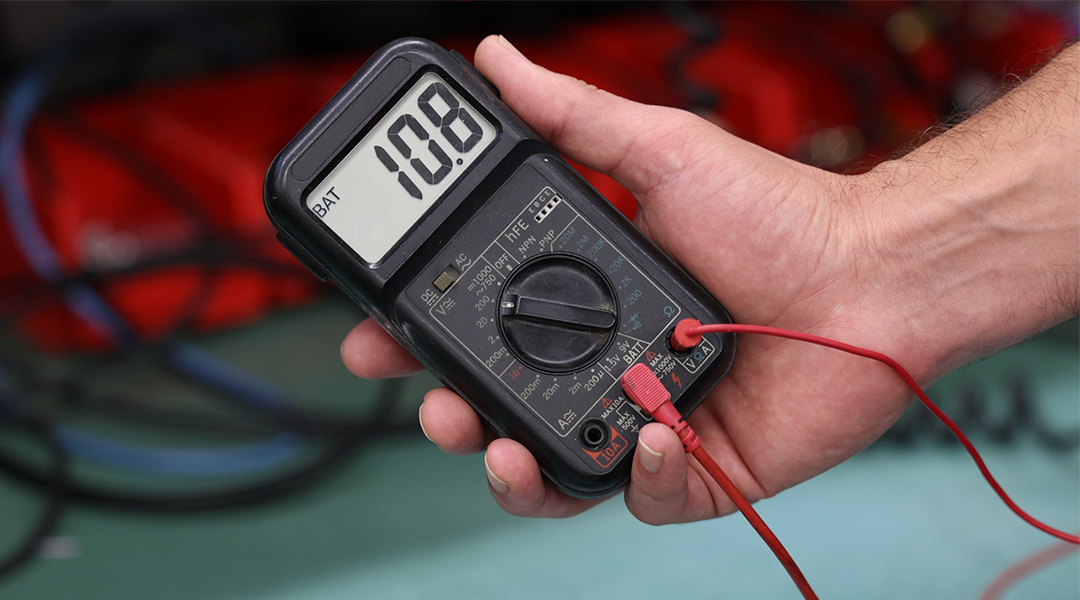 It's also a good idea to use a voltmeter after installation to double-check the actual voltage at the camera.
A common rule of thumb is that a voltage drop of no more than 10% of the original voltage is acceptable; for example, 10.8V would typically be sufficient to power a 12V camera.
Use the voltage drop table in the link below to determine the appropriate wire size for your cable run distance.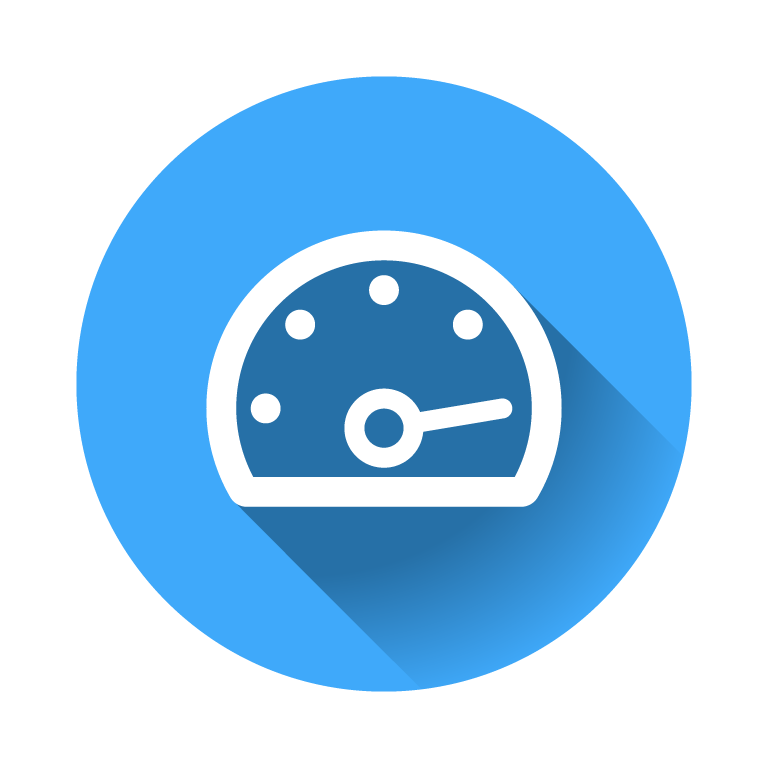 Tip 3#: Plan for Maximum Power Draw
If your camera has infrared LEDs, built-in heaters, or a motorized lens, those features will use more power when they are turned on. Make sure your power supply has more than enough amperage to handle the camera's maximum power draw.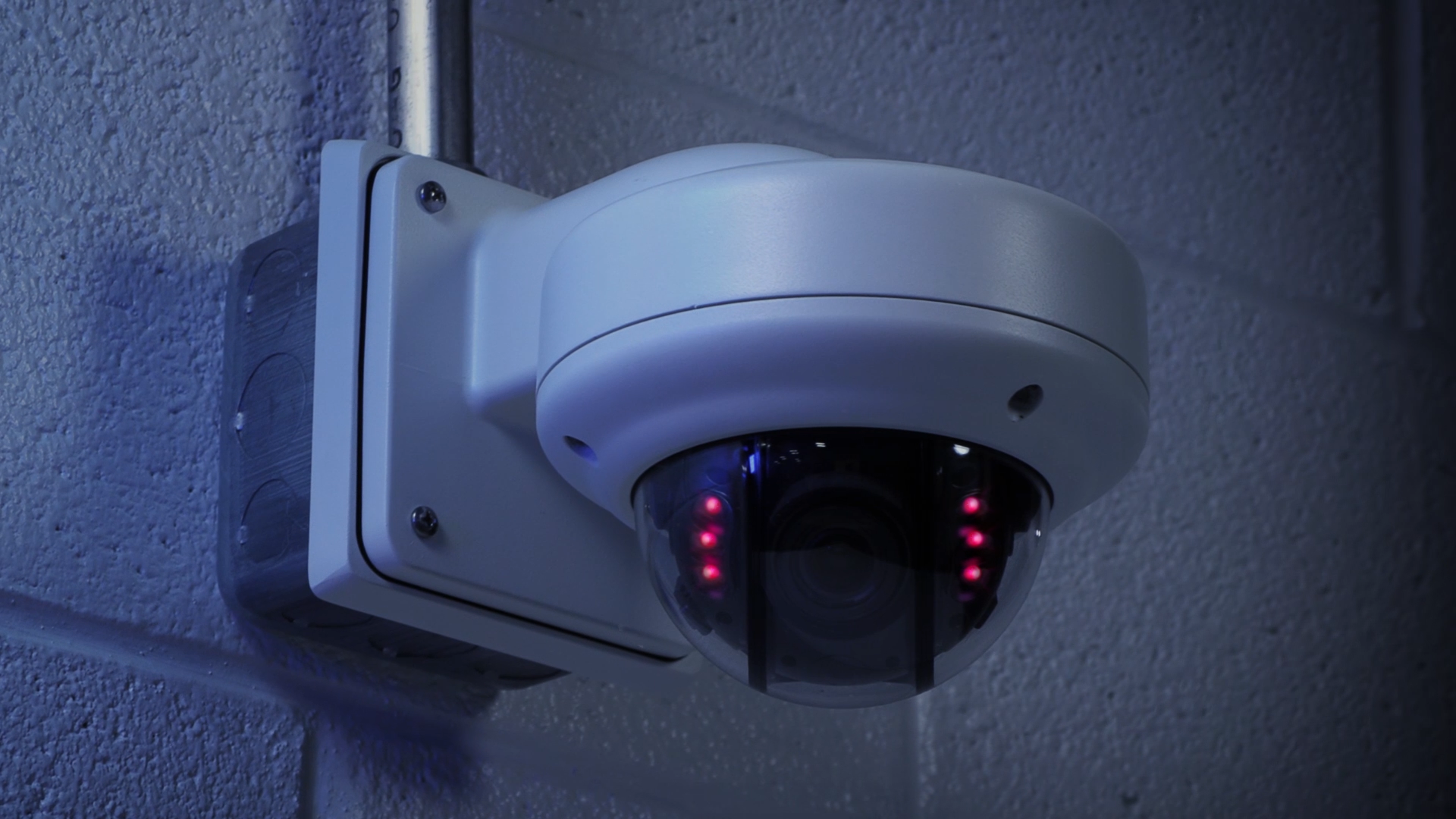 Take, for example, our CE-VX3QHD IR night vision bullet camera. This camera features 6 high intensity IR LEDs and and a 7~22mm (ƒ1.6) true day/night motorized autofocus lens.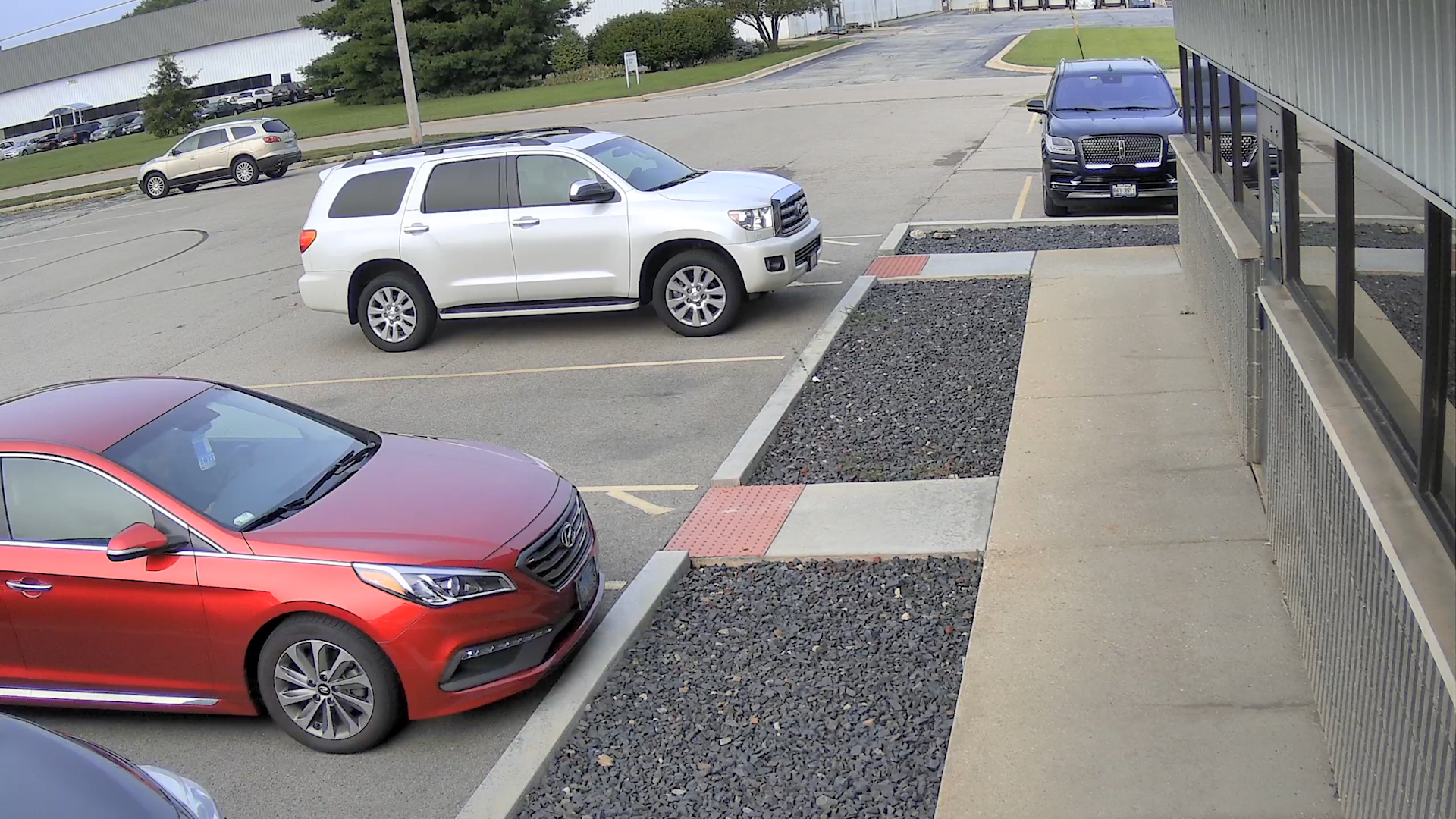 Daytime Image
The camera will function perfectly during the day, as shown in the image above, when powered by a 500mA power supply. This is due to the fact that it only uses 350mA during the day. Nighttime Image
When the IR LEDs are turned on at night, the camera shuts down. The 500mA power supply does not have enough amperage to cover the camera's maximum power draw.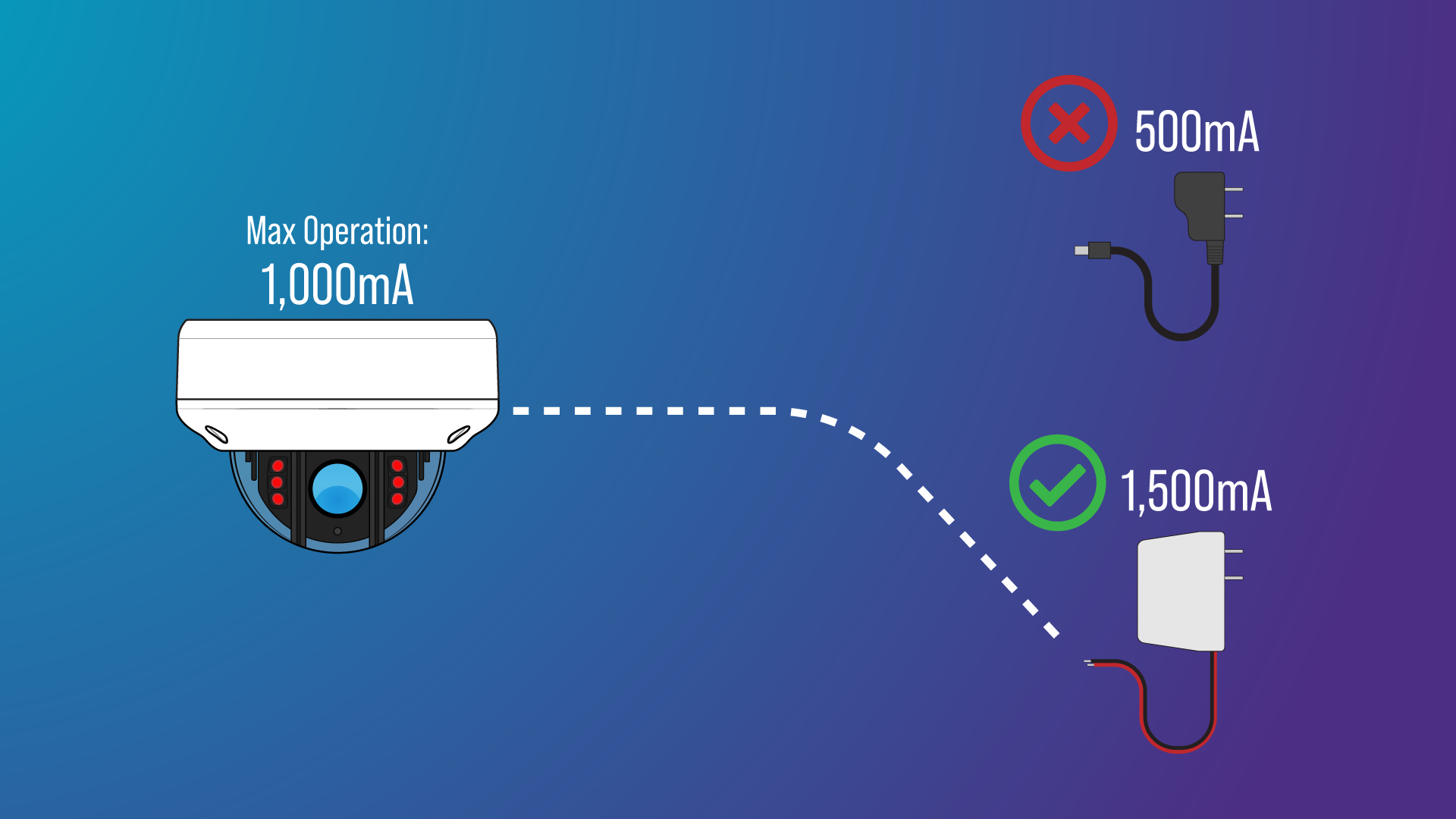 To correct this, the installer should use a 1.5 amp or higher power supply to account for the camera's maximum power draw.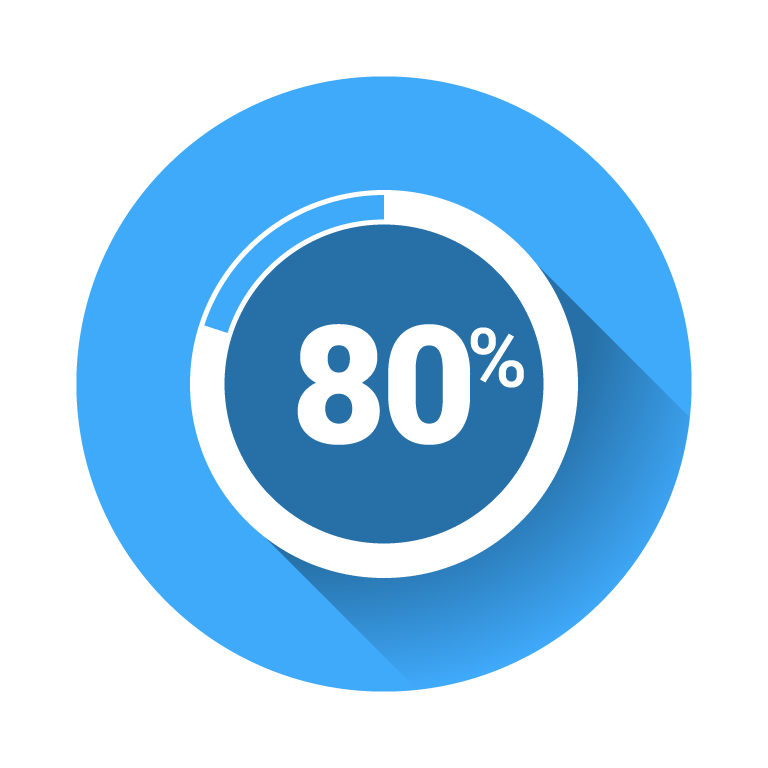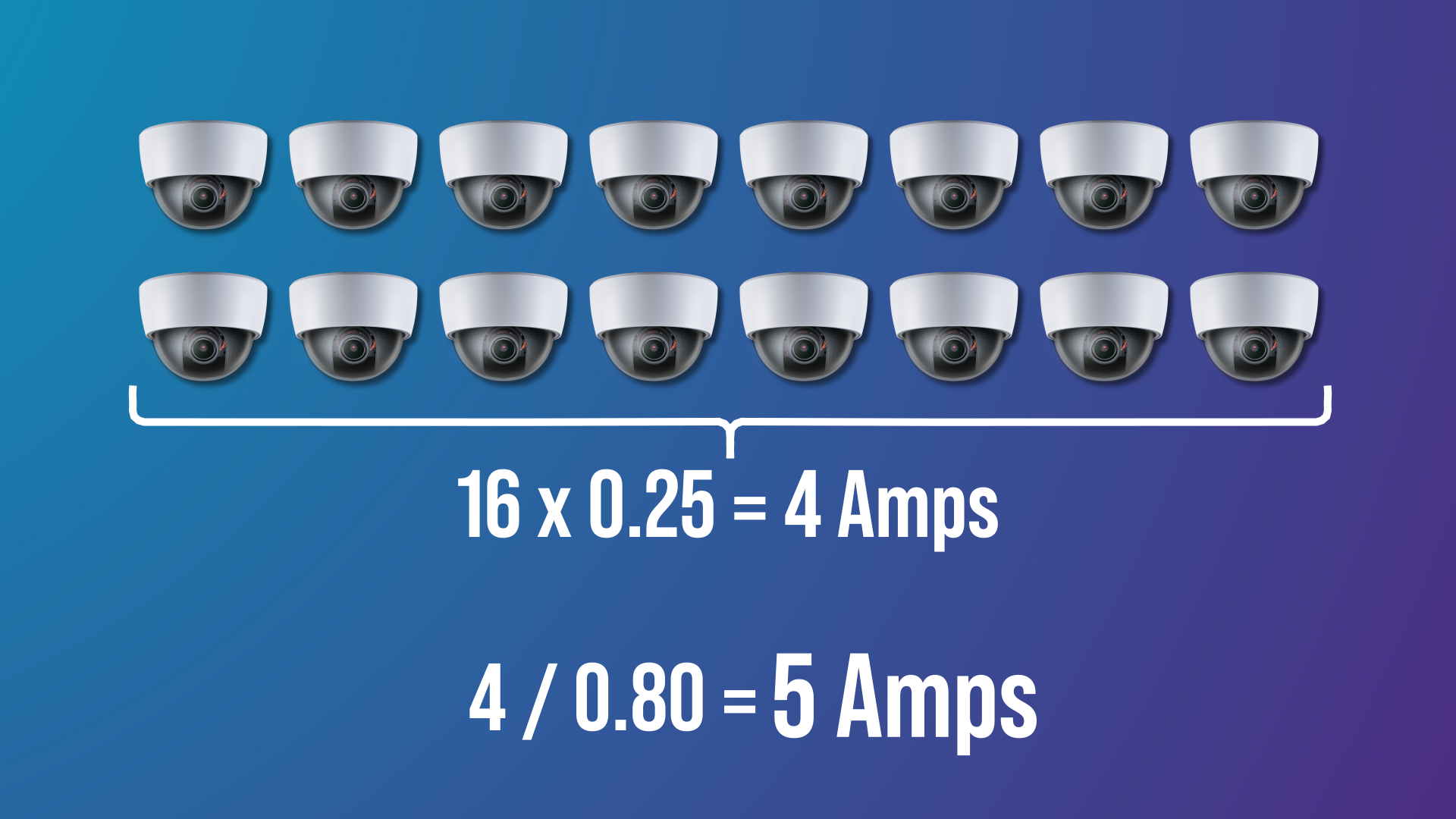 When powering cameras, it is recommended that you use 80 percent of the power supply's maximum capacity to avoid overload issues.
Assume we have 16 cameras, each drawing 250 mA: 16 cameras x 0.25 mA  = 4 Amps
When considering the 80% Rule: 4 Amps / 0.80 = 5 Amps
In order to meet the 80 percent rule, our power supply should have a maximum total power output of at least 5 amps to avoid potential overload.
By adhering to the 80 percent rule, you can ensure the power supply's longevity and account for any sudden demand for more power, such as when the system is first turned on.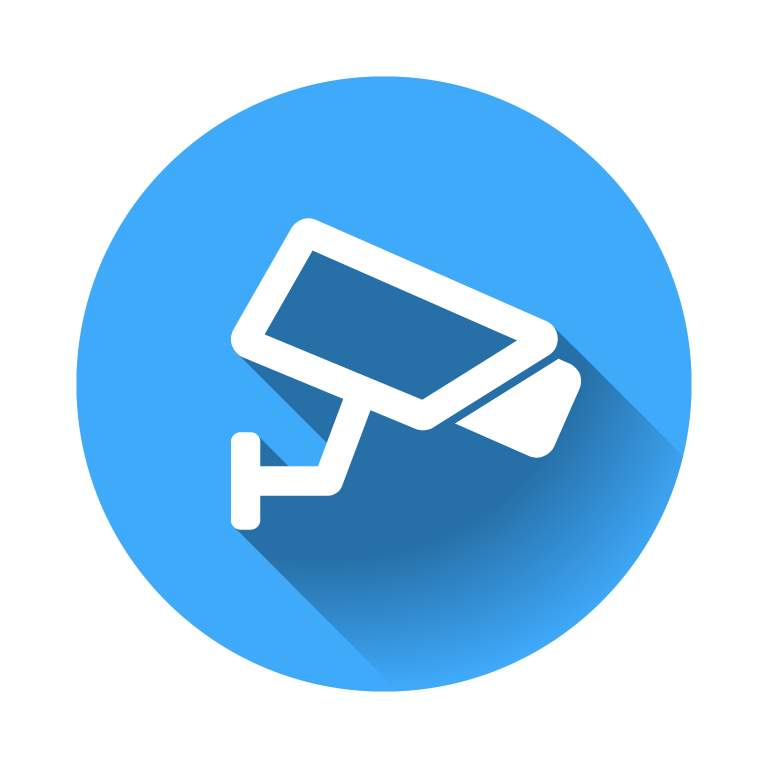 We hope this article has provided you with some useful advice on how to avoid making these common CCTV installation mistakes.
If you need assistance selecting the right power supply for your next installation, please call us at 1-800-447-3306.
Teller Camera
Introducing the CE-TC1QHD Teller Cam. A discrete and aesthetically pleasing solution for teller stations and payment windows. The teller camera features a 4MP EX-SDI built-in camera that is ideal for capturing low angle face shots during transactions.
Reliable Facial Identification
When compared to a traditional ceiling mount camera, the Teller Cam captures close-up facial details of the subject even if they are wearing a hat or hoodie. A comparison shot of the teller camera vs. a ceiling mounted camera is shown below.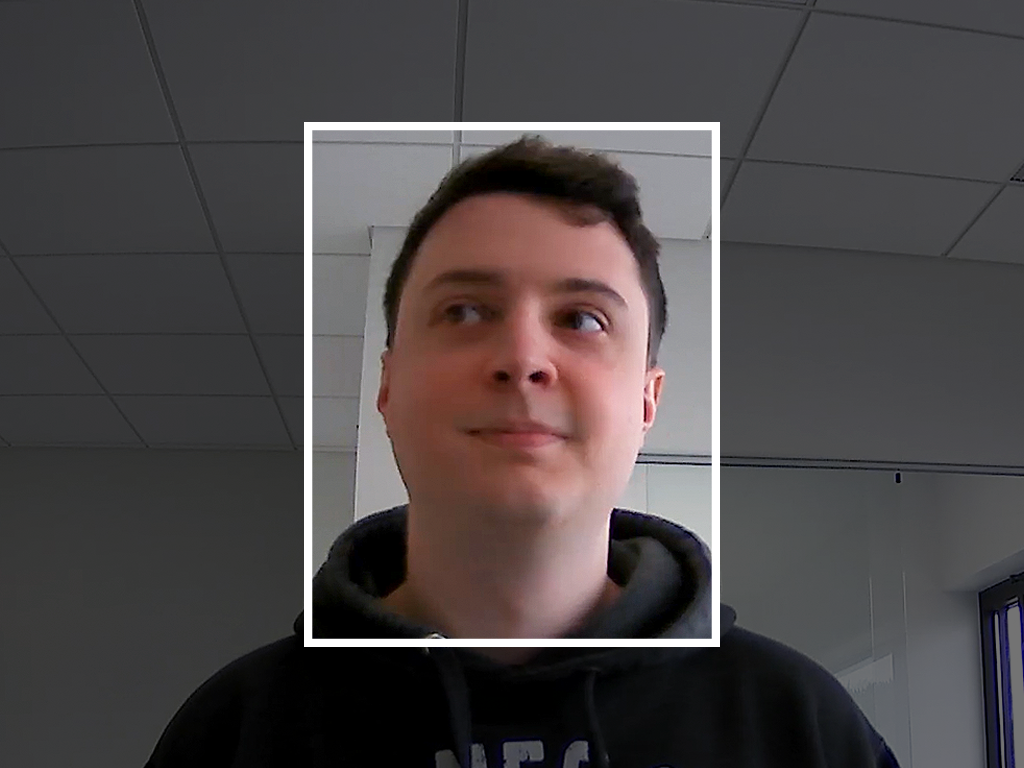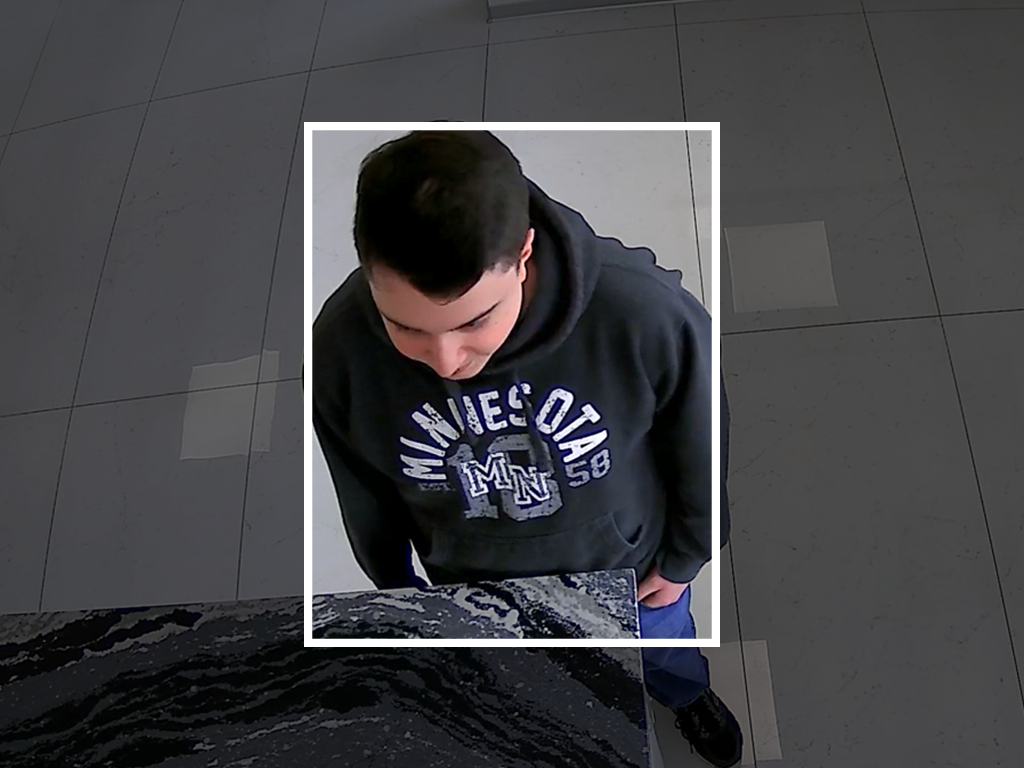 4MP EX-SDI Camera
The CE-TC1QHD is equipped with a 4MP EX-SDI camera that produces a clear image in any lighting condition, as well as a secondary BNC output that can output HD Analog or Analog signals.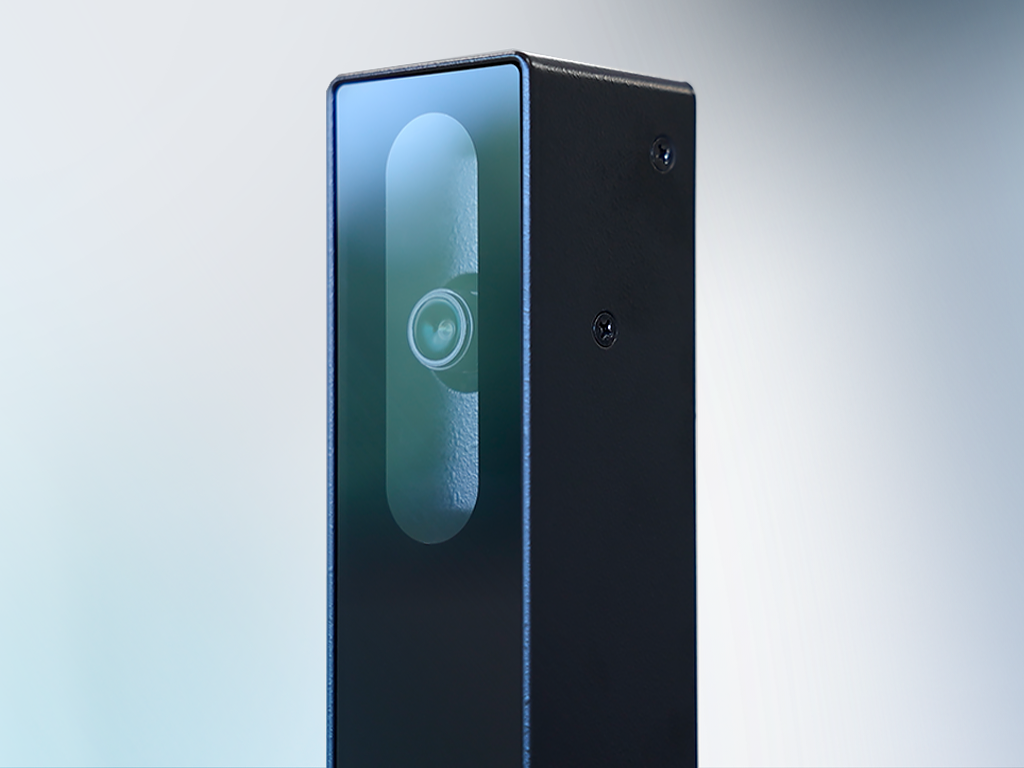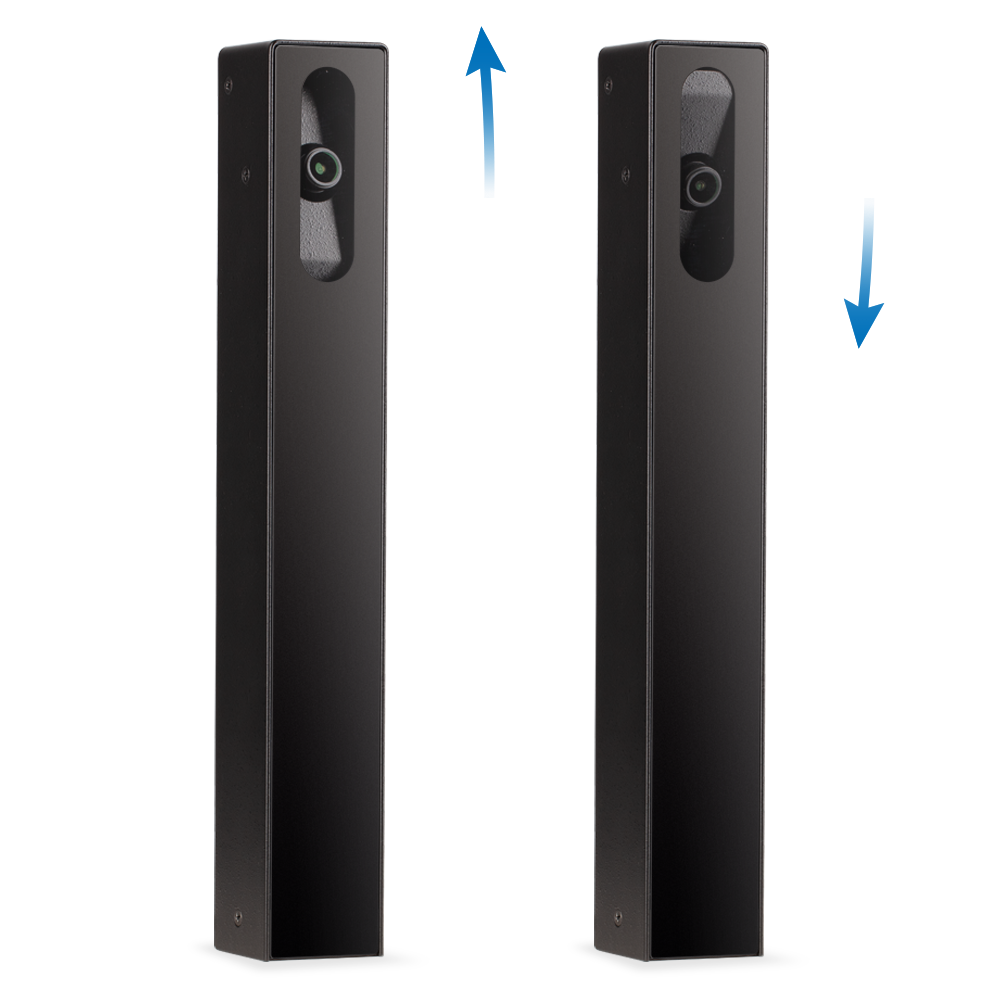 Adjustable Camera Tilt
The CE-TC1QHD has an adjustable tilt mechanism that allows for an 18-degree tilt, allowing the installer to achieve the proper viewing angle.
Easy Installation
The CE-TC1QHD has an installer-friendly, robust metal housing with an acrylic protective front. The housing can be surface-mounted or conduit-mounted, and it includes a joystick-on cable for camera menu control.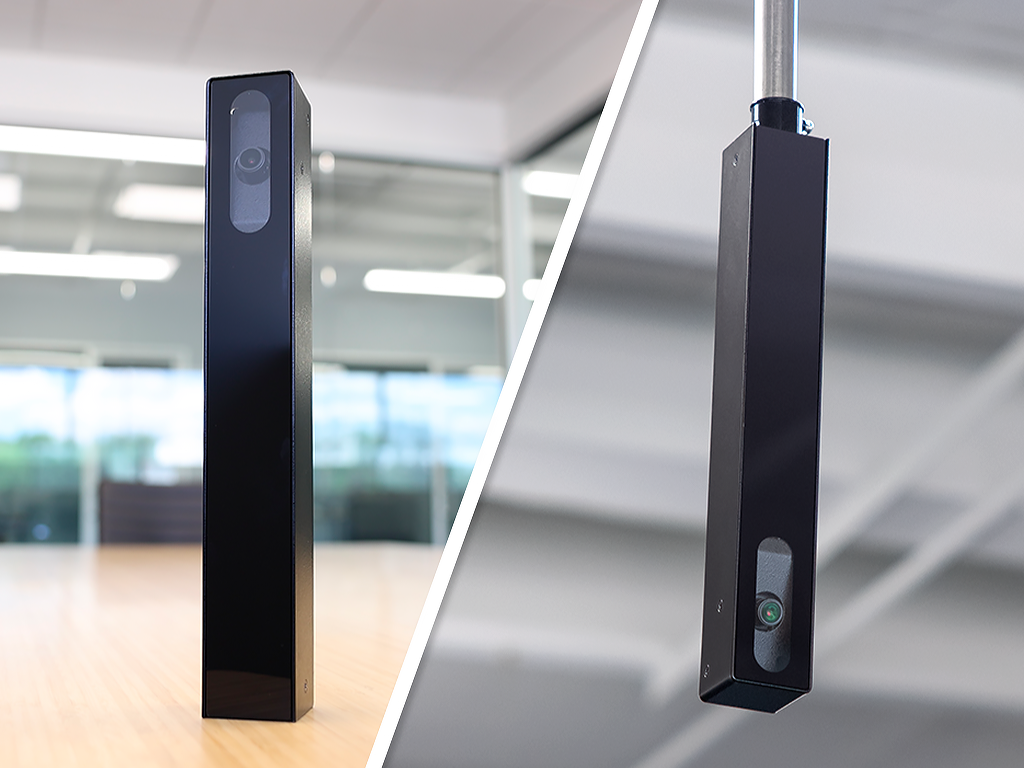 Introducing CVMS Mobile
CVMS Mobile (Clinton Video Management Software) allows you to connect to your Clinton Electronics H2L, FXR, EX, or Hybrid Series DVR from anywhere in the world. This free DVR app for iOS® and Android™ devices comes loaded with features that make it easier than ever to view live, search, and save video from your DVR.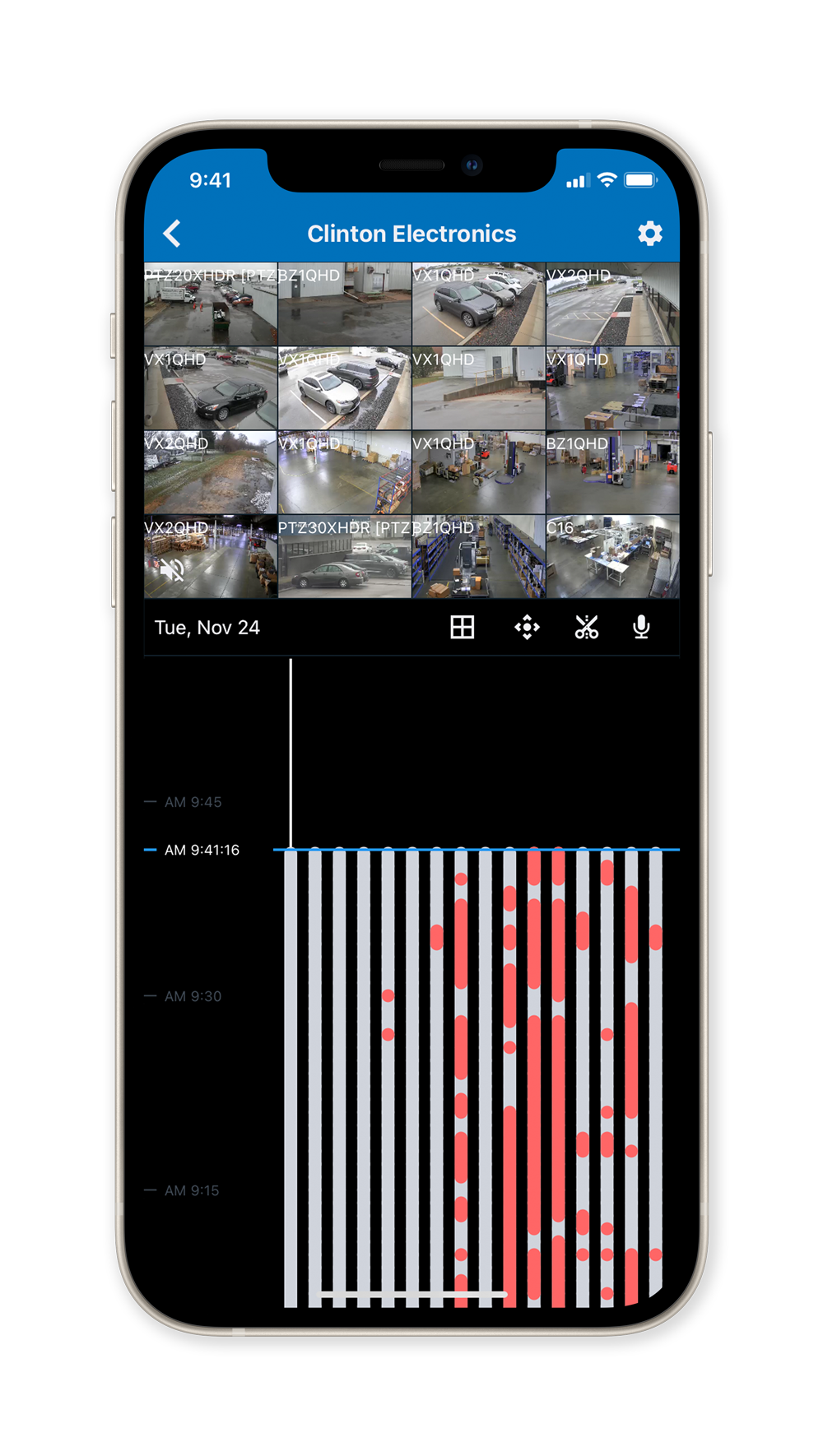 Timeline Search
Searching video on-the-go has never been more convenient; quickly scroll through your timeline to view any events you may have missed. You can even search all cameras at once with the new color-coded timeline view.
Event Thumbnail Search
Quickly find the event you're looking for with thumbnail search by tapping on the thumbnail in the search timeline when in the single-camera view.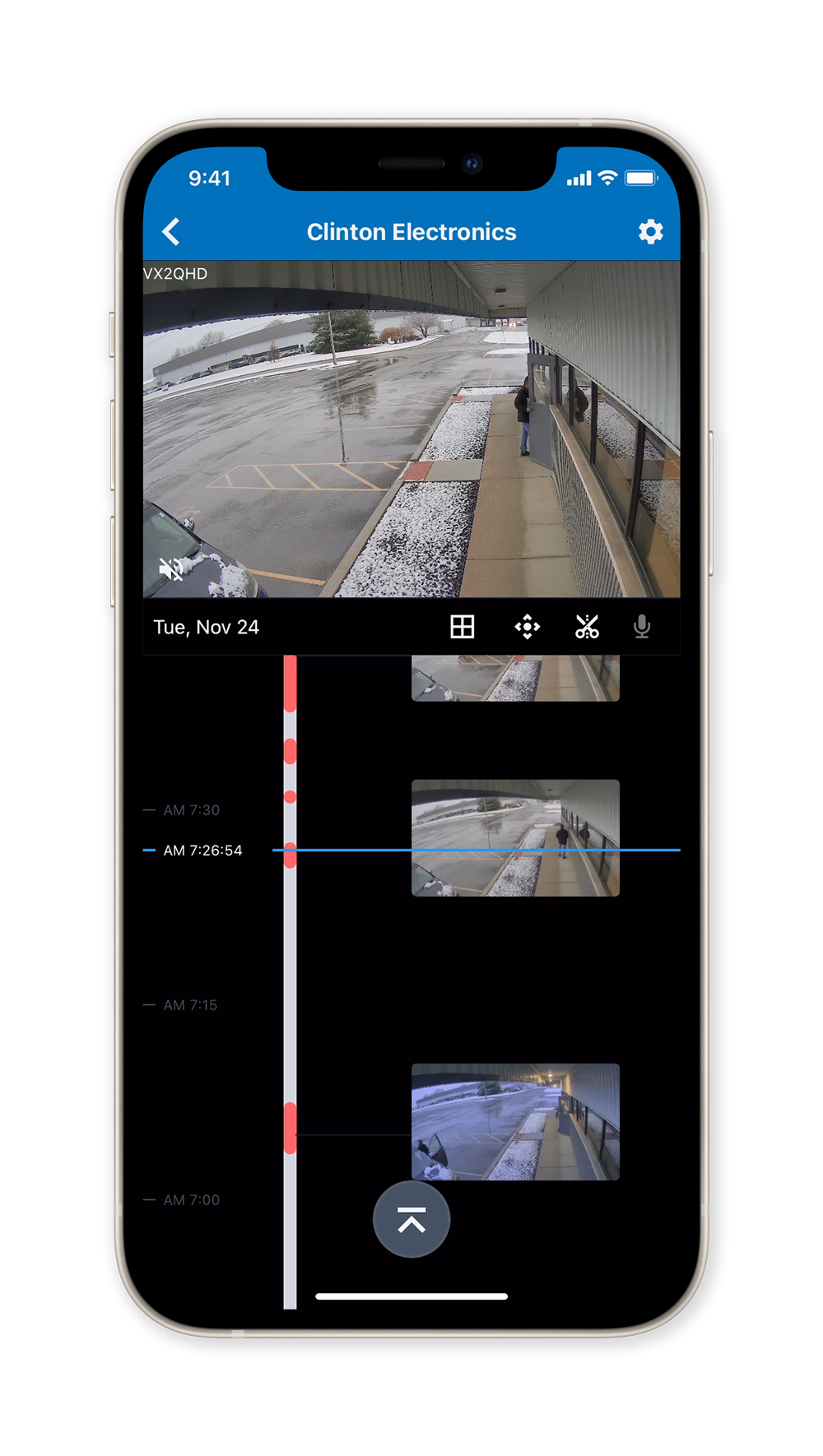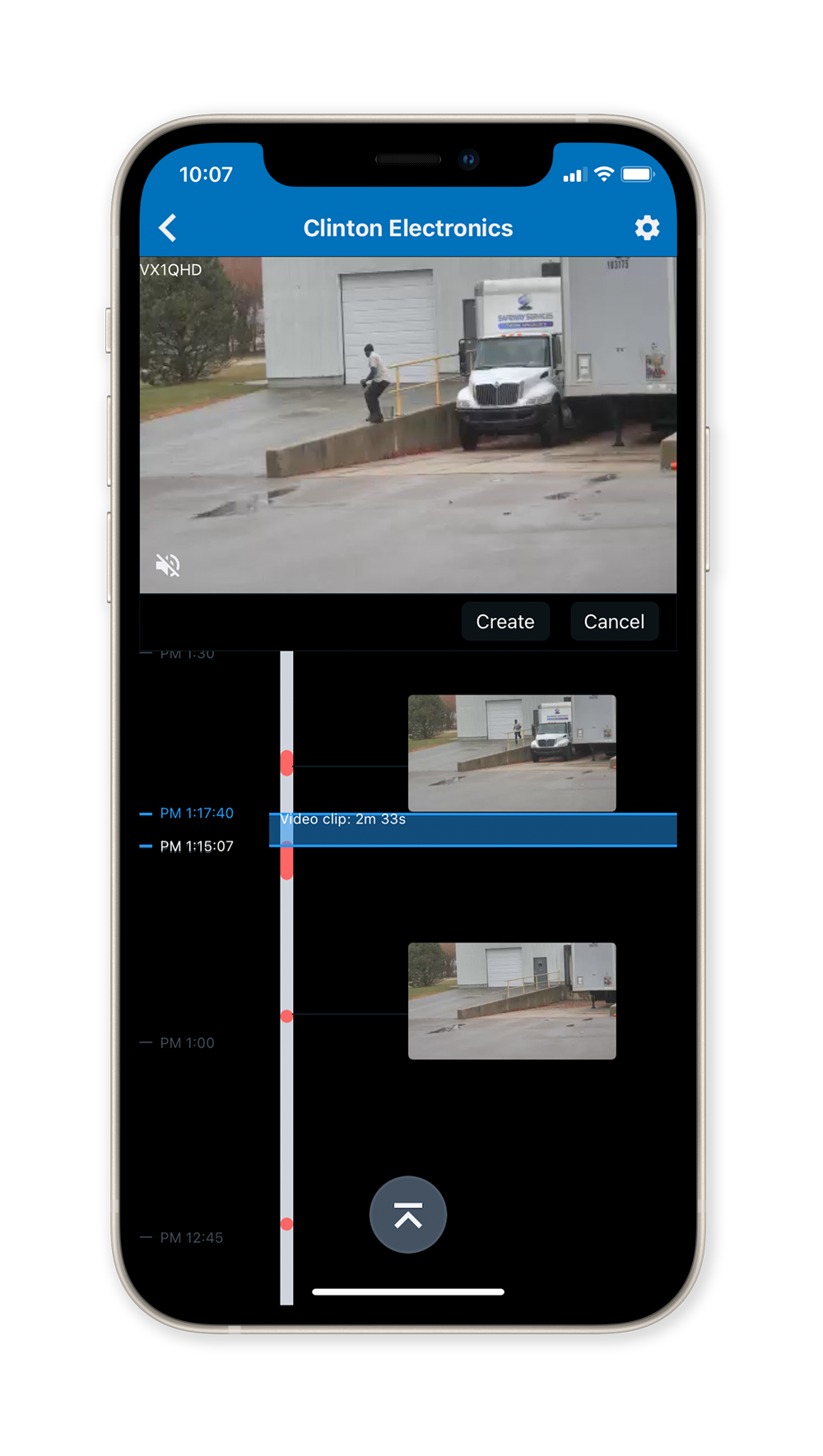 Create Video Clips
Need to backup video while away from your DVR? With CVMS Mobile, creating a video clip is easy. Tap the clip icon and trim the video clip to the desired size by dragging the timeline view.
Share Video Clips
Share your saved video clips from the clips library by message, email, AirDrop®, or via a 3rd party cloud storage application on your device like Dropbox™ or Google Drive™.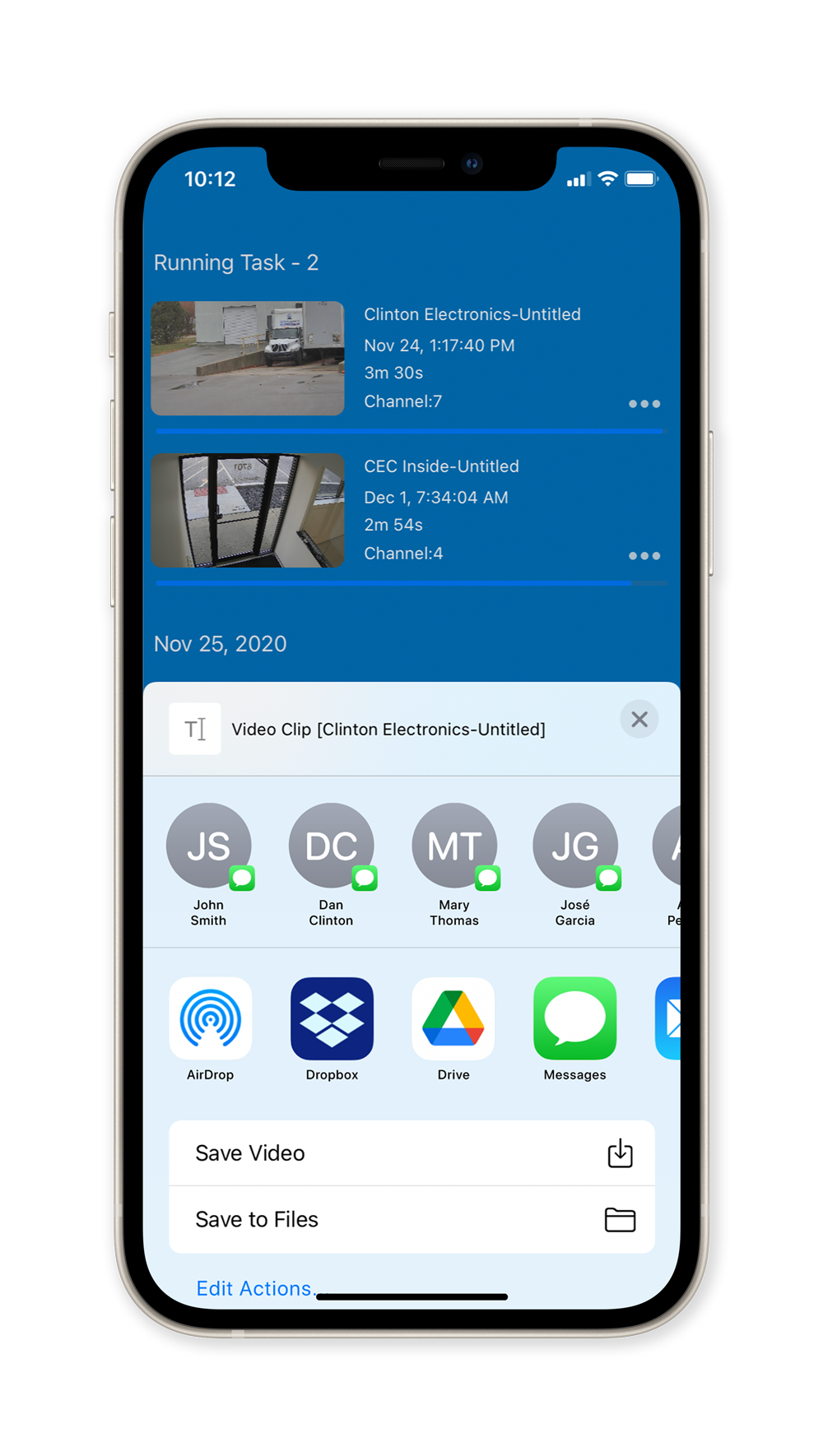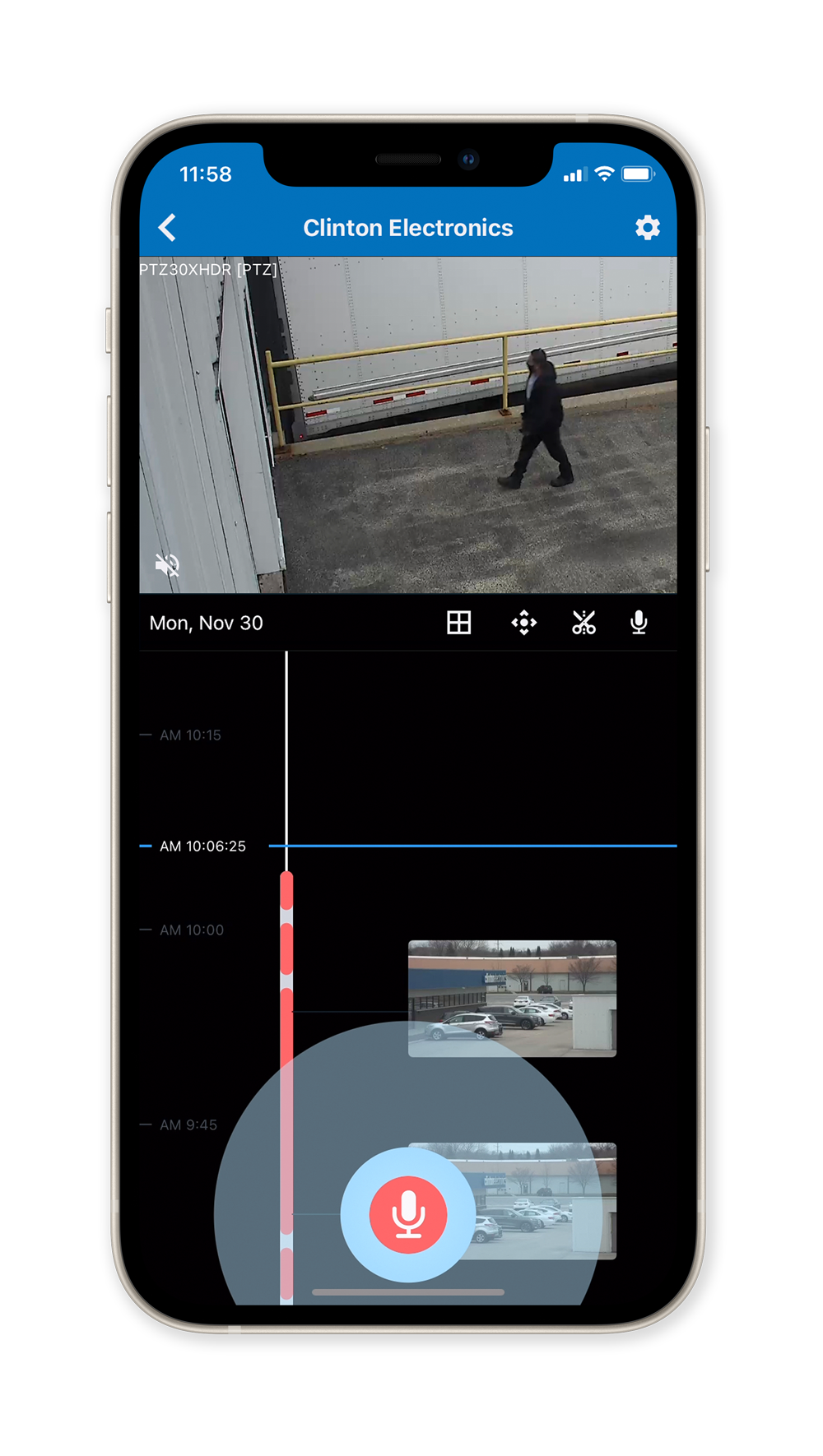 Two-Way Audio
With a tap of the mic icon, CVMS users can communicate through their DVR's connected speakers, making it the perfect tool for giving verbal instructions to visitors or scaring off would-be thieves by confronting them.
*This feature requires an external speaker and microphone connected to the DVR.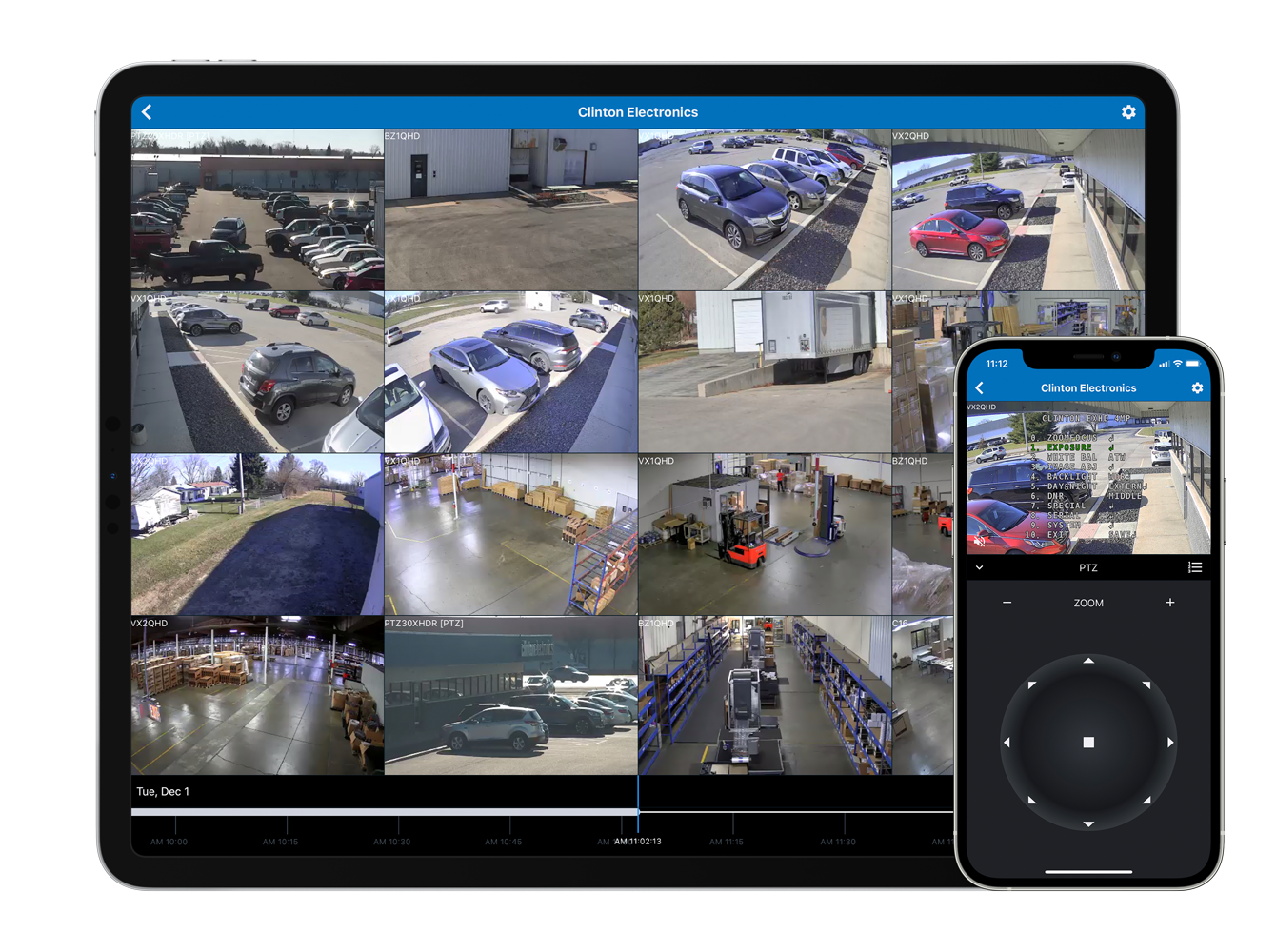 CVMS Mobile Advanced Features
CVMS Mobile builds upon its core functionality with advanced features like multiplex views, PTZ & UCC camera control, DVR site book, and even full remote control of DVR settings.
Multiplex Views
View live or recorded video from multiple cameras at a time using 4, 9, or 16 camera views or double-tap any camera for full-screen.
Camera Control
Create thumbnail images of PTZ presets for quick one-press movement. Remotely zoom in/out or adjust EX-SDI camera settings
DVR Site Book
Enter and save multiple DVRs and quickly recall them via the thumbnail preview. Users can also rearrange or edit existing DVRs.
DVR Settings
With DVR settings control, users can make real-time adjustments of all DVR settings, just as if they were physically at the unit.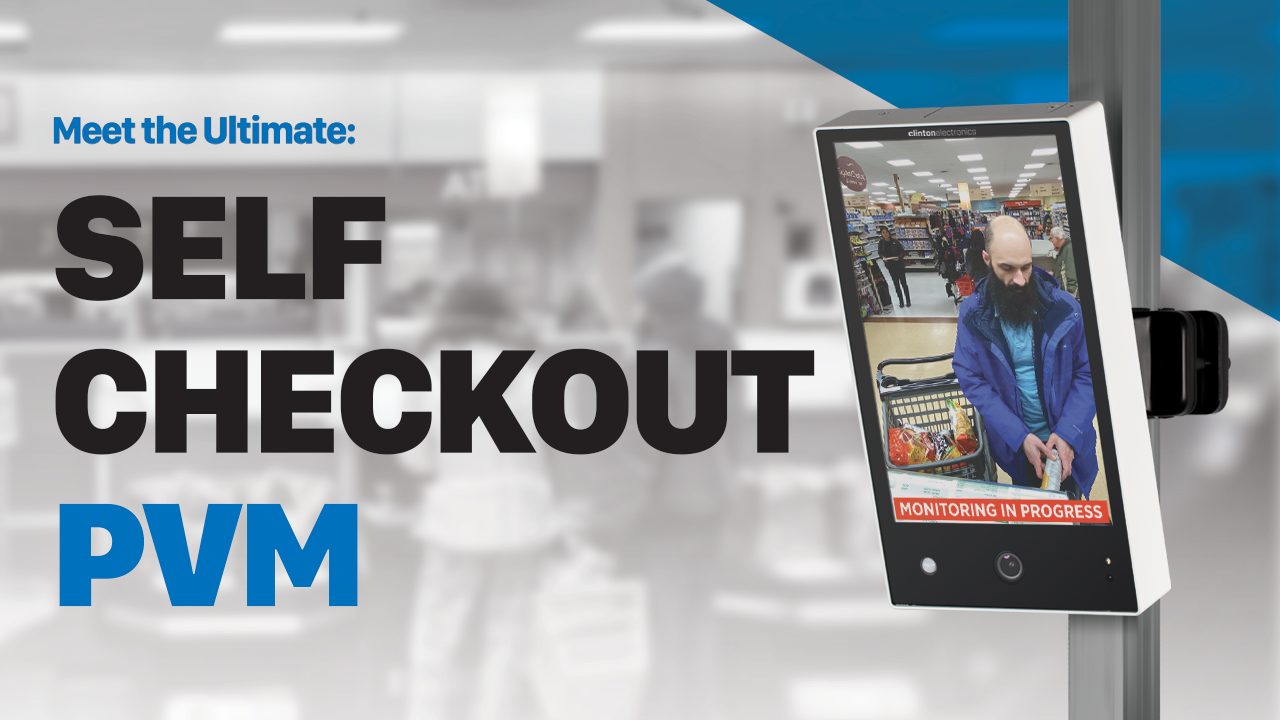 Capture the Entire Self Checkout Scene
Introducing the CE-M10PA, the 10″ PVM designed explicitly for self-checkout theft deterrence.
Not just another 10″ PVM…
By utilizing corridor format on the built-in AXIS M3045 camera, the new portrait CE-M10PA captures a greater vertical field of view than traditional landscape PVMs. The increased vertical field-of-view allows the camera to capture the entire checkout process.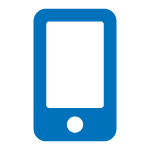 PORTRAIT ORIENTATION
Unlike traditional PVMs, the CE-M10PA features a portrait orientated LCD that showcases the entire view of the camera.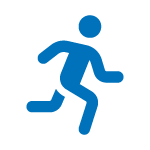 MOTION DETECTION
Built-In PIR Sensor triggers an optional flashing banner or LED light for increased security awareness.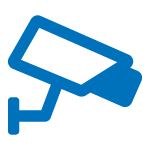 CORRIDOR FORMAT CAMERA
Corridor format allows you to get a vertically oriented, "portrait" shaped video stream from the camera.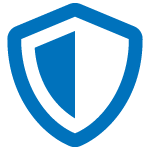 SECURITY BANNER
Choose from "Recording in Progress, Welcome, or Monitoring in Progress" security banners.
A Closer Look: Corridor Mode
In many surveillance situations, you want to monitor an area that is more vertical than horizontal in shape. This is particularly true for self-checkout installations, where the focus is on the entire checkout process. Take a look at the example below that compares a traditional PVM with the new CE-M10PA PVM.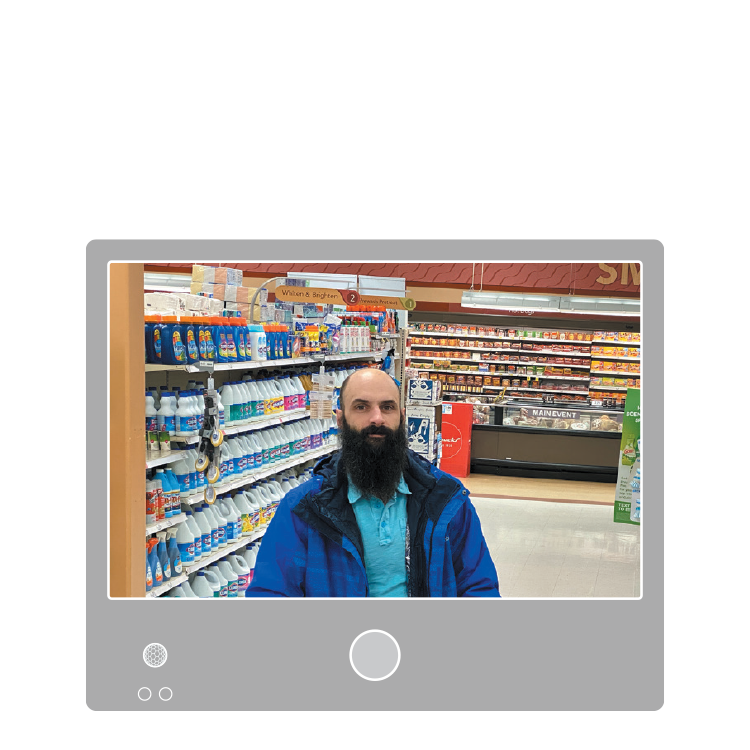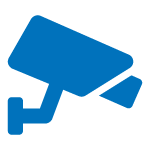 Traditional PVM View
With traditional landscape format, the resulting image will have a 16:9 aspect ratio – perfect for monitoring entrances, exits, products, and wide aisles.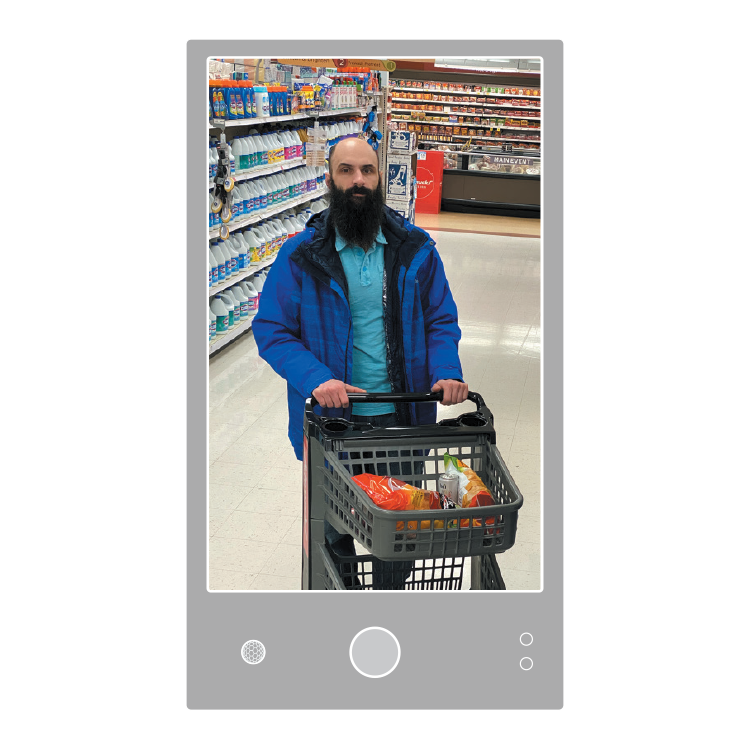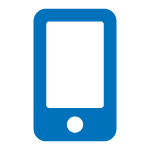 CE-M10PA PVM View
With Corridor format, the resulting image will have a 9:16 aspect ratio – perfect for monitoring self-checkouts, narrow corridors, hallways, and aisles.
The Significance of Self Checkout PVMs
The seemingly simple self-checkout process presents many fraud-related vulnerabilities that impact the bottom line of retail businesses. PVMs can play an essential role in deterring self-checkout theft by creating security awareness.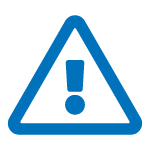 Create Awareness
PVMs increase security awareness by informing the general public that video surveillance is in use, and their actions are recorded.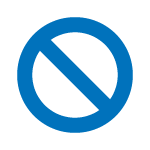 Deter Theft
Studies show that thieves are intimidated at the sight of a PVM and often leave the store immediately after noticing them.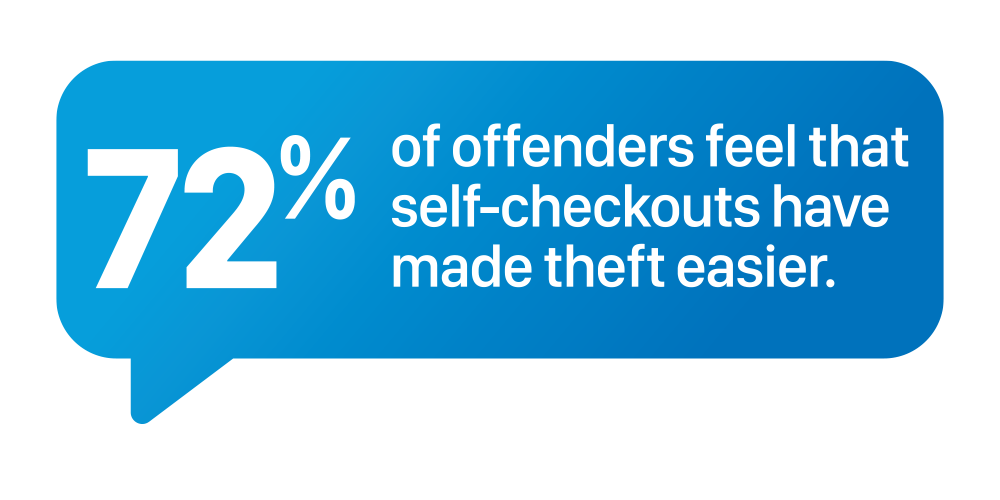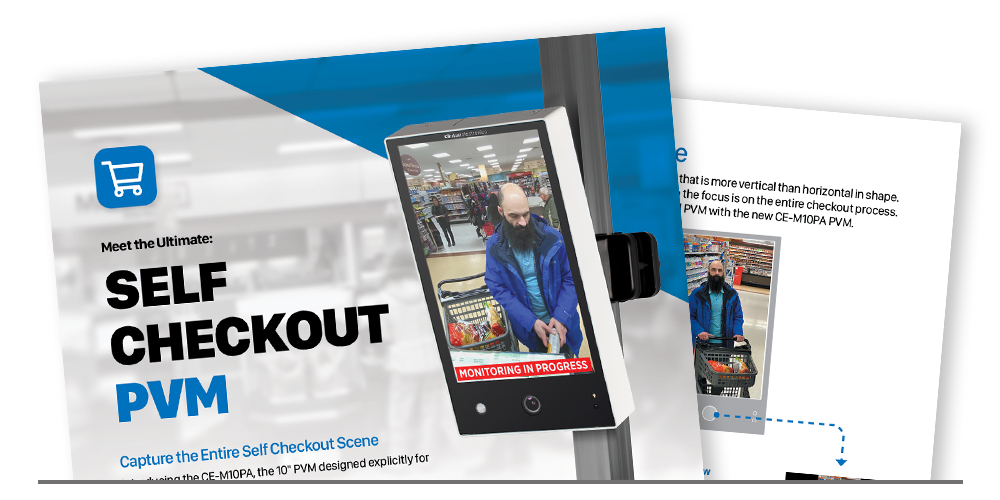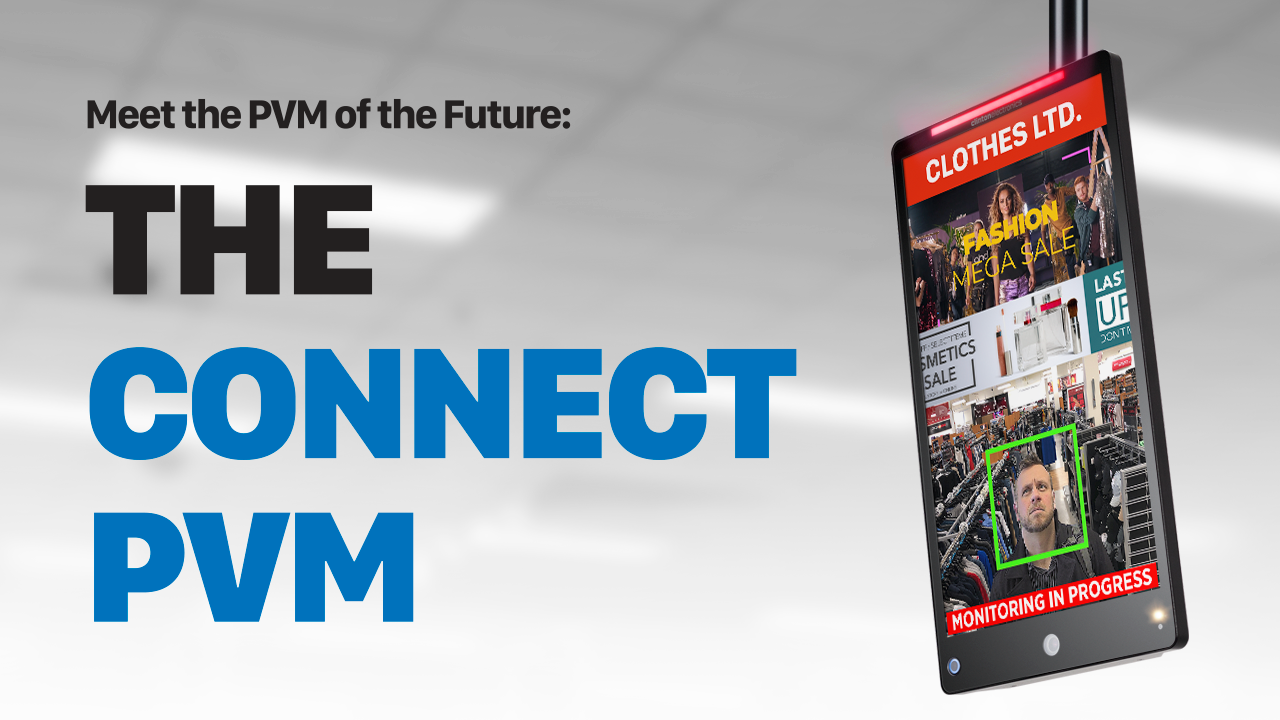 It's time to connect with your audience.
Meet the revolutionary digital signage platform built for retail! It's both digital signage and an active theft deterrent seamlessly integrated into a single device.
Not just for Loss Prevention…
The Connect PVM is also a valuable tool for Marketing & Operation objectives alike. With the Connect platform, marketing & operation teams can reach their target audience, engage their customers through customizable actions, and build their brand at the point of decision.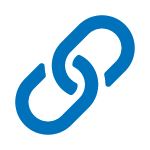 FULLY CONNECTED
Change the look and feel of your PVM at a moment's notice. Monitor the health or your PVM and remotely assign content.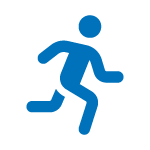 CUSTOMIZABLE ACTIONS
Display custom content when triggered by a motion event, alarm input, button press, person detection, or face detection.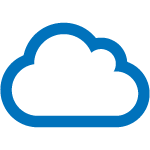 FREE CLOUD APP
Create, schedule, and deploy custom-made ad playlists from anywhere in the world with app.clintonconnect.com.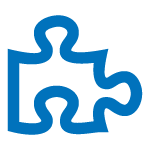 SMART INTEGRATION
Integrate with a wide range of connected devices to optimize customer experience, enhance security, and boost sales.
How it Works: Clinton Connect App
Behind every Connect PVM is our revolutionary cloud-based digital signage management tool: Clinton Connect. With Clinton Connect, retailers can now change the look and feel of their Connect PVMs at a moment's notice. Create, schedule, and deploy custom-made ad playlists from anywhere in the world.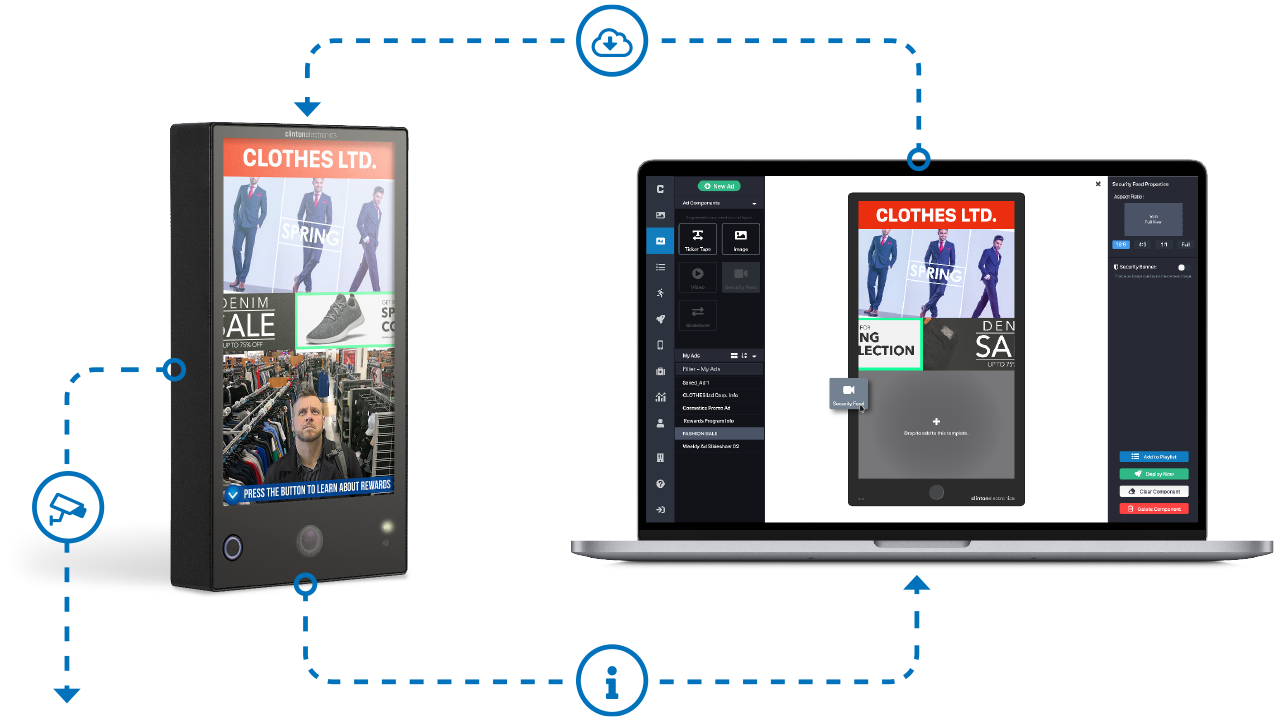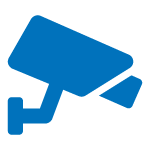 Always Watching:
Connect PVMs feature a built-in HD 1080p camera that's always on no matter what's on the PVM screen. Choose from EX-SDI or IP options.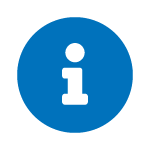 Monitor your Install:
Monitor the health of your devices company-wide! Create custom reports based on the criteria important to you and set up email notifications for critical events.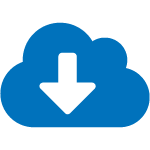 Quickly Deploy New Content:
Quickly create your ad with our intuitive drag & drop ad builder and preview your ad in real-time. Then deploy your content your devices with the simple click of a button.
The Secure, Connected Platform
You Can Trust
Clinton Connect provides a host of advanced functionality to secure the application, including role-based access, strong encryption, robust password policies, and more. Be it software or hardware solutions, preventing accidental loss or malicious attacks, we are committed to providing a platform you can trust.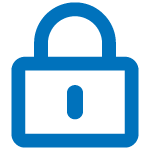 2FA and SSO
The Clinton Connect platform supports both Two Factor Authentication (2FA), and Single Sign-On (SSO) via SAML 2.0 for added user identity protection and management.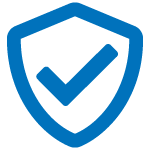 3rd Party Pen Tested
The Clinton Connect platform has undergone extensive 3rd party penetration testing to ensure that there are no exploitable vulnerabilities or unauthorized access to intellectual property or customer data.
Interested in learning more about Clinton Connect?
Book a demo with us at www.clintonconnect.com and we will be in touch shortly.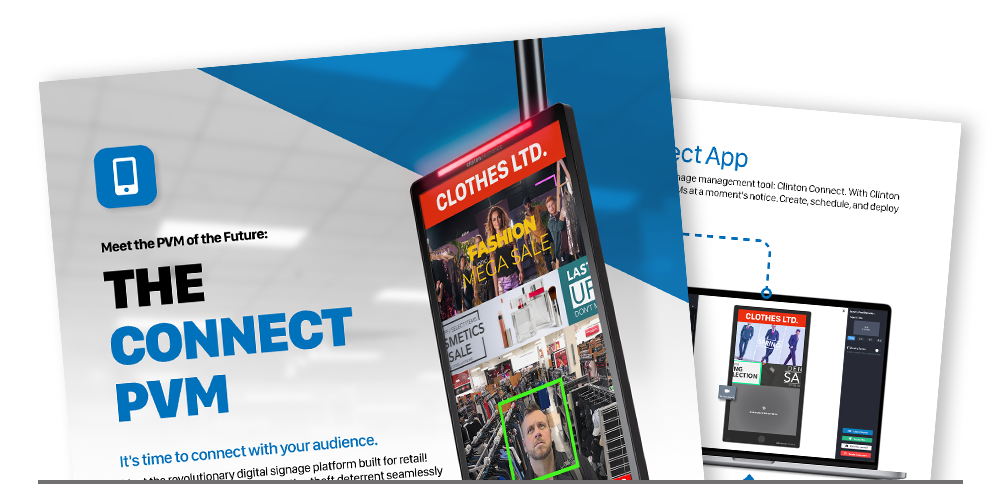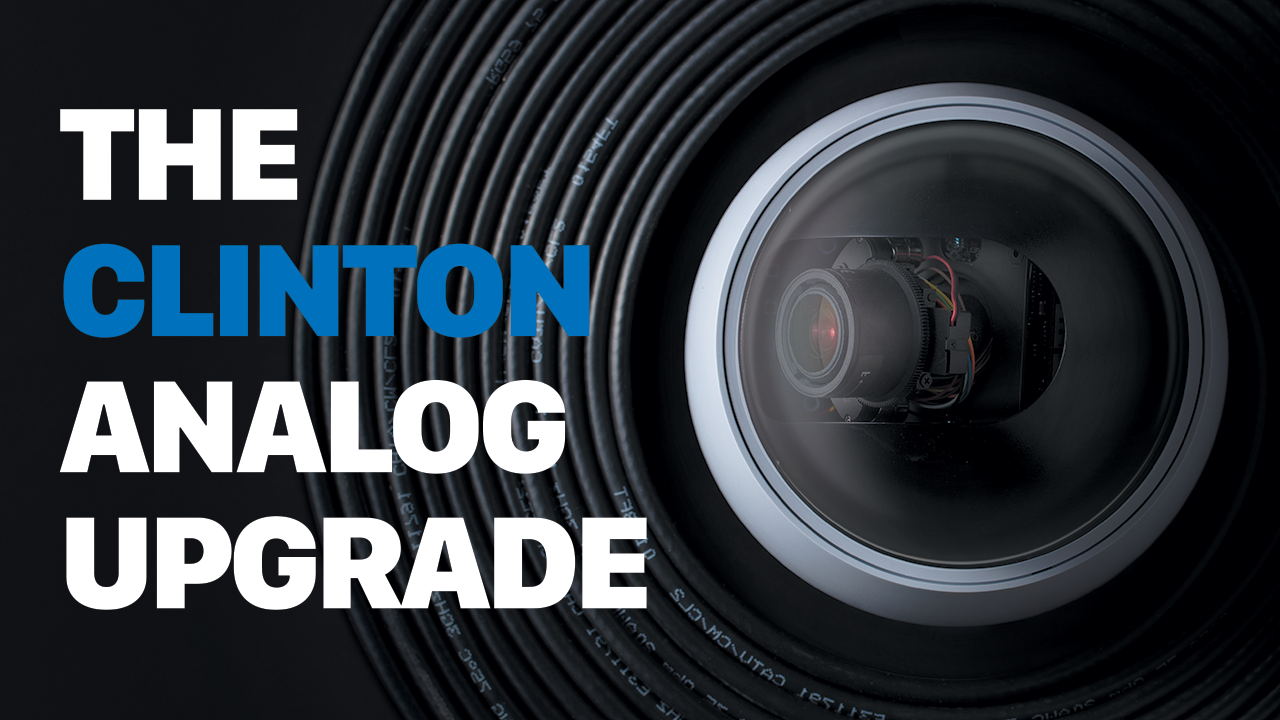 The Ultimate

HD Over Coax Solution
Upgrade your existing Analog or HD-Analog camera system with Clinton's best in class EX-SDI technology. All Clinton QHD, HD, and Lite series cameras output both EX-SDI and HD-Analog (HD-TVI, HD-CVI, AHD, & 1000 TVL CVBS), making it the perfect replacement camera for new or existing installations.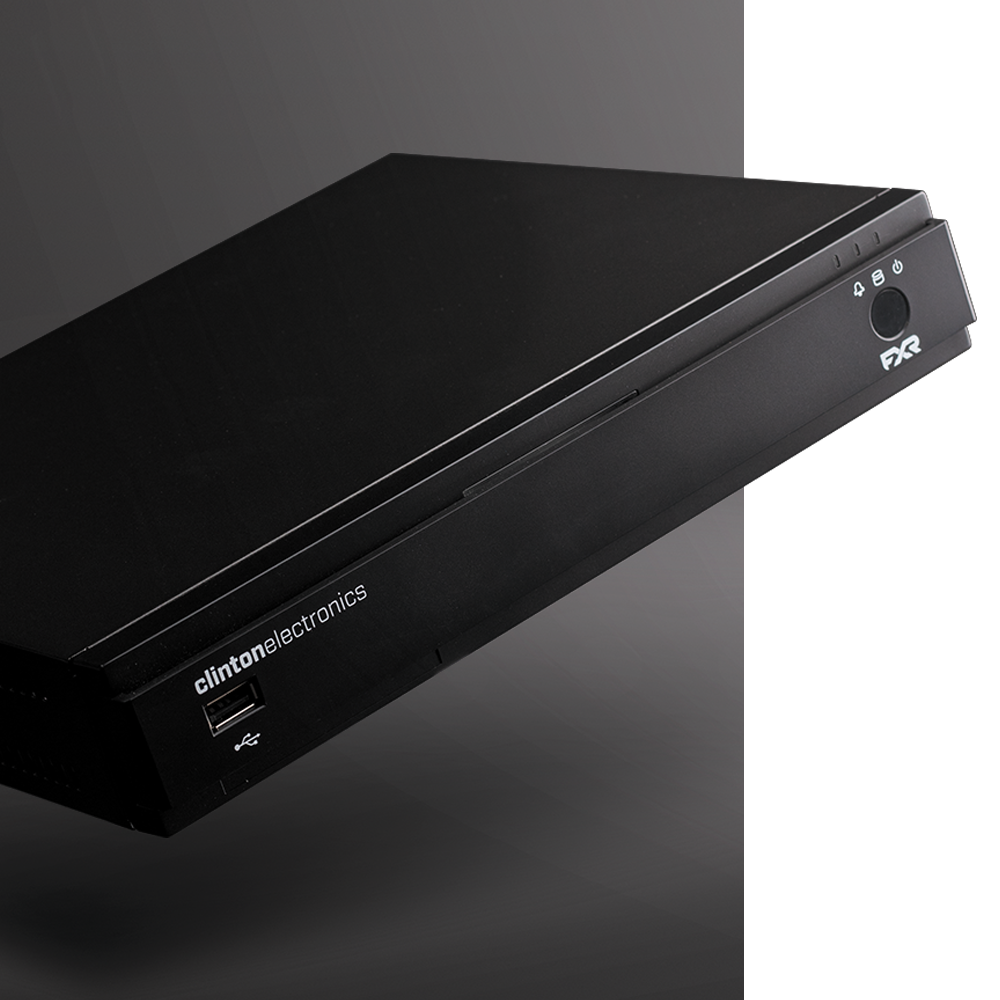 Support any

HD Over Coax Technology
New for 2020, select Clinton DVRs now also auto-detect HD Analog signals in addition to EX-SDI, making it the perfect solution for upgrading existing installations without replacing cable or cameras in use. Clinton DVRs also feature an ONVIF compliant and RTSP output stream for easy integration with enterprise-level VMS platforms.
Never Miss a Thing

with CVMS Mobile & AVMS
Access live, search, and archive your video anytime, anywhere. All Clinton DVRs come with our free CVMS Mobile app and license-free enterprise-grade AVMS software, giving you total control over your camera and DVR system from your iOS or Android mobile device, PC, or Mac.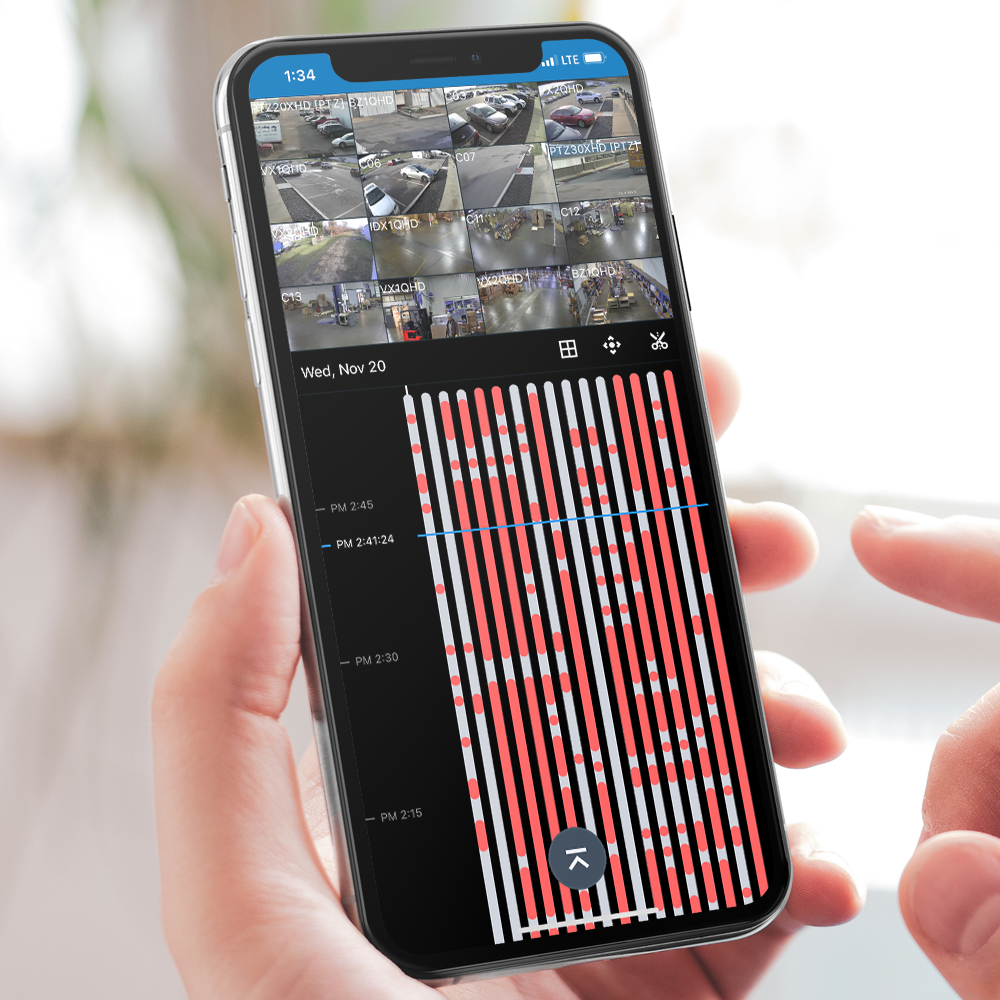 While EX-SDI and HD Analog share many similarities, there is a multitude of significant differences. Because EX-SDI is a true, 100% digital signal— it is less susceptible to noise and interference and shows no loss in image quality over long runs of cable. We offer a large variety of EX-SDI accessories for complex installations such as multiplexers, splitters, and signal converters that make it possible to transmit EX-SDI over Cat5, HDMI, and ever fiber optic cable.
With features like autofocus lenses and UCC (Up the Coax Control), EX-SDI cameras are bridging the gap between IP cameras, all while being a hassle-free, plug-and-play solution.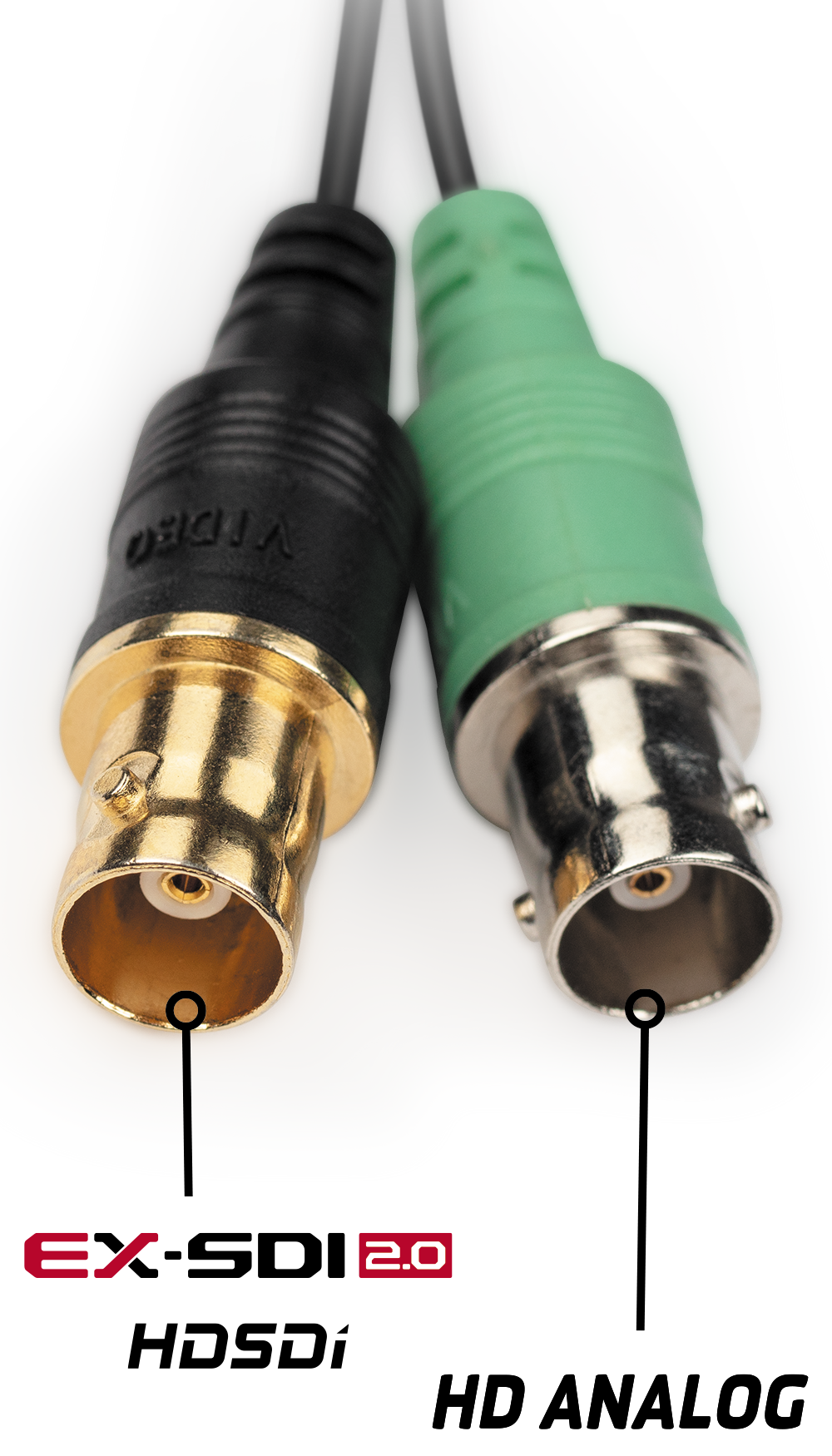 RECOMMENDED HD OVER COAX PRODUCTS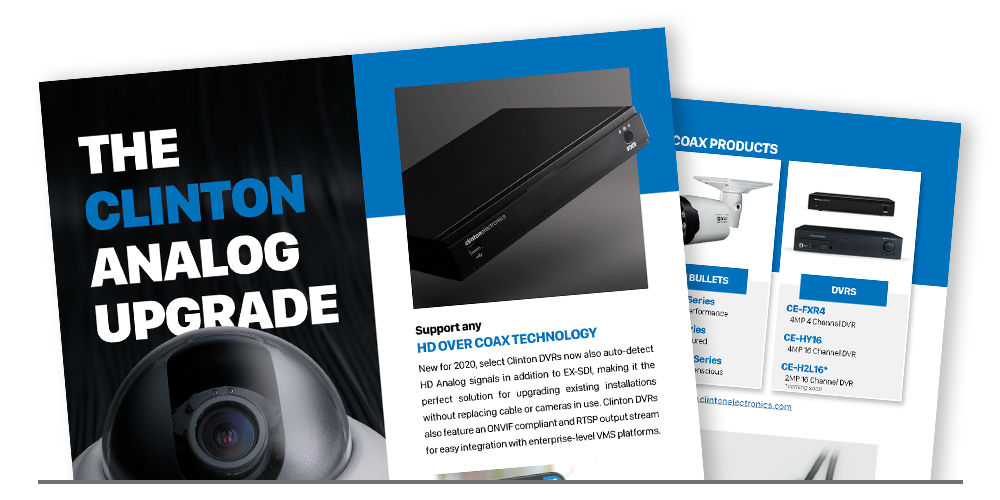 HD OVER COAX SHOOTOUT: EX-SDI vs. HD-TVI vs. HD-CVI vs. AHD
In the past, an IP-based camera system was the only option to achieve HD or megapixel video. If you wanted to transmit HD quality video – you needed to use CAT5 to do so. But with the emergence of HD over Coax, everything has changed.
HD over Coax now represents a cost-effective solution to transmitting HD video without the complexity of IP. With multiple HD over coax technologies on the market; HD-SDI, EX-SDI, HD-CVI, HD-TVI, & AHD – it's easy to get confused about which technology is right for you.
There are a lot of comparison tables and people touting that their HD solution is better than the others.  But the lack of consistency and unbiased information has made it difficult to find the strengths and weaknesses of each technology.
Rather than show you another table that compares and contrasts these different technologies, we feel that showing real- world comparison images will help you make an informed decision.
So we took EX-SDI, HD-TVI, HD-CVI & AHD cameras and put them to the test. The test consisted of real-world scenarios such as daylight, low light, strong backlight, high contrast, and even long distances.
In the following pages, we break down each HD over Coax technology and show you how we arrived at choosing EX-SDI as the right technology for Clinton Electronics — we're confident it's the right choice for you, too.
Regardless of which technology you choose, we feel that the best type of customer is an informed customer. Use the following to form your opinion on which HD over Coax solution works best for you.

WIDE DYNAMIC RANGE TEST:
In the test below, each camera was directed at a person standing in front of a window in an office environment. The purpose of this test is to evaluate the Wide Dynamic Range (WDR) and backlight compensation capabilities of each camera when a strong backlight is present.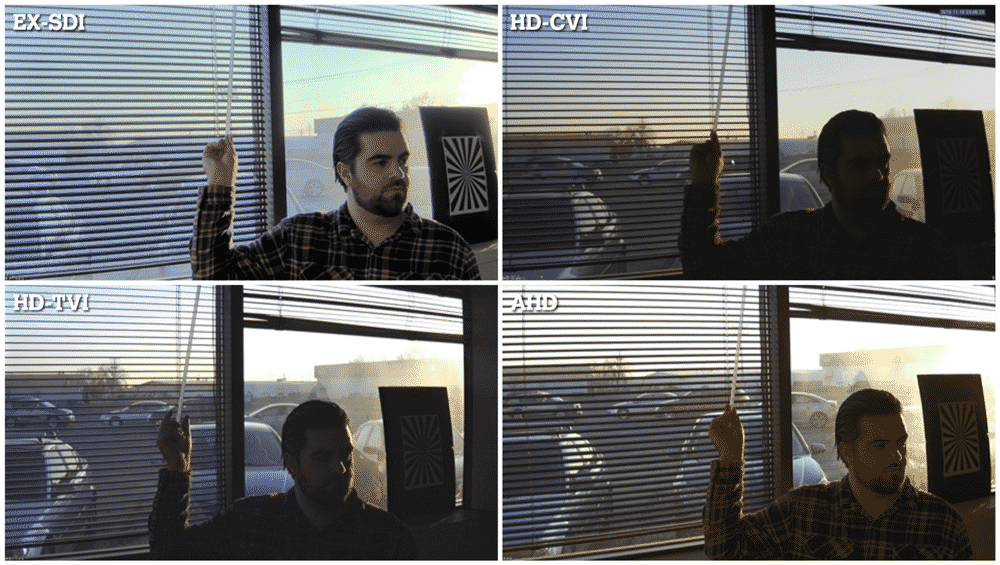 TEST RESULTS:
EX-SDI is clearly the winner of the strong backlight (WDR) test with the clearest image and most facial detail retained when facing a scene that has strong backlight. AHD performs better than HD-CVI & HD-TVI but still lacks in overall image clarity.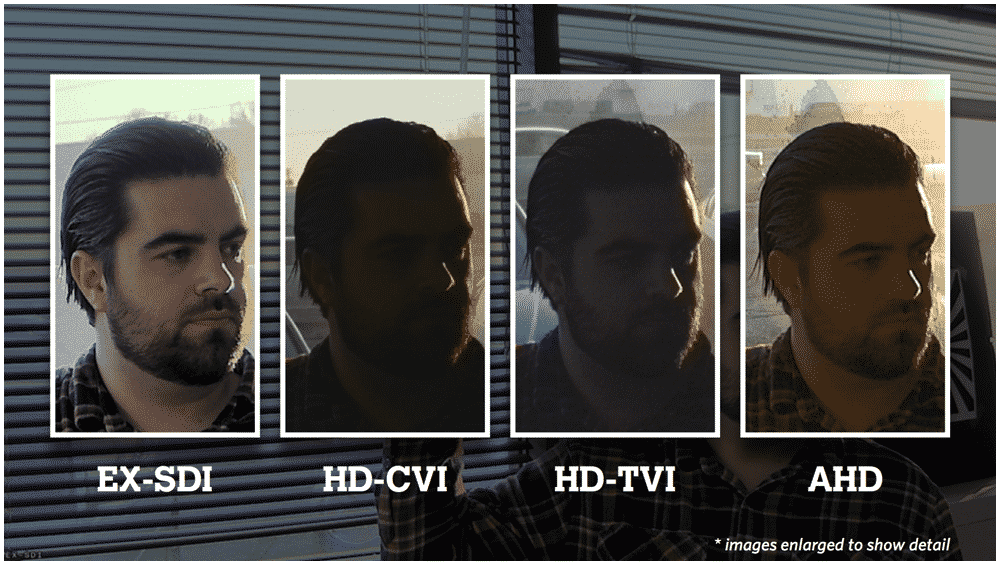 COLOR REPRESENTATION TEST:
In the test below, each camera was directed at a colorful, high-contrast gaming table. The purpose of this test is to see how each camera handles color representation and overall image clarity.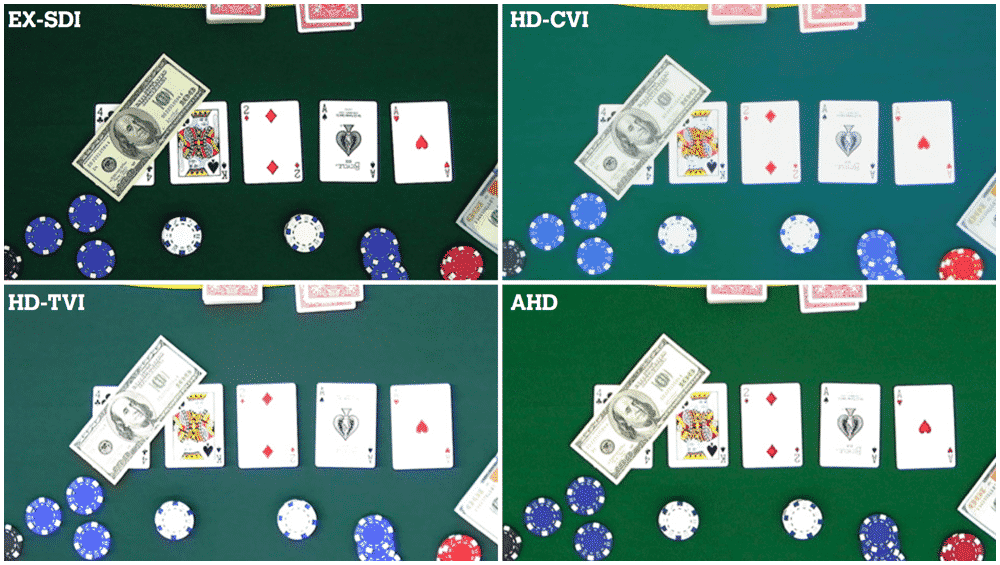 TEST RESULTS:
Again, EX-SDI is the clear winner of this test with the clearest image and most image detail on the hundred dollar bill. EX-SDI also displays the truest-to-life color representation of the green felt. The bright/glossy white cards cause HD-CVI & HD-TVI to be overexposed in this scene.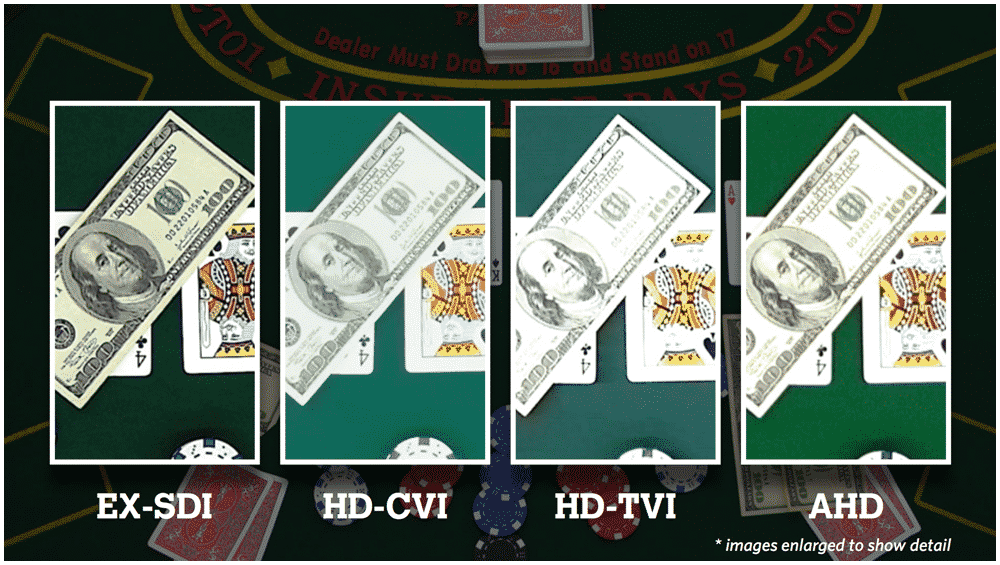 LOW-LIGHT TEST:
In the test below, each camera was directed at a person standing in front of various test charts and signs in a low-light application. The lux level was lowered to the lowest possible lux level before the cameras switched to black & white mode.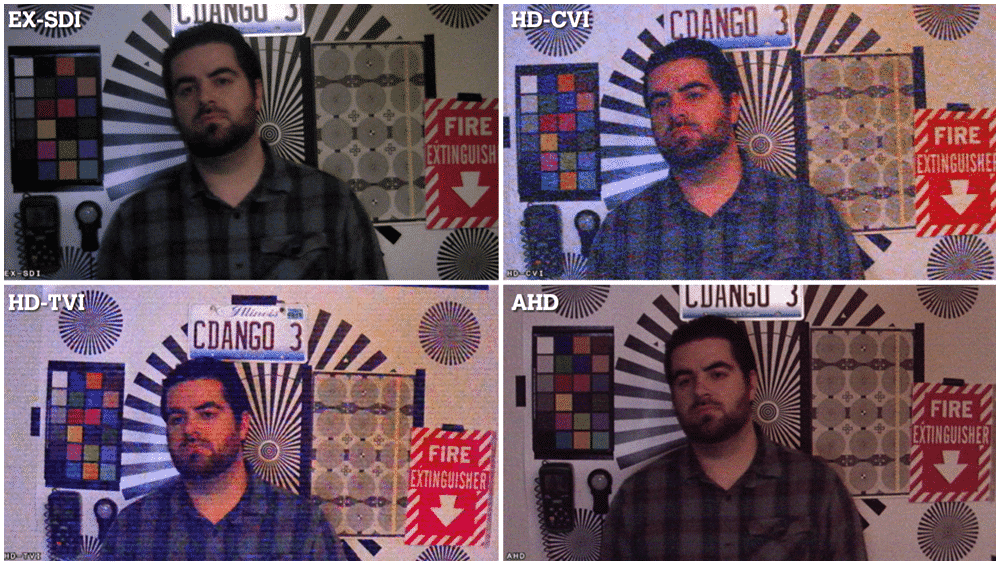 TEST RESULTS:
EX-SDI handles low light exceptionally well when compared to HD-CVI, HD-TVI, and AHD. Notice the amount of noise in the HD-CVI & HD-TVI images. The increased amount of image noise is due to each camera's ability or inability to compensate for low lux light levels.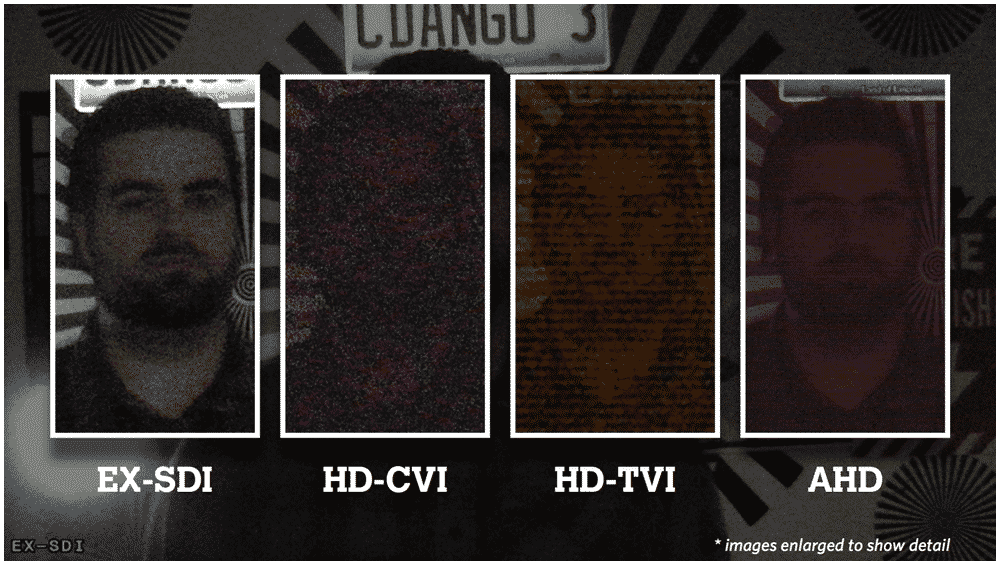 NOISE SUSCEPTIBILITY TEST:
In the test below, each camera was subjected to external noise. Notice how the technologies based on analog modulation (HD-CVI, HD-TVI, & AHD) exhibit varying degrees of video noise. Since EX-SDI is an all-digital format, it is less susceptible to external video noise commonly caused by electrical devices, lighting, ground loops, and compromised cable integrity.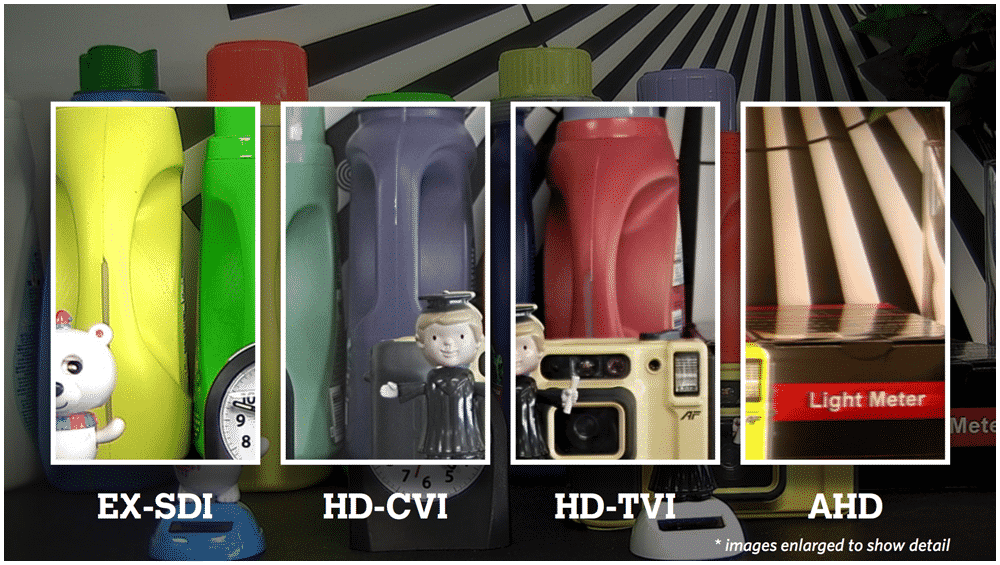 MAXIMUM DISTANCE TEST:
EX-SDI provides a sharp and clear picture at any distance even when at it's maximum distance. HD-CVI, HD-TVI, & AHD degrade in image quality over distance. Notice the loss of color saturation, overall resolution, and increased video noise in the HD-CVI, HD-TVI, & AHD images. AHD also starts to exhibit horizontal image smearing at long cable distances.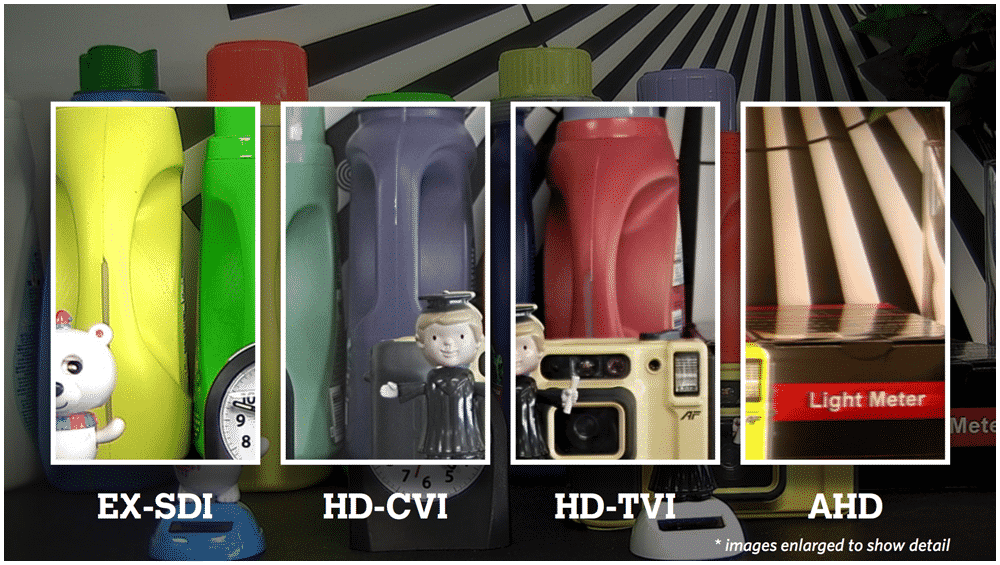 Organized retail crime is the theft of retail merchandise on a larger scale with the intent to resell. Simply put, these are not just everyday people shoplifting for personal gain or need. These offenders are organized criminals called "boosters," stealing for the sole purpose of reselling stolen merchandise on the street.
ORC (Organized Retail Crime) happens every hour of every day in retail stores all across the country. In 2014, 88 percent of retailers fell victim to retail crime according to the "Organized Retail Crime Survey" conducted by the National Retail Federation (NRF).
And it's not just expensive electronics or cosmetics being stolen. Everyday items are often the target: razors, laundry detergent, baby formula, over-the-counter meds, or anything that is easy to steal and sell on the streets is fair game.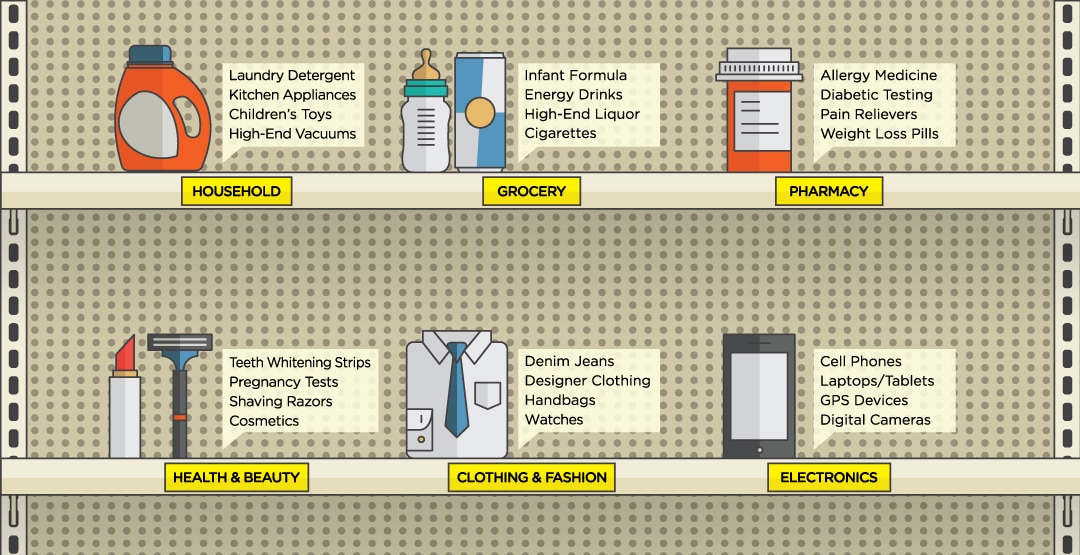 Organized Retail Crime rings are clever and ever-changing. Thieves often use foil lined bags or purses called "booster" bags in an effort to defeat electronic security tags when exiting the store. Other crime rings deploy multiple offenders to rob a store at once. These offenders take on flash mob tactics to invade and rob the store by using sheer numbers in an effort to intimidate and overwhelm retail employees. Both tactics render traditional security and theft devices useless.
How do we stop it? While locked cases, item security tags, and specially developed security product dispensing hooks do help reduce the amount of retail theft, they also inhibit the shopping experience. Not all items can be kept under lock & key and most retailers want shopping to be a self-service experience.
Enter the Public View Monitor. The increased presence of Public View Monitors (PVMs) in retail establishments can be attributed to one simple fact: they work. They are an active theft deterrent that delivers immediate measurable results. Unlike traditional CCTV cameras mounted to a ceiling, EAS systems, or other "after the fact" systems, PVMs actually deter theft from occurring. They act as a simple reminder that states; "you are being recorded." Potential thieves and curious shoplifting first timers are intimidated at the sight of a PVM and often leave the store immediately upon noticing them.
The Loss Prevention Research Council (LPRC) has conducted numerous studies on the effectiveness of PVMs for loss prevention and shrink control. The results are truly revolutionary. Not only does shrink go down by triple digits, sales go up by double digits, and the overall perception by both customers and employees is positive. Some retailers have reported a 330% drop in shrink when they use an 8" PVM in a high theft area. Retailers are quickly finding out that PVMs are as an essential tool in reducing theft. Clinton PVMs are currently used in 8 out of the top 10 retailers in the USA.
Request a catalog here or apply to become a Clinton Dealer here.